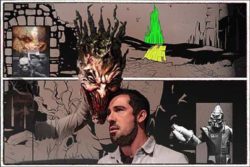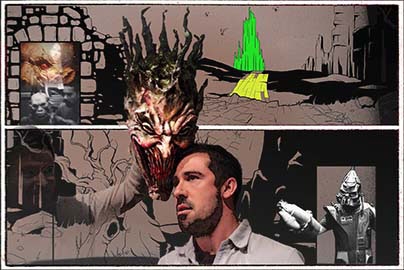 Review Fix chats with James Ortiz about the awesome puppet design for the upcoming production of "Who Mourns For Bob The Goon?" Following Bob, an Iraqi War veteran who believes he is the Joker Henchman from the '89 Batman, Bob The Goon, the production is encompassed by pop culture coolness but tackles PTSD in a way that'll change the way you think of the disorder.
About The Production:

THE PLAYWRITING COLLECTIVE, in association with HERE ARTS CENTER, proudly presents Joshua Young's WHO MOURNS FOR BOB THE GOON?, directed by Lucia Bellini. The four-week limited engagement will be at HERE Arts Center, located at 145 6th Ave. (enter on Dominick, 1Block South of Spring). This production is a part of SubletSeries@HERE: a curated rental program, which provides artists with subsidized space and equipment, as well as technical support. Performances begin Wed, July 20 and continue through Sat, August 13, 2016. Opening Night is Thursday, July 28th at 8:30 pm. For Tickets and Information: visit here.org or call 212­352­3101.
For more on the production, click here.

Click the Link Below to Listen In:
Review Fix Exclusive: James Ortiz Talks 'Who Mourns For Bob The Goon?' Sneak Peek