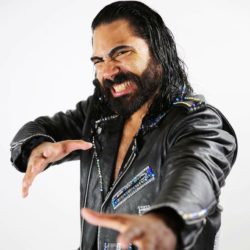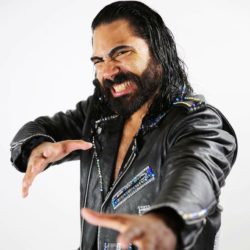 If Tully Blanchard and Marty Jannetty were able to someway, somehow produce a child, it would probably be a lot like independent pro wrestler Joey Ace.
Cool, charismatic and calculating, Ace has the type of gimmick that suits him well- inspired by the cocky performances of Al Pacino, Ace thinks he's better than everyone else, but then shows it in the ring, thanks to more than solid cardio, and a moves that contains a beautiful leaping Blockbuster finisher and an assortment of kicks and a Top Rope Elbow.
However Ace is much more "what you see isn't what you get." Constantly in the gym as a personal trainer and armed with a historian's appreciation for the business, wrestling is a huge part of his life.
"It's constantly in my mind when I wake up," Ace, who goes by the moniker of "The Five-Star Studd," said. " (It's) The first thing I think about. Before I go to bed, I'm watching a match. All through the day, I'm thinking about it as well when I'm not working with a client."
A former Warriors of Wrestling No Limits Champion and a Tag Team Champion, the 28-year-old's day revolves around keeping himself in shape. Currently performing mainly in the Staten Island-based WOW promotion, Ace has also performed on cards for G1, C4, Tier-1, Pro Wrestling Syndicate, Fighting Spirit Wrestling and FWE.
Inspired by the work of Randy Savage, Shawn Michaels, AJ Styles and Christopher Daniels, Ace, who began wrestling 2009, is all about making every second of every day count.
"On a Saturday, I would wake up at 4:00 AM, get my stuff together, and go to the gym. Train a couple of clients, eat, and work out; if it's winter, go tanning, if it's not, I'm on the sun deck somewhere in my gym," said Ace. "Then get clothes ready, go to the show, grab something to eat and get changed; get another workout in or around the ring. Then I'll go to the person I'm working with, you know, tell em' I'm a beat his ass, then wait around till' the show happens, go in the ring, beat his ass, and then chill out', wait till everybody leaves and go home. Then I'm not sleeping until 3:00 AM because I'm all revved up."
Armed with his "salty" work ethic, he's got big time goals for his future.
"Hopefully somewhere big; I wanna travel the world," Ace, who has wrestled in Canada in the past, said. "Obviously the big goal is World Wrestling Entertainment (WWE). Before that I wanna travel; I wanna go to England, experience that. I want to go to Mexico and learn Lucha—you learn it here, but you go down to Mexico, you really get the culture of Lucha Libre. Go to Japan and learn that style, learn the language. Just travel and experience live on the road and then hopefully end up in the WWE."
Photo by Zane Decker