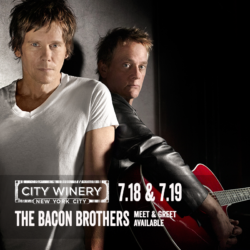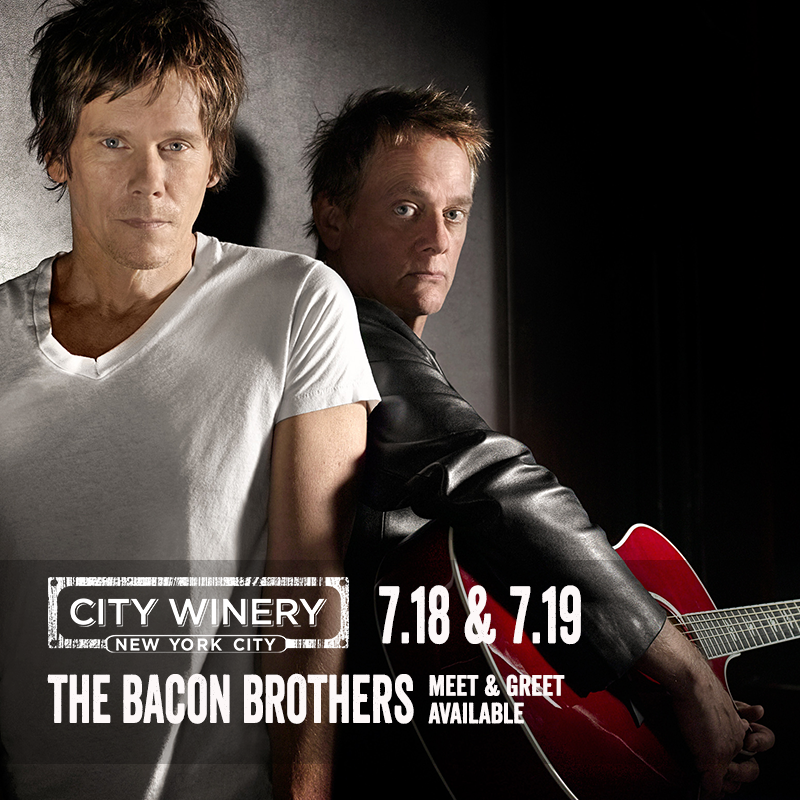 Review Fix chats with film star and musician Kevin and Michael Bacon who discuss the Bacon Brothers Band their upcoming set of shows at the City Winery in New York City on July 18 and 19.
Known for his performances in flicks the likes of "Footloose," "Wild Things" and well, everything, he's Kevin Bacon, the actor and musician let us know what makes the band special.
A Grammy winner with over 75 compositions for TV and Film and film under his belt, Michael is a more than accomplished musician with a wide variety of influences that play a key part in the band's unique sound.
For More On The Show Or To Purchase Tickets, Click Here.
Review Fix: You guys are nine years apart. How has that influenced you musically?
Kevin Bacon: I think it's given Mike a broader musical knowledge. Classical and Show music is not something I grew up on. I was mostly listening to rock and soul.
Michael Bacon: I'm nine years older and the rock and roll explosion hit me at an older age than Kevin.  I had a good dose of Broadway shows, classical, folk and world music by the time the Brits invaded.  All that serves me well in my film scoring career.
Review Fix: Considering that, what's your creative process like?
Kevin Bacon: We are a songwriters band. So I try to keep eyes ears and heart open and hope there is a song there. Then bring it to the band and see what happens.
Michael Bacon: As far as songwriting, our collaboration is mostly in the arrangement and production of the songs we usually write individually.  Neither of us truly understand the process of creating a song.
Review Fix: Both on camera and behind the scenes, you guys bring color and charisma to the projects that you are involved in. How would you say that carries over to you musically?
Kevin Bacon: It's all performing. I've always been a performer. Even before I knew what a performer was.
Review Fix: Why are the Bacon Brothers special?
Michael Bacon: We let the songs drive the arrangements.  Our band gives us a lot of diversity to go any the song takes us.  We're brothers, we're different from each other.
Review Fix: Why does folk music still matter?
Kevin Bacon: If you write them you want to share them on the off chance that someone is affected by the song.
Michael Bacon: It's certainly a part of my musical soul.  Folk Music is really about the song, the guitar and the vocal and not the production. Dylan's "Just Like a Woman"…that song shines through any interpretation.
Review Fix: What makes your live performances different from your studio work?
Kevin Bacon: For me, the studio is always a place where I'm trying to capture a live feeling.
Michael Bacon: The studio is like assembling a puzzle.  Live is more like a high dive you've never taken.
Review Fix: What do you have planned for your show at the City Winery?
Kevin Bacon: Some new tunes. Some old tunes reworked.
Michael Bacon: New songs, old songs and everything in between.
Review Fix: What's next?
Kevin Bacon: Next town. Next show.
Michael Bacon: Videos, touring-onward we go.