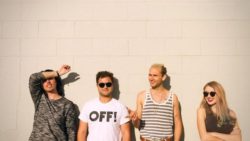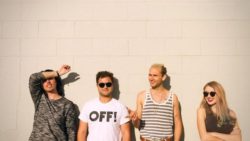 Review Fix chats with Forebear's Nick Chamian who discusses the band's creative process as well as their new single, "Delroy Lindo" and upcoming album "Good God/"
Review Fix: How did the band get together?
Nick Chamian: We had all been playing music together in different projects over the years. As other bands fell apart, forebear came to be out.
Review Fix: What's your creative process like?
Chamian: The process is super collaborative. Everyone takes a hand at bringing a kernel of an idea to the band, then together we shape that kernel into something uniquely forebear. 
Review Fix: What inspired Delroy Lindo? How was it written?
Chamian: Delroy was a song that took a long time to get to where it is now. it started as a super upbeat pop song but as we began to work with producer Eric Llilavoi, we saw how we could reshape the song into something completely different that was more of our overall vibe. Â 
 
Review Fix: What are your goals for 2016?
Chamian: We are looking to get this new record out to the public and get more people out to our live show. this record represents what we do live better than any other release so getting people out to the show is super important to us.
Review Fix: What makes this album special?
Chamian: This album was recorded, mixed, and mastered in two weeks at London Bridge studios in Seattle. The recording process of fast, fluid, and fun and is truly a time capsule of the work that was done in that 2 week period. 
Review Fix: How do you want your music to affect people?
Chamian: I'd like our music to affect people in a few ways. the first thing people will notice is the sheer energy and intensity our music will bring, but upon multiple listens, the lyrics will begin to have that same effect once your able to grab what the song is really about. 
Review Fix: What's next?
Chamian: Continue to play, write, and hone in on what forebear is even more, not just musically but on every level.