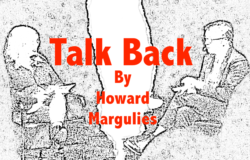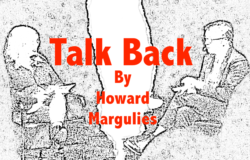 Review Fix chats with Playwright Howard Margulies, who discusses his new production "Talk Back," which is set for a run at this year's Midtown International Theatre Festival.
For more on this production, click here.


Review Fix: What was the inspiration for the short play, "Talk Back"?
Howard Margulies: Talk Back was inspired by an incident on Metro-North railroad during which an entire crowded rush-hour commuter car became inadvertent witnesses to a wife's discovery of her husband's apparently serial infidelity. Ear buds were removed, breaths were held as the neighboring riders struggled to decipher the back story. Shocked and embarrassed riders emerged from the car discussing the overheard psychodrama the way people on the way out of a theater chat excitedly about a good play. Now, that was great theater.
As an avid theater goer, I've been to many "talk backs." Whether it's an avant garde mystery or a kitschy musical revival, these after-play events all have one thing in common: they're noncontroversial. The cast members all get along, the producers and the writers enjoy each other's company; they're friends. I wondered, what would it be like if the audience members—like the Metro-North riders—were witness to something wholly other.
   
Review Fix: What's your creative process like?

Margulies: I imagine that I'm sitting in an audience, and then I write the play that someone like me would want to see.
Review Fix:What makes this different or special?

Margulies: Talk Back, a 600-second play, features two wonderful actors, Dov Tiefenbach and Mary Dillon who performed brilliantly last year in my play The End As We Know It also at MITF. Returning as director is the legendary HB Studio acting teacher, Michael Beckett, who can make great theater out of two actors sitting on bridge chairs.
Review Fix:What did you learn about yourself through this process?

Margulies: I discovered that I should really eat more fiber.
Review Fix:How does it feel to be a part of something like this?

Margulies: Theater is terrifying, exhilarating and fun. Also fun.
Review Fix: What are your ultimate goals for this production and for the future?

Margulies: We'll see. I just want to thank Deborah Grimberg, of MITF, for her support over the past couple of years. It's always a thrill when she likes something I've written.
Review Fix: What do you think your audiences will enjoy the most?

Margulies: I think audiences will enjoy feeling uncomfortable. Then I'll know I've succeeded. 
Review Fix:What's next?

Margulies: I'm working on several other short projects, including a one-act. Stay tuned.