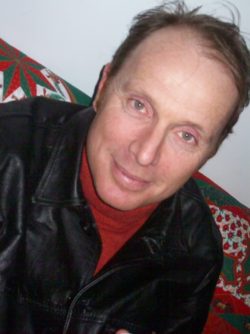 Review Fix chats with Australia's Oldest Man playwright Kieran Carroll who discusses the production and its run at this year's Midtown International Theatre Festival.
About the Production:

Australia's Oldest Man by Kieran Carroll, directed by Clara Pagone; starring Timothy McCown-Reynolds and Clara Pagone. A black comedy about a hilariously grotesque 148-year-old man obsessed with Swedish pornography and annoying the Australian government.
For more on this production, click here.

Review Fix: What was the inspiration for this project?
Kieran Carroll: Australia's Oldest Man is a particular brand of curmudgeonly humour. This type of black and grotesque work can, for me, be traced back to Samuel Beckett, but it also has its roots in miserly 60s and 70s British comedy. Work like Morecombe and Wise and Steptoe and Son. I've used these inspirations and tried to insert an even more demanding and nastier twist on this with an Australian background.
Review Fix: What's your creative process like?
Carroll: I wrote Australia's Oldest Man in 2010, but didn't do anything with it for a number of years. He was a character that came to me quickly but took some time to develop. Aside from that character, I tend to have two or three new plays in the pipeline at any one time. They're always in very different states of development, and at some point, I have to shut down a couple and try to just focus on one.
Review Fix: What makes this different or special?
Carroll: This is the 4th New York festival in under a year for Australia's Oldest Man, and I believe New York audiences are enjoying and responding to the character's eccentric, demanding and unapologetic ways. The direct address tactic of the piece is delightfully silly but plays off as terribly serious. Australia's Oldest Man is 148 years old and he makes Donald Trump seem meek and mild!
Review Fix: What did you learn about yourself through this process?
Carroll: This is an exciting collaboration between myself and two New York based artists. Clara Pagone (director) and Timothy McCown Reynolds (actor) have done an incredible job with the work. I've learnt that it's very important with a specific type of humour to be in sync with your collaborators, and to not force work on people, who although they may be talented, don't quite come from the same place comically speaking.
Review Fix: How does it feel to be a part of something like this?
Carroll: Fantastic to be part of something like this especially from so far away in Melbourne!
Review Fix: What are your ultimate goals for this production and for the future?
Carroll: To keep the play moving through America and hopefully also have some performances in England.
Review Fix: What do you think your audiences will enjoy the most?
Carroll: The shock of his irascible nature, the loud and unerring opinions, the way that his long suffering wife finally attacks him.
Review Fix: What's next?
Carroll: Beyond this project, I'm hoping that I can continue to collaborate with Clara and Timothy. I have a much longer one man show called The Youthful Adventures of Damon Dukirk. I'd like them to tackle that next. I'd like the chance to bring a longer work to the New York theatres.