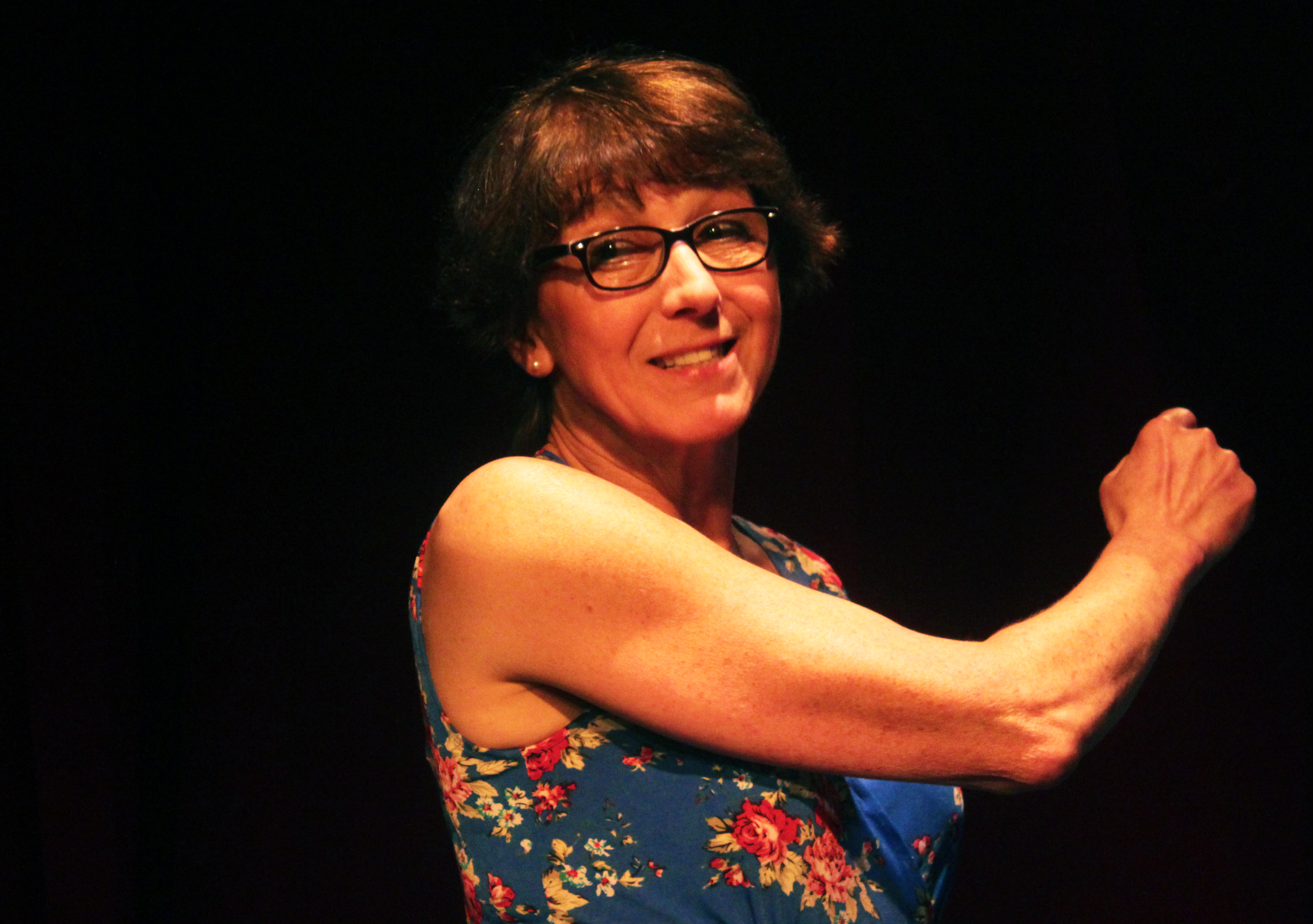 Taking the audience into the emotional journey of an aspiring actress turned community college professor, Ronna Levy's "This Gunna Be On The Test, Miss?" is the type of one-person show that pulls at your heart strings. If you care about the human condition, love, responsibility and respect, this production will grab you.[/caption]
Endearing and charismatic throughout, Levy is real. While she is a performer and does work to entertain throughout, those moments when you can tell she's speaking from heart are plentiful and add to her consistent and enjoyable performance.
If you're looking for a laugh-out-loud comedy though, it's not quite there yet, even if Levy's impersonations of a few choice students are hilarious.
What Levy's production is, well, is smart. It's a journey every adult finds themselves in- what they want to do with their lives and what they have to do to pay the bills. The fact that Levy is able to do both, at this point in her life, is the cool part of the production. She is a college professor, a damn good one, as her ratings on RateMyProfessor.com indicate, but she's also a solid performer. Her "commercial auditions" that break up the narrative are cheesy, but they're supposed to be. Her willingness to show her journey ends up being the performance's strongest trait, even if a lot of facts, her relationships with her family mainly, aren't as elaborated on as we'd like them to be.
Small hiccups with her projections also hinder the production a tad, but it's nothing that hurts the overall quality of the show. When Levy takes us to present day and shares a tweet on the board that she said she got a few weeks ago and the tweet is from 2012, it's a small stumble that could be avoided in future shows to smooth things out.
Regardless of these small qualms, Levy's production is able to put a face to a community college professor and show the difficulty those in the education sector face on an everyday basis and how in spite of that, she's there, for her students.
She may have wanted to be the next Doris Day, but Levy is a teacher that has managed to change lives in other ways. Simply put, her performance in "This Gunna Be On The Test, Miss?" proves she's better than any actor currently doing Nestle Hot Chocolate commercials and one that has made the most of her opportunities in life, just on a different timeline than she expected.