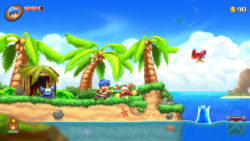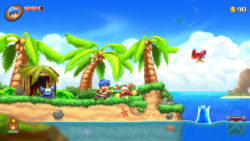 Review Fix chats with Thomas Kern (FDG Entertainment); Producer of Wonder Boy and the Cursed Kingdom who details the creative process and goals for the upcoming Xbox One and PlayStation 4 adventure, based on the classic Sega Master System and Sega Genesis RPG series.
About Wonder Boy and the Cursed Kingdom:
A legendary game series returns with an all-new adventure! Monster Boy is a colourful side-scrolling action adventure created in cooperation with Ryuichi Nishizawa, the creator of the Wonder Boy* Monster World* series (* Trademark of SEGA Corporation Japan). Monster Boy is being created to bring back the enjoyment of classic games that shine by simplicity. Pure, exciting gameplay; upbeat music and smooth graphics. You'll need to overcome huge bosses, find hidden passages, discover powerful equipment and use all your wits and skills to remove a powerful curse. Monster Boy can transform into 5 different creatures, each with their own skills and abilities. Take advantage of all the unique powers to open new paths and advance in an epic story. Monster Boy is a love letter to gaming from the 80s and 90s – will you join us and celebrate together with us?
Review Fix: What does it feel like to be a part of such an influential series?
Thomas Kern: In the first moment we've been really happy and proud about being able to work on a new Wonder Boy. The second moment was like: Oh man, we have a big responsibility here.
We can feel the pressure – but it's also a ton of fun! The game is progressing nicely and we had some great new ideas that will make Monster Boy stand out as a fantastic new game in the Wonder Boy in Monster World legacy.
I'm really proud of the team, they're all hard working and show a lot of passion. Monster Boy will have plenty of soul.
Review Fix: The series has so many dedicated fans despite not being released on a major console in decades. Why do you think that is?
Kern: Wonder Boy and especially the Monster World series was setting new standards in Metroidvania style gameplay at that time. I still have fond memories of playing Dragon's Trap the first time.
A colorful action adventure with so many secrets, great music, animation and the wondrous transformation of characters for seemingly never-ending exploration in the game. I really got drawn into it.
What's behind this door? Oh wow, where can I go as a mouse-man. All following Monster World games added to this formula with bigger worlds, even better graphics and you couldn't help but fall in love with all of them.
Review Fix: How has the gameplay formula changed in the new version?
Kern: Monster Boy is the first game in the series which allows the player to hot-swap between unlocked animal characters anytime. In Dragon's Trap you could only use one character and his ability at a time, this time you combine them! This allows us to create really interesting level designs and very dynamic action. Today's technology gives us a lot of creative freedom and make it a really pretty HD 2D game.
Review Fix: What has development been like?
Kern: To be honest, we had tough times. It took quite a while to find the right style and our current graphics are like the third iteration. It was difficult to move from pixel to HD – the reason is that pixel graphics have a great charm and the brain completes the picture and details. It's like the imagination of players adds depth to the game just like reading a book. When you create HD graphics, you really need to draw all the details to not make it look bland or boring. Today I can happily say we're very confident about the graphics. Huge thanks go out to communities like on NeoGAF forum – we read it frequently and some of their feedback helped us to make Monster Boy a better game.
Gameplay wise we're still working and optimizing level designs – we keep having ideas and we want to include the best of them.
Review Fix: How do you think new gamers will enjoy this?
Kern: They'll love it. It will be exciting, adventurous, colorful and simply amazing.
Review Fix: What's next?
Kern: We're going to work on porting the game to as many devices as possible.