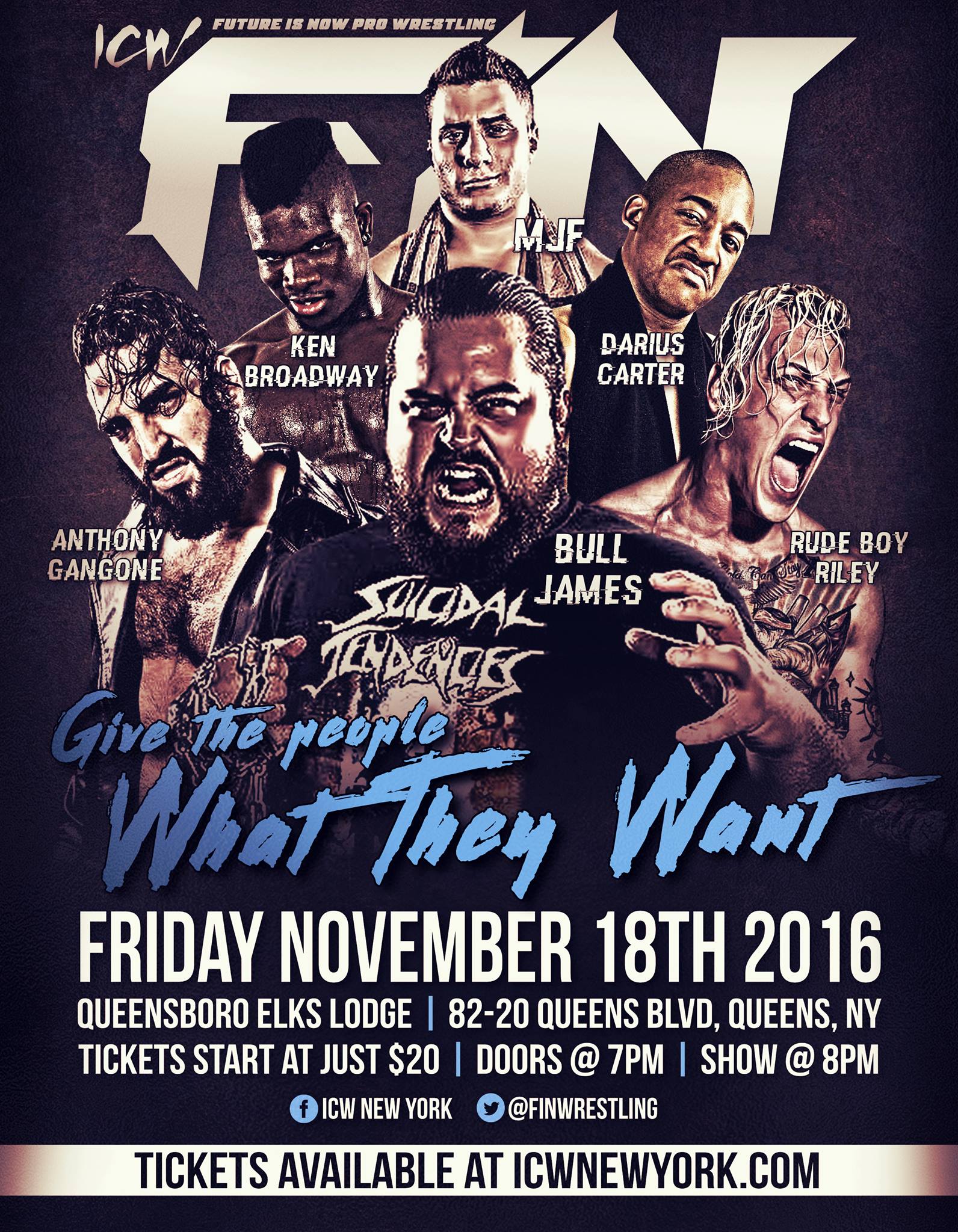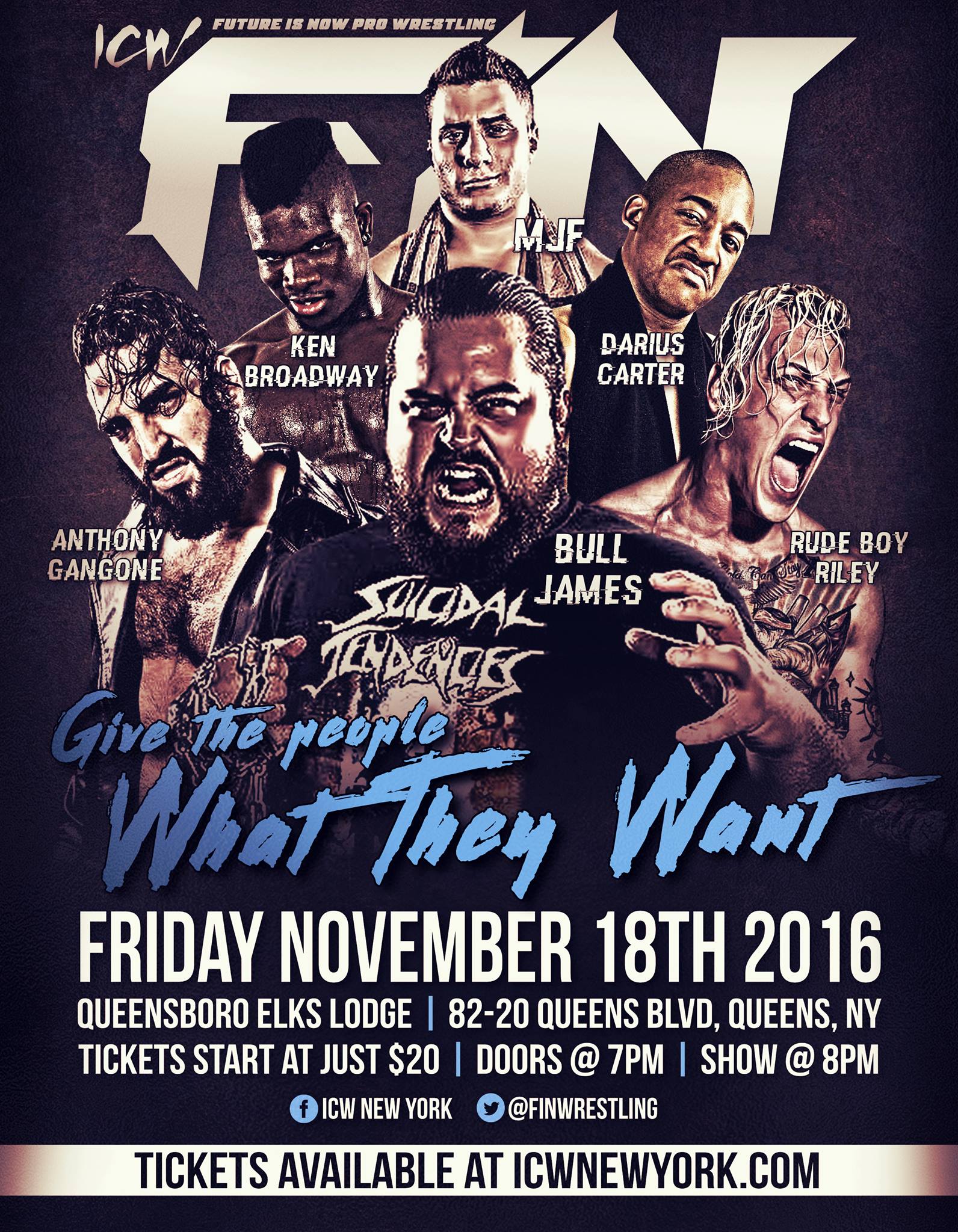 In 2001, Impact Championship Wrestling opened its doors for the first time in an attempt to open the door for the young and hungry talent in New York City and give them the chance to face some of the top stars in professional wrestling. On October 15th, 2016, ICW New York closed its doors for the final time. In the wake of a company that gave stars such as the Amazing Red, Low-Ki, The Hit Squad, Homicide, and many more of this post ECW generation some of their first real chances in the pro wrestling industry comes a new company with a new identity, but a similar goal, opportunity.
On November 18th, at the infamous Elks Lodge on Queens Boulevard in New York City, Future IS Now Pro Wrestling will debut as they Give The People What They Want! Join us live for the next generation of New York Wrestling as the top stars from the five boroughs and beyond stand off on a night that should prove to be a tipping point in the great history of Pro Wrestling in New York City.
Three Main Event matches are already signed for this event with one more major showdown in the midst of negotiations!
The first being a battle between two of the hottest young stars in wrestling as Rude Boy Riley takes on Maxwell Jacob Feinstein!
Riley, fresh off a tour of the United Kingdom last summer has made 2016 a defining year as he not only held two championships in the New York City area, but successfully defended those titles and was able to attain one more championship during his tour of England in August of this year. The Fresh Prince of Shaolin also made a major impact in Paragon Pro Wrestling airing on the FITE TV app, as he would attain the Paragon's American championship this past September! He is a force to behold and will look to Give The People What They Want on November 18th!
The opponent of the master of the Cooked X, is Maxwell Jacob Feinstein. Feinstein, a graduate of the Create A Pro Academy on Long Island has been making a name for himself not only in the ring, but also digitally with the MJF Experience series of videos. Feinstein considers himself the Hottest and Youngest Unsigned Free Agent in all of professional wrestling, and looks to prove that against Riley on November 18th. Feinstein has also made television appearances as he wrestled for the acclaimed Championship Wrestling From Hollywood promotion just recently and looks to make a name across the country and add Riley's name to an ever growing resume of victories.
The next major matchup features the "Concrete Rose" Sonny Kiss, as he takes on Darius Carter. Rose, a Jersey City native who has become an instant hit with every audience he has ever wrestled for is bound for greatness with his undeniable charisma, athletic ability, and will to win. His opponent for November 18th is as vicious as Kiss is charismatic, Mr. Darius Carter. Carter, an agent of change, a businessman, and a self-described genius looks to foreclose on the popular Kiss with his unique brand of violence. Carter and his "intern" TK Luthor V have warned the entire FIN locker room about their intentions and will look to control the fate of this locker room and set the standard on November 18th in this first time encounter between Rose and Carter.
Our third announced main event level match features a battle for the House Of Glory Championship, as Anthony Gangone makes his first defense in the Elks Lodge since winning the title there in September against former NXT and current Ring Of Honor star, Bull James.
Gangone has been one of the stalwarts of New York's pro wrestling scene for the past 18 months since attaining the then House Of Glory Elite Championship, defending the title everywhere he went and retaining it all but one time, this past August against fellow HOG star and FIN talent "Cashflow" Ken Broadway, but Gangone now rebelling against the school he had called home all of his career, has struck out on his own as an independent agent of change and has announced he will defend the House Of Glory championship anywhere at any time, and will do so on November 18th against James when we Give The People What They Want.
James, after leaving WWE has become a mainstay of the New York Independent scene and recently battled against ROH World Champion Adam Cole and looks to add the HOG title to his career resume. The man who sat under Dusty Rhodes' learning tree plans to bring the fight to the "Rogue" in what may be a classic fight and style showdown on November 18th!
Do not miss when Future IS Now Wrestling brings opportunity to the Elks Lodge on November 18th as we Give The People What They Want! Tickets Start at $20.00 and are available NOW at ICWNewYork.com
Also Signed
"Cashflow" Ken Broadway
Mike Verna
The GOAT
New York Wrecking Crew
#FOT
Super Savages
AND MORE