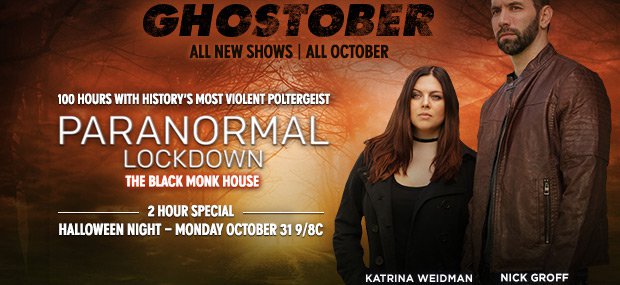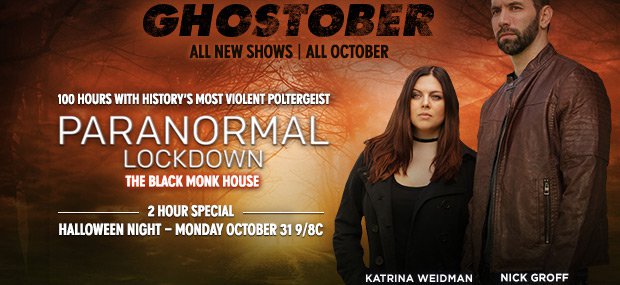 "Paranormal Lockdown" is one of the most famous and one of the better paranormal investigation shows on TV. For months they have been hyping a two-hour special called "The Black Monk House" scheduled to air this Halloween at 9 on TLC (it was moved to TLC from Destination America.) After all the hype, the episode has some ups and some downs.
After investigating the "Hinsdale House," Nick's house is now haunted by whatever was there in the house. A recording determines that this thing from Hinsdale may have some connection to their next investigation, "The Black Monk House" in England. Nick and Katrina, along with cameraman Rob, get locked down for 100 hours, their longest investigation yet, in the "Black Monk House."
As with every episode of "Paranormal Lockdown," we learn about the history of the location. It does seem like a typical haunted house, except for the fact that activity gets worse during bad weather. The investigation itself, after the hype surrounding it, is typical of these shows. The crew does get some audio the first few hours but nothing special.
The real scares come in the last few hours. That's when Katrina says she feels sick and when whatever's in the house takes the gloves off. That stuff is super scary. In fact, there's one scene where it looks like Nick may get hurt pretty badly. This is something that's supposed to be a demon may try to do to unsuspecting victims.
Even though they had giant crates of equipment, they only used cameras, a digital recorder and a 3D mapping camera. This is a plus for this show because other shows like this tend to go overboard with their little toys and make the show seem fake. Here, it actually looks like they got something, especially the big scare at the end.
The last scene does come across as a bit too overboard to some. Once you think about it, this was something Nick needed to do in order to "exercise his demons." Some will say that it looks fake, but you can tell that Nick is not acting here. His feelings do feel real and it does make the viewer sad about what he's going through.
"The Black Monk House" has a slow start, but the investigation does pick up in big ways by the end. The house may be a typical haunted house, but what happens to the crew will make a believer out of anyone.