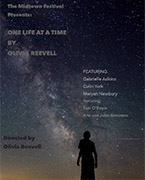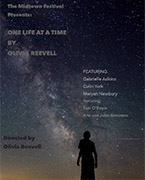 Review Fix chats with playwright Olivia Reevell who discusses her new production, "One Life at a Time," which is set for a run at this year's Midtown International Theater Festival.
About the Production:
One Life at a Time by Olivia Reevell, directed by Olivia Reevell; starring Gabrielle Adkins, Colin York, Tom O'Boyle, Arlo, and Jules Bernstein. What happens after death? Where do we go? Do we simply return to the earth that made us? Or maybe there is something bigger than that, something that keeps us driving forward in life.
PROGRAM AÂ (Saturday, Oct 29, 7pm – Sunday, Oct, 30, 4pm)
About Olivia Reevell:
Olivia Reevell is a young English-born playwright living in Brooklyn New York. This is her first play after graduating from the Atlantic Acting School in 2015. From there she went on to the Kenyon Insitute in Ohio for a one-week playwriting course, where this play was developed. She began as an actor and then discovered her passion for writing. One Life at a Time has just won a 10-minute short play contest at Manhattan Repertory Theatre.
Review Fix: What was the inspiration for this project?
Olivia Reevell: This project began as a writing exercise to a piece of music while I was studying at The Kenyon Institute in Ohio. The music was 'You Better Second Line' a jazz funeral in New Orleans for Juanita Brooks. I wrote the opening of the play for this course and then left untouched it for a few months. As I got stuck on a full-length play that I was working on, I went back to this 10-minute play and it ended up just flowing out of me.
Review Fix: What's your creative process like?
Reevell: I am new to playwriting, so I think I am still discovering my creative process. However, for this play, I sat on my bed, put Harry Potter on in the background and started writing!
Review Fix: What makes this different or special?
Reevell: The thing I think is most special about this piece is that because it is set in purgatory, it can be played by actors of any age, race, or gender. It talks about people's many lives, which means the person on stage can be anyone because they have been everyone at some point in their lives.
Review Fix: What did you learn about yourself through this process?
Reevell: I learned that I can write! I began my career as an actor, I only started writing in June of this past year, so I am still learning about myself as a person and a writer.
Review Fix: How does it feel to be a part of something like this?
Reevell: I never dreamed that I would be able to get any of my writing on stage. It has been a very different feeling to be "the writer" instead of the actor. When I watch my work on stage as a writer, I get a whole new set of fear and excitement. It is an amazing privilege to be a part of such an incredible festival with wonderful playwrights and theater folk. I am definitely excited to see the other plays and meet other people in the field.
Review Fix: What are your ultimate goals for this production and for the future?
Reevell: I am currently turning this play into a one act, and then maybe from there a full-length production. I would actually love to see this production directed and produced by someone else! As of right now, I am directing it, but I think someone else might be able to bring some really incredible ideas to it.
Review Fix: What do you think your audiences will enjoy the most?
Reevell: I hope my audience will enjoy the end of this play. I find it to be incredibly moving, and the actress who plays Jen (Gabrielle Adkins) is amazing and brings so much to the part. I hope that the audience will be moved and will walk away having a conversation about the message of the play.
Review Fix: What's next?
Reevell: Right now, I am currently working on two more 10-minute plays, as well as a full-length play and, as I said, I am hoping to turn this play into one act. I am extremely excited for what the future holds for me and my plays.