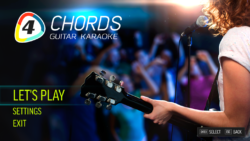 Review Fix chats with Topi Lopponen, CEO, Musopia, who lets us know why the Steam release of FourChords Guitar Karaoke' is an awesome investment if you want to pick up and guitar and learn how to play at your own pace.
For more on the game, click here.
Review Fix: What inspired this game?
Topi Lopponen: We believe that everyone should be able to play guitar in a fun way. FourChords was originally designed for mobile devices, but we thought that a completely new PC version would be able to offer even more. A bigger screen — as well as the fact that people tend to spend longer time on individual sessions on PC compared to mobile — provides an ever better experience to our users.
Review Fix: How is it different from Rocksmith?
Lopponen: FourChords is more about having fun while playing songs with your guitar than technical learning. Unlike Rocksmith, we don't track how well you play. We focus on providing a great starter selection of songs — in fact, much more that Rocksmith does — and giving users a great karaoke-style experience for playing songs. Beginners can start with one-string arrangements — and more advanced users can tailor the song backing tracks with different vocal track melodies, tempo, and even transposing.
Review Fix: How easy is it to just jump in?
Lopponen: We make getting started very easy and relaxed. The core of our concept is get you to play your favorite songs with your guitar as fast as possible. To make it even easier, we provide instructions and useful tip videos from justinguitar.com.
Review Fix: Would you suggest it over a teacher?
Lopponen: Nothing beats a great personal teacher. However, we wanted to lower the threshold for new users so they could just have fun on their own time. FourChords introduces the basics, which is the perfect tool for this.
Review Fix: Bottom line, why should someone buy this?
Lopponen: We offer a unique guitar karaoke experience and a wide range of songs in different genres that will get you started in a easy and fun way.
Review Fix: What's next?
Lopponen: We are releasing new DLC packages on a regular basis. While we were on Early Access, we also worked with our Steam users to make the game even better! At launch, we added new advanced features — Pro Chords and Strum Instructor.