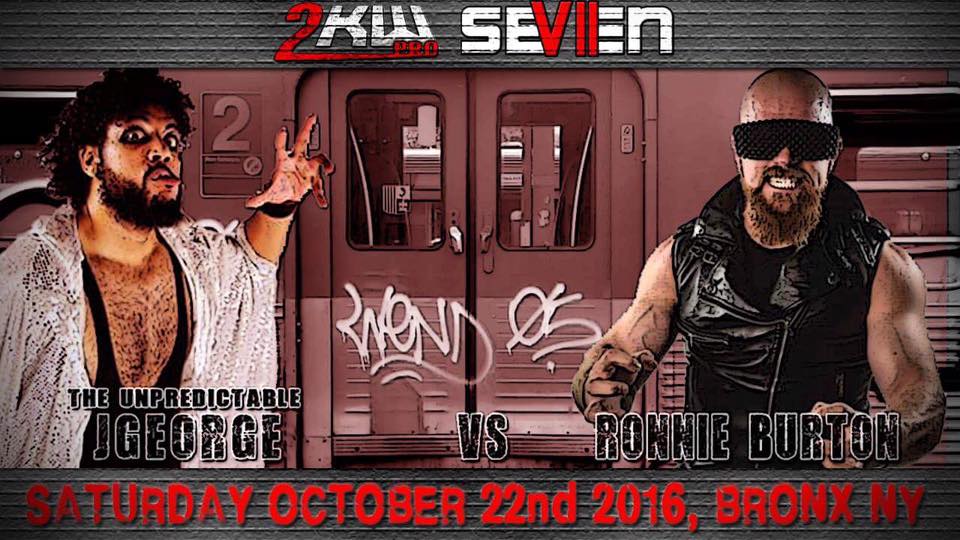 On October 22nd, 2KW Pro returns to the Bronx for 2KW Pro VII! In an event that sees the first ever meeting of Team Pazuzu and the GOAT, we see another first time matchup as the debuting "Rock God" Ronnie Burton takes on the "Unpredictable" JGeorge.
JGeorge decided to not only introduce himself to his opponent, but to the 2KW Pro audience as well.
See this match and more LIVE for only $12.00 online of $15.00 at the door by going to 2KWPro.com or clicking the shop button on the 2KW Pro Facebook page!
SIX MAN WARFARE
TEAM PAZUZU vs. THE GOAT
WOMAN'S DIVISION SHOWDOWN PRESENTED BY Squared Circle Sirens
SONYA STRONG vs. HELLEN VALE
FATAL FOURWAY
"COLOSSAL" MIKE LAW VS. "THE FUTURE" SEBASTIAN CAGE VS. CAVEMAN VS. "THE GATEKEEPER" NOLAN AVILA!
SINGLES MATCH
JGeorge vs. "THE ROCK GOD" RONNIE BURTON
NUMBER ONE CONTENDERS REMATCH FOR THE FEDERATED TITLE
VsK w/ Mr. Martinez vs. EA JAMES
Also Signed
"Sir" William Black
Mante
"All Star" Anthony Silva
and MORE
Tickets: $12.00 at 2KWPro.com!