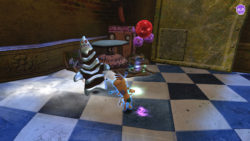 Review Fix chats with "Voodoo Vince" creator Clayton Kauzlaric, who discusses the remastered version coming to the Xbox One and Windows PC.
About Voodoo Vince: Remastered:
If you own a voodoo doll, you get to tap into its strange, mysterious powers. But if you *are* a voodoo doll? That's when things get really fun.
Join Vince on a wild tear through crawfish-laden swamps, haunted graveyards, and the eccentric French Quarter in search of his missing keeper, Madam Charmaine. Show enemies who's *really* boss with 30+ voodoo attacks involving falling safes, prickly pushpins, bolts of lightning, and more. Vince may get his butt kicked, but his opponents feel the pain!
Review Fix: Why bring back Voodoo Vince?
Clayton Kauzlaric: I've always been a little sad that Vince seemed destined to remain in the past. There are still fans of the original game who have kept their original Xboxes running all these years. Anyone else who might be interested in the game has to look for a console and a copy of the game on eBay. I've always been really proud of Voodoo Vince and wanted to bring it back for those fans and make it available to a new audience.
Review Fix: Why has this game stayed a fan favorite over the years?
Kauzlaric: I think different people like Voodoo Vince for different reasons. Some people liked the charm and humor of the game. Others may have been more into playing a very straightforward, challenging platformer. Since we announced the remastered version I've been hearing from a lot of people who grew up with the game. Those memories and associations can be pretty powerful.
Review Fix: What was the development process like for this one?
Kauzlaric: It's still ongoing. I'm not a programmer, so this is just a rough summary… A lot of our efforts have centered on updating the game engine to support more contemporary shaders and rendering tech. The original game had a custom engine. We also had to use a strange in-between version of DirectX back then. Our engine communicated with the original Xbox hardware using some tricky Assembly code. It took a lot of work, but Beep's devs have everything running in DX11 now.
Review Fix: How is this version different away from the visuals?
Kauzlaric: The biggest difference to me is how the game feels playing at 60fps. It not only looks great, it makes the controls feel more precise. Beyond that, I was always happy with the gameplay in Voodoo Vince. We built the entire game world around how Vince controls. That's a big part of developing a character platformer. Changing anything connected to that can set off a "domino effect," which mean digging into every part of the game. That not only takes a lot of time (and money), it ends up feeling like a different game. That wouldn't be Voodoo Vince. That would suck for players who loved the original game.
Review Fix: Bottom line, why should someone play the remastered version?
Kauzlaric: If you loved Voodoo Vince in the past but haven't had access to the original Xbox for many years, this will be a way to revisit an old friend. Maybe you heard about the game and wanted to give it a try. The remastered version makes that possible without the need to dig up an original Xbox console. And if this is the first you've heard of Voodoo Vince: if you like a really pure character platformer with pinpoint control and lots of bottomless pits, this game is for you!
Review Fix: Any plans for a PlayStation 4 release? (Pretty Please!)
Kauzlaric: Sorry! The only console we'll be on is Xbox One — Vince is still owned by Microsoft, after all. The good news is that we'll be on Windows and hopefully Steam, so non-Xbox owners will definitely have a way to play the game.