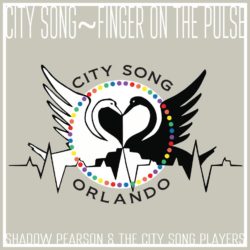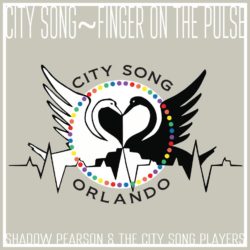 Review Fix chats with singer/songwriter Shadow Pearson, who discusses her band's new track, "City Song – Finger On The Pulse," breaking down what makes it a special track.
About the Song:
On June 12 , 2016, the face of Orlando, Florida changed. The vacation destination took a backseat to worldwide coverage of the deadliest mass shooting in history at The Pulse Nightclub.
Eight days later, Shadow Pearson, from the alternative rock band, The Actomatics, assembled a team of over 100 people to perform her soulful "City Song – Finger on the Pulse." The song features a choir representing the 'Voices' of Orlando. The proceeds from the song benefit the onePulse Foundation 501c.
This pop song, written by Shadow Pearson, is designed to give back and bring healing to the world. "You shot the light, but you can't take the heart," is a resolute and hopeful message.
Shadow's group, The Actomatics, form the backbone of the piece. Team City Song has blossomed into many facets with a growing personnel. Feeling the song deserved a separate identity, one for the people, from the people, singing 'This is our city, Orlando' she chose the name Shadow Pearson & The City Song Players. Pearson refers to those involved with the project as Team City Song.
Review Fix: How did the events in Orlando turn into a song?
Shadow Pearson: As a writer I visualize what I perceive on paper and then into melody. It is a natural process. At root I am a storyteller. This is a story of the people. Timeless.
Review Fix: How did you get everyone together to help you put this track together?
Pearson: City Song is a project. Our community was engulfed by a wave of grief which brings many feelings to the surface. What is the best way to reach out? There is no final answer. Everyone has a place. My artistic brothers and sisters responded immediately to my open call for help ~ realizing this song's vision and integrity. Mark Mason from Metrosound Productions and Chris Short with Alpaca Ranch Recording Studio were key components. Co~engineering/Co~producing with me long hours pro bono. We all knew what we were doing had dignity and it felt right to be doing.
Review Fix: How is this song different from your typical sort of arrangements?
Pearson: I don't know if it is. I have learned over time to self edit. City Song is a tight 2:48 Pop~R&B style tune. There may be a few surprises. At times there are 3 lead vocal parts. I am always curious to know how folks are affected. Get on-board. Drop us a note.
Review Fix: How do you want this song to be remembered?
Pearson: It would make us smile if City Song~Finger on the Pulse became part of the Fabric of great music. The American Songbook.  Lets shoot for that.
Review Fix: Bottom line, why should someone listen to it?
Pearson: City Song is classic. It is hopeful. It has a very soulful vibe. Beyond feel~it's the lyrics. Our identity is captured there in those words.