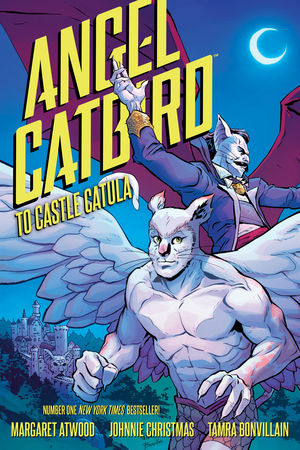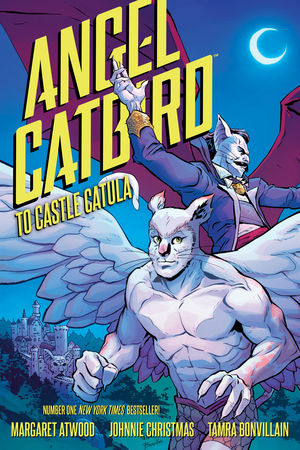 There is nothing like the feeling of knowing who you are meant to be and meeting the challenge of living up to your destiny. Strig Fleedus is not quite there, but he's well on his way of finding his place in the world. Making the heroes of the graphic novel 'Angel Catbird: Volume 2' half cat serves several metaphorical purposes. One being the declawing of a cat. Among other things, cats use their claws to clean themselves and especially to hunt. Essentially their purpose and the personification of who they are is stripped away. They are rendered impotent and incapable of defending themselves. Continuing from volume I, writer Margaret Atwood, artist Johnnie Christmas et al are continuing the journey of the man-catbird known also known as Strig. In getting used to his new normal he has made several missteps but has found a family in the process.
On their way to fighting for their survival, this band is met with mind controlled rats and mating season. As a man-catbird, Strig is caught between conflicting emotions. In a way this microcosm of society Atwood has created reveals that we are most human when we are distracted by our basic human urges. Yet it is necessary for half-cat Cate to battle with half owl Atheena for Strig. It makes them all realize how destructive rats can be. They indiscriminately eat everything. That means baby birds, as well as kittens, don't stand a chance. It also shows that we tend to make excuses and not take responsibility for the atrocities we witness. As humans, we may tweet or rant on Facebook, but for many, that's as far as things go. The half-cats are the same. When they meet up with a victim kitten the excuses are almost as many as the righteous indignation for his plight. No one wants to actually help him. And you realize that the form doesn't matter. When it comes to taking action sometimes the bravest is the individual that shows compassion.
The mingling of myth and folklore is another high note in this volume. As they gather allies to defeat the oncoming apocalypse we see how Count Catula becomes who he is. His story is one of survival. Being persecuted for who you are is most egregious because it is something that cannot be helped. As cats in medieval times, they were burned, hanged and used as amusement. But here was Catula eking out a living at Count Dracula's castle when out of a moment of desperation a cat becomes part of the undead.
Characteristically in a graphic novel artwork contributes to the telling of this journey. And on the last few pages, there is an insight into the construction of this world. Like the half-cats and birds Atwood and Christmas work in tangent to bring this story to life. Best of all in volume two of 'Angel Catbird' there is a drawing of a cat with wings. Done by a young Atwood the rendition is childlike as well as astute. It shows that our reality is only limited by our imagination. This narrative makes us consider that no matter how different we may be, our freedoms should not be infringed upon or taken away by a despot. Dr. Muroid, the villain in this piece, wants his desires to be met regardless of who gets killed. This includes his minions, he cares for no one only domination. Muroid is what unites all these species. Perhaps that is the big takeaway from the second installment. Nothing, including freedom, can be sustained by one individual alone.