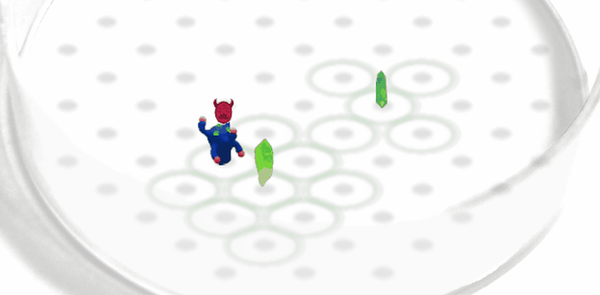 Review Fix chats with "Microid" creator Brandon Campbell, who gives us an inside scoop at the game. From the development process and goals, to his love of Pokemon, Campbell lets us know exactly what makes this game a special one.
About Microid:
Microid is an alien bacteria simulator for Android, iOS and Windows that challenges players to design and conduct experiments. The game features dozens of alien species, each built and animated by hand with modeling clay and stop motion.
Review Fix: What was the development cycle like?
Brandon Campbell: The idea came to me last spring and I've been working on it slowly and steadily since then. It has mostly been a subtractive process – I started out with a messy pile of concepts and colors and I've been through two exploratory prototypes to find the real heart of the game. It can be stressful to fit around my full-time software job, but it's also a lot of fun.
Review Fix: Where are you now in development?
Campbell: I developed the core functionality first to save the fun stuff for the finish line. I'm currently working on content creation, which means lots and lots of modeling clay and Photoshop. The game currently features 15 stop-motion animated Microid species with another 15 palette swapped versions to round things out, but I'd like the final product to be much more diverse. I have a notebook full of designs waiting to be built.
I also need to balance and rebalance everything through playtesting. Resource management is a big gameplay element, so this process will make or break the game. I want to deliver a polished and cultivated experience. This is where Kickstarter comes in – if the project is funded, I'll be able to higher beta testers, commission an original soundtrack and export the game to iOS and universal Windows devices (in addition to the Android and Windows PC exports that I already have.)
Review Fix: What makes your Kickstarter unique?
Campbell: Microid is a game of experimentation. The central mechanic challenges you to care for a host of cryptic little space germs, but first you'll have to conduct experiments to discover what each species requires. The game borrows inspiration from farming, management, and puzzle genres, but the heart and soul is about scientific inquiry.
Review Fix: What games did you play as a kid? How did they inspire this one?
Campbell: I'm a long-time fan of the Pokémon franchise. It started as the embodiment of all my childhood fantasies – seize your destiny, become the best, and form bonds with powerful monsters.  As I've grown older, I find new things to love in the designs and the depth of the gameplay.  Microid represents a love of color, shape, and concept that I first discovered in Pokémon. I think Zoo Tycoon also bears mention (pardon the pun) as one of my first in-depth experiences in resource management.
Review Fix: What do you think makes this game special?
Campbell: In addition to delivering a tangible laboratory experience, Microid reaches for the playful magic in science. I think that is an important element of science and research that we are often trained to ignore. I chose to render the Microids in Claymation to capture a sense of vivid tangibility that is as much whimsical as it is real.
Review Fix: Where can people go to find out more information?
Campbell: I post development progress on Twitter (https://twitter.com/microidmobile) and Facebook (https://www.facebook.com/microidmobile/).
Review Fix: Any chance at a console release?
Campbell: That would be really cool! The game is best suited to mobile devices, but I'd love to see enough public interest to justify the time and resources required to bring it to consoles.
Review Fix: Bottom Line, why should someone play this when it's released?
Campbell: Microid is perfect for people who like dopamine. Nothing satisfies quite like solving a problem, and even when you are faced with something complicated, there are always little rewards along the way. I've also taken care to make it intuitive and approachable for folks of all ages. The open-ended gameplay allows for depth that kids and adults can appreciate side by side.
Review Fix: What's next?
Campbell: I anticipate a summer of sculpting, animating, coding and tweeting! After that, I'd like to continue gamifying the strange nooks and crannies of the big wide world. I have a few follow-up projects waiting to be explored.