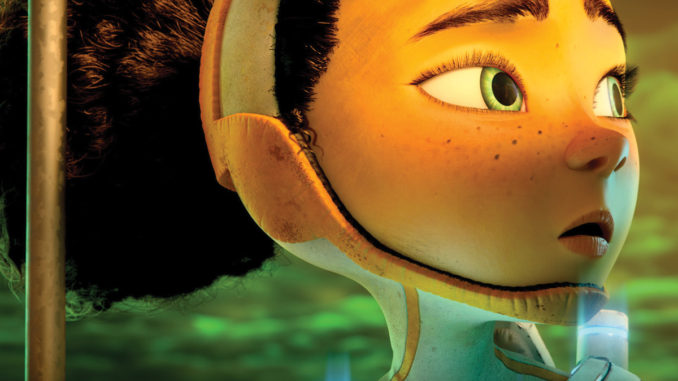 In less than five minutes, Escape, is able to captivate its audiences with its colorful, yet contrasting animated landscape, action packed non-dialogic scenes and a mesmerizing song that lasts throughout the entirety of the film.
Directed by Limbert Fabian and Brandon Oldenburg, Escape's plot consists of an unnamed female "lone space explorer" stranded on a barren desolate alien planet, and using a pink clear crystal as a power source actives a machine, that will her help escape to a new habitable world.
Meanwhile, while she collecting crystal, she tries not to be devoured by glowing red eyes goo like eel monster, to which she can only defend herself with staff that is shaped as tuning fork.
From the opening scene, the audience is already informed of the genre of the animated short: science fiction. A long shot of giant rocks floating above in the green alien sky, below a land of purple and hint of orange and a lone humanoid character walking across the deserted landscape.
Escape's soundtrack song plays throughout the entire short. An original song "Magic Me" composed and performed by Imogen Heap, a song that easily blends into the film, with futurist beats and lyrics of hope and determination.
The animated short has DreamWork-esque aesthetics, using CGI in a similar way with their character, as the unnamed protagonist, has a resemble to the character of Gratuity "Tip" Tucci of Home, with her curly hair and freckles. As well, to add a good measure to the sci-fi community, wear a suit to the liking of Tron.
With a climax that will have you on the edge of your seat, Escape is truly an escape from reality, and into the realm of science fiction, animation, and imagination.