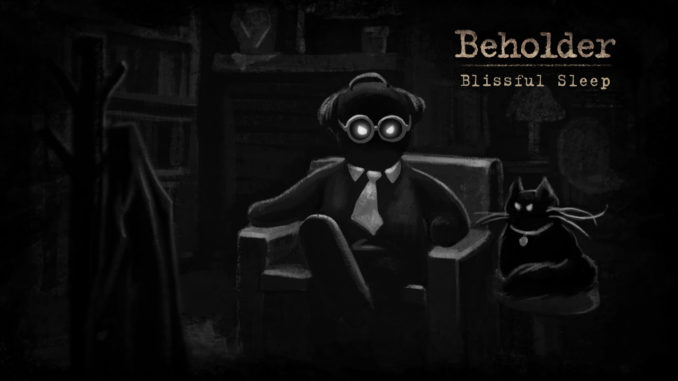 Review Fix chats with Evgeny Sister, Producer at Alawar, who discusses the upcoming Beholder DLC: Blissful Sleep. Breaking down the inspiration for the DLC and the warm reception of the original game, Sister lets us know exactly why it's worth your time.
Review Fix: What inspired this DLC?
Evgeny Sister: It was inspired by the success of the original game, however, if we are speaking about the storylines rather than about why we decided to develop and release this DLC, then it is just a little bit more complicated: original Beholder is a story-based and a story-driven game with multiple endings. This means that we have unfolded as many outcomes as possible (or very close to a possible number of endings). Therefore, a DLC that would tell stories of Carl Shteyn and his family sounded a bit strained. On the other hand, we have a previous landlord, who is dragged away by police at the beginning of the game. His story is completely unknown. Moreover, we can also tell some more stories of the secondary characters from the original game, without changing the settings and stay within the same atmosphere of totalitarianism and surveillance. These thoughts inspired us to come up with the idea for the DLC.
Review Fix: How does it change the game?
Sister: It doesn't change the game at all, from the point of mechanics or setting or gameplay. We are still in the same State, under the same rule, even in the same building. But again, Beholder is all about decisions that a player makes; about the circumstances that we put a player in; and about the stories that we tell. So, we introduced new characters, added more details to the existing ones and, of course, we created more exciting and sometimes shocking stories!
Review Fix: What was the original reception for the game like? How did it fuel the fire for this DLC?
Sister: The game received a very warm welcome from the players. Even at the beta-test stage, we got an overwhelmingly positive feedback from players who agreed to participate (by the way there were over 20 000 beta-testers), followed by a close attention from the streamers and vloggers (with some of let's players creating a whole series of 5+ let's play videos). We also received great reviews from different gaming media, including IGN Russia, who named us the best adventure game of 2016.
All in all, over the previous 6 months we won 7 nominations, including Best in Play @GDC 2017 and Best Indie Game @GCA 2017 and @DevGAMM 2016.
Of course, such a tremendous success lends you wings. We even started thinking of Beholder 2 before we got down to developing the DLC!
But anyway, it all depend on the players – they decide to either make a DLC come true or to make the original game sink into oblivion. Quite an elegant way to touch upon a sales question, I think 
Review Fix: Bottom line, why should someone download this game and the DLC?
Sister: Beholder is a game that tests your moral compass.
But we do not ask you, what is good or what is bad. Nor do we provide an answer to that. Instead, we put a choice in front of you, a choice that will make you think of what you believe is right or wrong, good or evil. What ending will you encounter? Will it be a happy or a sad one? In fact, it is all in the eye of a Beholder.
Review Fix: What's next?
Sister: We are already working on Beholder 2. We will stick to this totalitarian state, but this time it's going to be a whole new perspective. However, we may also continue with the DLCs – it all depends on whether we will meet our players' expectations with Beholder: Blissful Sleep.