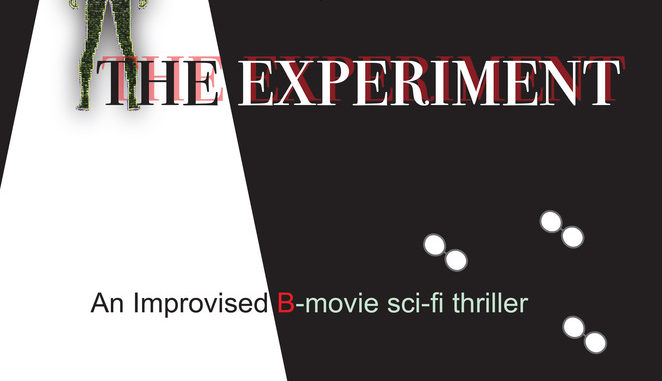 Review Fix chats with Bill Berg and Nannette Deasy, who break down the fun of IRTE's "The Experiment."
About the Production:
IRTE's "The Experiment"
Conceived and Directed by Bill Berg
Featuring Robert Baumgardner, William "Bill" Berg, Curt Dixon, Jamie Maloney, and Nannette Deasy, founder and Artistic Director of IRTE; with special guest improvisers, Michael Hauschild, Brianna Lee, and Connie Perry
The Producers Club 
358 W 44th St, New York City
Fridays and Saturdays: April 21 & 22; 28 & 29 @ 8:00 p.m. 
http://www.irteinfo.com/tickets 

The Improvisational Repertory Theatre Ensemble continues its riotous season with Bill Berg's The Experiment.
This improvised send-up of those glorious B movies of the 50s invites the audience to help create a Sci-Fi flick complete with time-traveling creatures from inside your mind and genetically-modified clones of your worst-nightmare-self! Each performance is different from the last but all are hilarious!
In the tradition of Saturday Night Live, IRTE also features a different musical guest each performance. Musical Guests: Elijah Tucker (April 21), Victoria Cave (April 22), with more to follow.
The multi-award-winning IRTE has toured the country makes The Producers Club its New York venue for the 2017 season.
Review Fix: What's your creative process like?
Nannette: We at IRTE have a very collaborative creative process for our shows. Two months before we go into rehearsals, the ensemble (Robert Baumgardner, Bill Berg, Curt Dixon, Jamie Maloney and I) get together for pre-production. In addition to discussing the season's marketing, fundraising, venue, etc., we discuss and pitch ideas to each other for the upcoming season's shows.  This year, we pitched about a BILLION ideas (ok 35), voted, ate snacks, wrestled (mentally) and re-voted until we all agreed upon our favorite four, and those became our season. The ideas we all come up with are pretty far flung and, unique to say the least. Each year, I try  and convince the group to develop a show called Toddlers and Tyrannosaurs, about a child beauty pageant beset by dinosaurs. It never gets picked. (I'm a little bitter).
Whoever has a chosen show pitch takes the lead in shaping that particular show's structure. We then meet again prior to rehearsals to brainstorm some more with the available cast. THEN, we further refine and develop the show through rehearsal.
Bill: Â As the director of a show that I pitched, I actually feel that I have a good amount of time to prepare for the collaborative creation process. So, with a show like 'The Experiment,' which is an improvised sci-fi thriller, I began by watching a bunch of sci-fi thriller movies. Not only is this fun – because I love sci-fi thrillers – but it also helps me get in the right headspace for coming up with a useful structure within which the actor/improvisers will create the show. Once I've immersed myself in the world of the sci-fi thriller, it becomes much easier for me to sketch out the specific improvisational forms and approaches that will aid the performers in creating realistic characters to inhabit the world that will come into being onstage in front of a live audience.
Review Fix: What makes this different or special?
Nannette: While we have a structural outline to keep the physical components of the show moving, plot and story is never pre-determined. The shows are completely improvised. However, unlike a lot of traditional improv in New York, we like to mix in theatrical elements of props and costuming and traditional story-telling. Of course, our look is pretty raw, silly and, sometimes, downright "trashy"- we use a lot of wigs, streamers, and dime store goodies in our shows. Party City is one of my favorite shopping destinations. (Do you think they'll send me some free silly string for that plug..?)
Bill:Â This differs considerably from most improvised shows in that not only do we have a theme with which we're working, we also have a series of guideposts to help performers to experience both the freedom to create whatever comes up in the moment as well as the reliability of agreed upon circumstances and direction. I think this is very special. I don't know of any other improvisational theater company or "improv team" that works this way.
Review Fix: What did you learn about yourself through this process?
Nannette:Â I leaned that I love the freedom of not having to adhere to a script. I learned to trust myself and my theatre partners that you can create something out of nothing – to release control over every moment – to trust that after four rehearsals (that's what we give each show), there will actually be… a show.
Bill:Â With this project in particular, I'm learning that I actually do know a lot more about the sci-fi thriller genre than I thought I did going into it. I'm also finding a new level of trust, both of myself as a director, and of the process of creating characters and stories through improvisation. It helps to work with top-notch improvisers and actors, as I do with IRTE and our guests.
Review Fix: How does it feel to be a part of something like this?
Nannette:Â It is sooooo much fun. While we're performing one show, we're already in development/rehearsals for the next. Our season in NYC is only four months long with a brand new show each month. After we wrap up the season in NYC, we head to various festivals around the country. From the moment we start our pre-production process, it's kind of a whirl-wind.
Bill:Â It's very exciting and rewarding to be a part of this theater company and the shows we produce. As I said, I don't know of any other group working like this. Besides that, it's very rewarding to be a part of every aspect of a show's production, from concept to design to creation, production, marketing, etc. With IRTE, we get to do what we want in a supportive environment of truly collaborative creation.
Review Fix: What are your ultimate goals for this production and for the future?
Nannette: As I mentioned, we may submit The Experiment to theatre festivals. On the whole, each show is another opportunity to refine and develop what we enjoy – a new and growing form of comedy theatre that melds traditional theatricality with the fun immediacy of improv – a basic and raw comedy theatre that is also colorful, silly and over the top.
Bill:Â My ultimate goal for this production, 'The Experiment', is to completely change the face of live theater on the planet!
Just kidding. I really just want to put together a fun, exciting, interesting and different show for everyone involved. Where it goes from there, who knows?
Review Fix: What do you think your audiences will enjoy the most?
Nannette: With The Experiment, I think audiences will get a kick out of seeing many of the familiar themes, tropes and archetypes of sci-fi B-movie thrillers brought to life with such simple objects as streamers, silly string and masks swiped from Sleep No More (Shhhh… don't tell the folks at Punchdrunk…)
Bill:Â I hope what audiences enjoy the most is seeing our actors bring to life fun and funny characters in a world that's both familiar and strange. I think they'll get a kick out of what I think is the amazing feat of 7 highly skilled actors creating an entire, original, sci-fi thriller right before their eyes!
Review Fix: What's next?
Nannette: We keep growing and spreading (like an alien infection). In July, we will be heading to the Providence Fringe Festival with one of our earlier shows, Happy Birthday, Stupid Kid! It's an improvised and audience interactive Birthday party. There will be cake and balloons and an adulterous clown. Who doesn't love cake?!
Bill:Â What's next for me is to come down from the director's chair and rejoin the IRTE cast onstage for our third production of the 2017 season, 'Avoidance!' the game show for introverts. I'm looking forward to seeing if my performances change after being in the role of director for this current show. I'm REALLY looking forward to getting up and playing with my fellow IRTEs and gIRTEs (guests of IRTE) again!