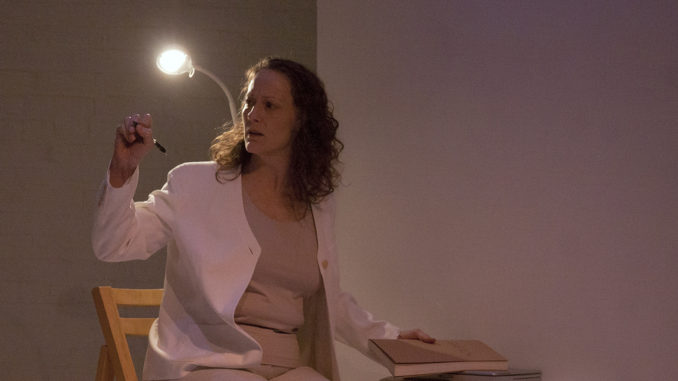 Review Fix chats with actress Liz Stanton who discusses her solo-show "The Woman Who Was Me," which will be performing at Theaterlab from May 24 through June 11, 2017.
To learn more about The Woman Who Was Me, Click Here.
Review Fix: What was the inspiration behind The Woman Who Was Me?
Liz Stanton: I was interested in doing a one woman show that was not about me. When I read the play, I was inspired by Lanie's journey, her questions, her declarations and her expressive language which vacillates between quotidian and poetic. Lanie is kissed by a stranger and her life is changed, her desire is unleashed, she questions her role in her life, in her marriage. She goes on a search anud takes risks, does things she would never do and she learns to be present in the moment, as she listens and waits. I am inspired by Lanie's innocent courage and her discovery of who she is.
Review Fix: What are your creative goals here?
Stanton: I want to dive in and challenge myself to bring an organic visceral truth to Lanie's story. I trust I will ignite the audiences' imagination by using a few choice props, my body, my voice, and my imagination. With the help of the director, Jeremy Williams, I hope to expose a sense of desire, vulnerability, time, and a deep sense of listening, in this piece.
I am interested in listening to the audience. So we have added Act 2: Women's Voices, Women's Choices. This is a conversation with the audience hosted by a different special guest each night. The discussions will incorporate the questions and topics addressed in the play so that we can recognize common experiences in each other, share these feelings and make connections with a larger community.
Review Fix: Who do you think will be affected by seeing The Woman Who Was Me the most?
Stanton: I believe this piece will resonate with anyone who questions how committed they are to their partner or spouse. Anyone who desires more creativity, more sex, more freedom. Anyone who fears taking a big step into the unknown, who dreams of a different future. Anyone who is searching, who is listening deeply.
Review Fix: How do you want it to be remembered?
Stanton: A captivating story told with a deep sense of truth and presence. This story will resonate long after the play is over. It started a conversation that I am continuing to explore.
Review Fix: What's next for you?
Stanton: Next ? I'm in the now!!  Convergences Theatre Collective is an amazing artistic home where I will continue to work with on Babel, an ensemble, acrobatic dance piece. We are also beginning to work on another play by Peter Grandbois called Nahoonkara and I am recording the vocal sound scape for a dance film called Distant Anchors choreographed by Jessica Bonenfant.