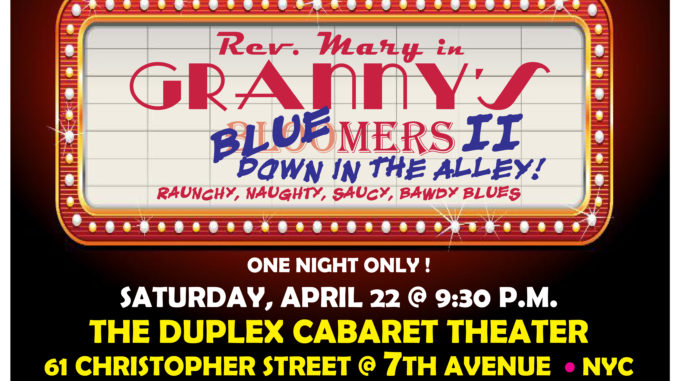 Review Fix chats with playwright and singer Mary Elizabeth Micari who discusses Granny's Blue-mers II: Down in the Alley!
About The Production:
Back in the good old days, freedom of speech went just so far and came at a cost. Censorship, especially in entertainment, was at its highest… even in private clubs. Blues singers had to seduce their audiences with clever lyrics, double entendres, and lots of food references to get around strict decency laws. Singer Rev. Mary and her Blue Crew unveil a steamy array of vintage bawdy blues paying homage to performers like Mae West, Sophie Tucker, Bessie Smith, Rosa Henderson, Ruth Brown, Stella Johnson … and Barrel House Annie, to name a few. You'll be amazed at all the hidden meanings "grease my griddle," "hot dog roll," "mighty tight," "arriving in low," and "put some sugar in my bowl," can have.
April 22 @ 9:30 p.m. at the Duplex Cabaret Theater, 61 Christopher Street, NYC
Review Fix: What's your creative process like?
Mary Elizabeth Micari: First I research songs that are in a theme I am interested in presenting, in this case hokum or copulating blues. This time I am working with the idea of being a Madame in a Bordello singing with the house band. This tells me the sound I am looking for, the lyrics and informs me as to what instruments might work, what singers and what costumes etc.  I begin to look for pictures on the internet and if I can newspapers from the era, I watch film, listen to histories of the people (if I  can) who wrote these songs and sang them and/or I read biographies.
The research takes many hours. First I gather literally hundreds of songs and sing through them.  I let that go on for a while and then I slash. I end up with some I love but won't work for me at this time for various reasons and then there are the perfect ones, perfect for this show at this time.
If I am singing alone I only concern myself with songs that really speak to me but if I am working with other singers I try and find songs to suit them as well.   I grew up doing straight theater, musical theater and then opera all of which are about each person being part of a team that makes the whole happen. When I have been in bands it's really the same thing.  It's not at all different with this group. Although I am the lead and head of the show I like everyone to collaborate.  I only work with people I respect and who I know have something to add to the whole.  I ask for suggestions and at rehearsal I let them create and play and then we always come up with something fresh! I pick up ideas from then and they from me!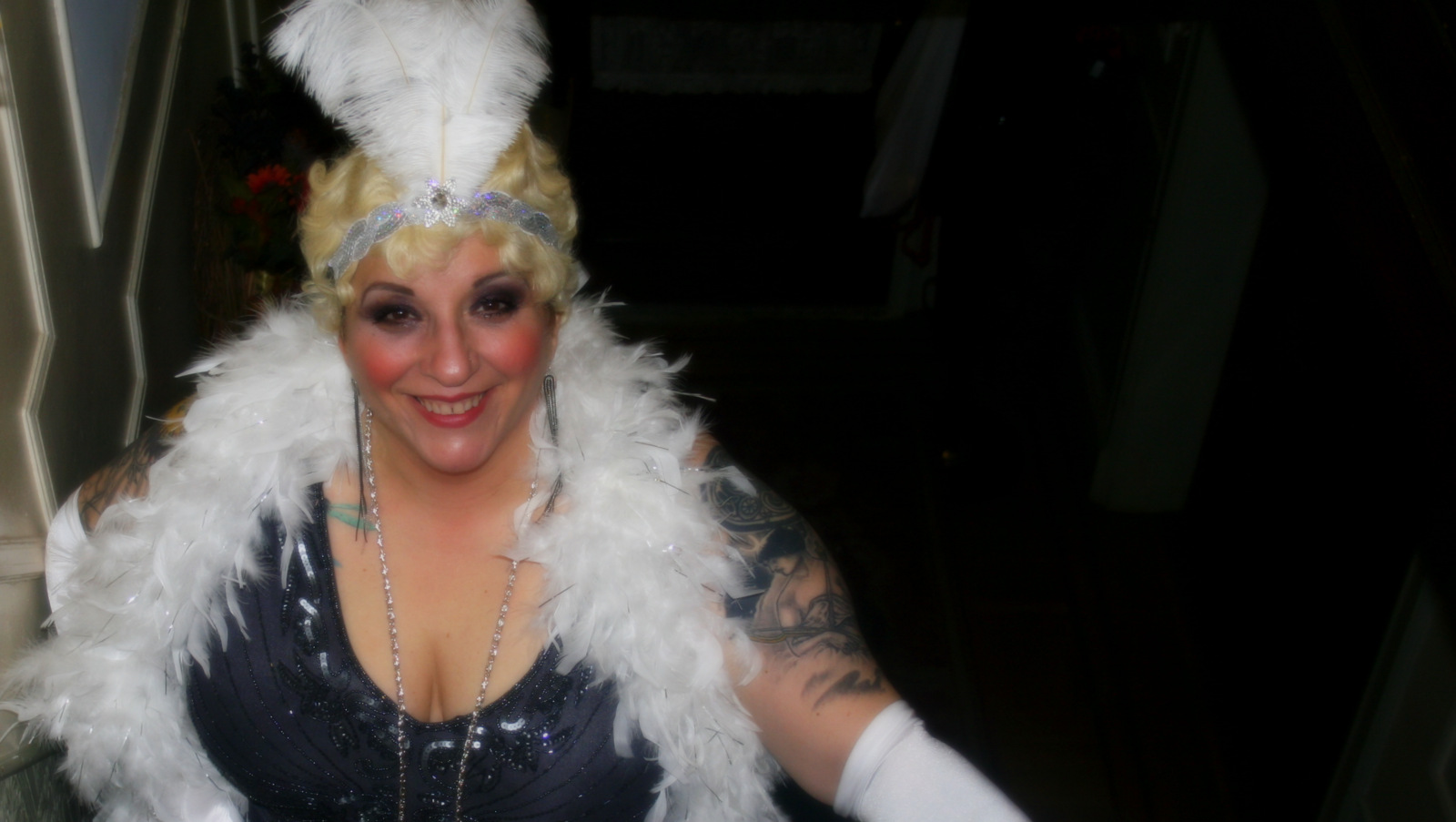 Review Fix: What makes this different or special?
Micari: Parts of this show have been out on a tour of sorts around NYC and have gotten good feedback and great reviews.  Now I have expanded from 12 songs to 24 plus solos for musicians.  This is NOT a long show though! The songs are only about 2-3 minutes long at best!  Its only 90 minutes and it's in a wonderful club where people can watch and participate fully.  The Duplex is a legendary place and I like to use it for new ideas and to just be in that wonderful feeling in that space.  These songs are songs NO ONE (well some people) really knows.  The people who know them are those that are working in blues or in preservation of music and older people who remember them from their parents.  I found songs that are rare, vintage and funny as hell!
Review Fix: What did you learn about yourself through this process?
Micari: I have learned to trust myself, my choice of musicians, my song choices, costumes and more.  I am using all the skills I have learned throughout my career in the performing arts from singing work to directing to designing and even producing!  I have also learned to trust my voice and the music.  Instead of imposing my voice on the music I am letting the music lead my voice.  It's a very different feeling. I am singing better because of it.
Review Fix: How does it feel to be a part of something like this?
Micari: Oh this is fun! It feels good, interesting, important and oh oh oh so fun! It's important too. Keeping history alive is important and this is American history we are singing!
Review Fix: What are your ultimate goals for this production and for the future?
Micari: I will take a short rest and then begin finding venues to place it on a regular basis in NYC, NJ and across the country.  I also want to record.
Review Fix: What do you think your audiences will enjoy the most?
Micari: Frankly, they will laugh their asses off and be educated as well. Can't beat that!
Review Fix: What's next?
Micari: I'd like to do a different blues set. I'd like to explore sadder songs, deeper songs and add them to an act. I am also interested in exploring more Boogie Woogie including stuff like the Andrew's Sisters and others from the Swing Era.  I am also working on recording and then presenting live meditation music and spiritual music dedicated to the voice of the feminine divine which of course is all over this act as well. All of these songs are by women who a long time before I was born were exploring their divine feminine power through their sexuality! They were all Goddesses! High Priestesses of Sex and Music. Divine Magdelines!