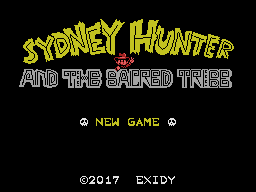 Review Fix chats with CollectorVision game designer JF Dupuis who discusses Sydney Hunter & The Sacred Tribe, the upcoming game on the retro ColecoVision console. Detailing the game's development and goals, Dupuis let's us know how the game came to be, it's eventual NES port and his inspirations behind it.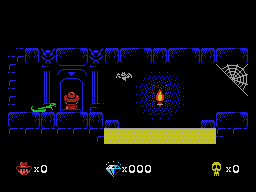 About Sydney Hunter & The Sacred Tribe:
ColecoVision, one of the gaming giants of the 80s returns with the release of Sydney Hunter & The Sacred Tribe, a new video game on cartridge.  The release will mark its first commercial release of a video game on cartridge in nearly 30 years.  Teaming up with Coleco is game developer Exidy responsible for the popular the arcade smashes Venture and Mouse Trap both were ported to the early ColecoVision.  Sydney Hunter & The Sacred Tribe was recently voted "Best Game of the Year" by the mega forum Atari Age.
For more information visit www.ColecoExpo.com.
Review Fix: How was this game born?
JF Dupuis: The Sydney Hunter character was created by our friend; Keith Erickson.
The first Sydney Hunter game was Caverns of Death, an online Flash game  ( http://www.studiopinagames.com/sydney.html ) We later bought the character from Keith to create a series of games using this character. We wanted to see how Sydney would look on the Intellivision. It was more of a "test game" to us, like stepping our toes into Intellivision.
In 2015, I started working on another Sydney Hunter game dubbed: Curse of the Mayan. This one would be for modern platforms
(We're about to release it). In 2016, I started working on Sacred Tribe, the prequel to Curse of the Mayans. I wanted to go back and develop a new game for the Intellivison. This time, I wanted to prove that it was still possible to make a detailed, but also fun game for Intellivision.
The game was voted Best Packaging and Game of The Year 2016 by the Intellivision Community on the AtariAge ForumsNeedless to say, we were quite honored by this.
Review Fix: How is it different from the Intellivision version?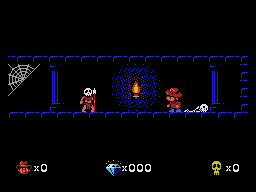 Dupuis: It is the very same game, but way more detailed and polished, thanks to the ColecoVision limitations. I added few things here and there and I improved over what I what I wasn't completely satisfied with. Besides, I was limited to the screen resolution with the Intellivision version (160×96), while the ColecoVision resolution is 256×192.  So with the ColecoVision version, I had more space on-screen to work with. I consider the ColecoVision version, the definitive version of Sacred Tribe. In fact, we're currently porting Sacred Tribe over to the NES and we're using the exact ColecoVision version.
Review Fix: What was development like?
Dupuis: It went very well actually! I did design the game in about six months, then my dear friend Oscar did the programming in six months. His brother Adan composed all the music tracks. I also had my friend Jeramie who did the box art.
The manufacturing was all handled by Toby St-Aubin, my partner at CollectorVision Games Inc.
Review Fix: What makes the story of this game special?
Dupuis: Other than being the prequel to Curse of the Mayan, there's nothing so special about it, really. There's no deep story, it's more about a pick up and play game
Of course, the game is enjoyable, but we didn't re-invent the wheel so to speak. I just wanted to make a simple but fun game, easy to play, hard to master.
Review Fix: What was your goals for the game?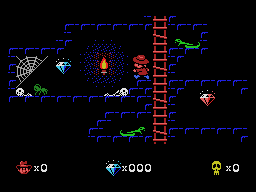 Dupuis: When I orignally designed the game for the Intellivision, I followed what I had in mind for Curse of the Mayan when I first designed it (The game design for Curse of the Mayan changed three times).
The goal for Sacred Tribe was to prove it was still possible to make a detailed and fun game even by using a few colors. I was highly inspired by Night Stalker, Out of this World for the graphics colors and Montezuma's Revenge for the gameplay.
Review Fix: Who will enjoy this game the most?
Dupuis: Any gamers who like retro games with a bit of challenge might enjoy it.
Review Fix: What makes the CollectorVision Games brand unique?
Dupuis: I think we're offering something different, but also for everyone. While we're developing games for old systems and we're also taking this into consideration when we're developping games for modern platforms.
Offering physical copies of our games is certainly something fans appreciate and we're doing everything we can to deliver quality products to them. Our fan base is certainly not very huge, but I think they certainly appreciate, respect and believe in what we are doing.
Review Fix: What's next?
Dupuis: I'm taking a break with Sydney Hunter games; I want to do something I had in mind since a long time now. You'll probably hear about this in a year or so stay tuned.