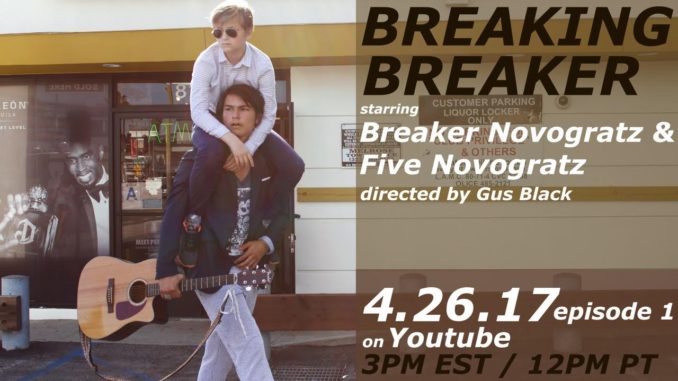 Review Fix chats with singer/songwriter and actor Breaker, who discusses his new web series "Breaking Breaker" and his music. Marked as one of the next big teen sensations, the humble Breaker has plenty of goals.
About Breaker:
Breaker is no stranger to Hollywood. He recently starred in the well received short film, The Jacket, and was featured in a campaign at The Frieze Art Fair in London, shot by photographer Torbørn Rødland. In his young career in acting, modeling and music, he has already been dubbed a "Rising Star" by Teen Magazine J-14 and "The Cutest Boy You're Not Crushing On" by Tiger Beat.
Review Fix: What's your standout track?
Breaker: "My Body" is my standout. It's really fun and I always want to dance to it. It's a big sounding pop song, yet theres also an intimacy between the listener and I, which is really nice.
Review Fix: How was it written?
Breaker: The song was written two days before I went to record in the studio. It came naturally and fast, as if it almost wrote itself. I knew it had to be on the EP, and so I quickly taught it to the band and they loved it. A little side note is that my mom immediately got up and danced on the table when I played it for her!
Review Fix: What inspired it?
Breaker: There are certain people who make your entire body feel electric, as if you need to dance, yet she or he can also put you at complete ease. I wanted to write a song about how looking at someone thats special to you can brighten up your entire day.
Review Fix: Why is your web series special?
Breaker: It is special because of the dynamics between my younger brother and I. It's very sweet and different, and with each episode you can hear my music! Plus its funny as hell.
Review Fix: Who do you think will enjoy it the most?
Breaker: I hope everybody will enjoy it. The great thing is that it doesn't play down to any crowd. It's very authentic!
Review Fix: What are your goals for 2017?
Breaker: I want to continue to do cool stuff and grow as an artist and a person. My ultimate goal is hard to say, but as long as my music connects with people in the world, I'll be more than great!
Review Fix: What's next for now?
Breaker: I just finished making a music video for My Body with the LA Ballet! I'm excited not only to showcase my music and dancing, but the incredible ballerinas as well. I think it's really epic!
Review Fix: Anything else you'd like to add?
Breaker: Thank you to everyone at Review Fix for supporting my releases. This has been awesome!