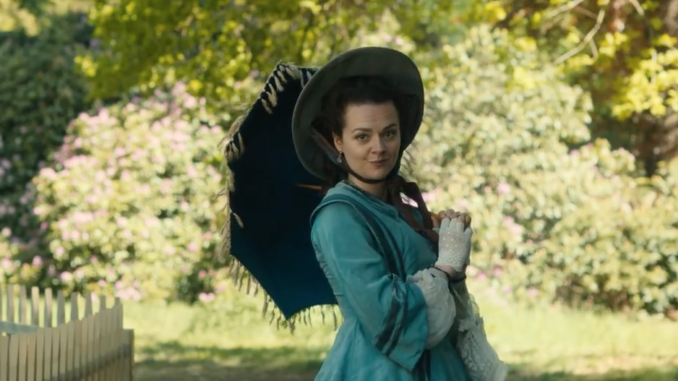 Review Fix chats with actress Catherine Bailey, who discusses her role in the recently-released film, "A Quiet Passion."
About Bailey:
As Vryling Buffam, Catherine Bailey has been receiving rave reviews including IndieWire applauding her "infectious verve" as Buffam, the Evening Standard praising her "scene-stealing" performance, Screendaily calling her "Sparkling" and the Guardian describing her as "Fabulously Arch."
Catherine Bailey's impressive career includes British high rating TV shows such as Mr. Selfridge, Midsomer Murders, The Sarah Jane Adventures, Holby City, Doctors and more. This talented actress has been a series regular in House of Anubis for Nickelodeon, the UK's number one soap EastEnders, The Wild House and Uncle Jack and Residents for the BBC. Bailey also starred in Agatha Christie's drama And Then There Were None, in which she played Olivia Hamilton, which aired on BBC1 and on America's Lifetime Network. She will soon be seen in the second season of Netflix's highly successful series, The Crown as Lady Elizabeth Cavendish.
Review Fix: What makes this film a special one to you?
Catherine Bailey: It is special to me for a few reasons, namely that I was thrilled to be able to work with one of the UK's most talented filmmakers in Terence Davies, whose work I had admired for years. His style is unique and his films defy categorization. However, one of his motifs is that he has tended to tell women's stories, and this film is no exception. That was important to me too, that Emily Dickinson, a woman who is described as the genius of 19th Century poetry, has her story told. Cynthia Nixon is astonishing in the role of Emily, and I was delighted to play her friend Vryling Buffam, a character who brings some levity and mischief to the contained life they lead in Amherst, Massachusetts. I get to say some wonderfully witty lines, in a flamboyant and fun way, but the subjects of conversation are not light and fluffy. Our characters are clever and articulate, so we get to discuss religion, gender politics and war at a time when women were constrained by the conventions of society, so that feels important too.
Review Fix: How does it feel to be a part of a film dedicated to someone so iconic?
Bailey: It's great to be able to tell Emily's story in this way. I had a preconception of her as the reclusive woman in white, but in this version of the story, she is so much more than that. She was prolific, wrote a staggering 1800 poems, and her rebellious spirit and outspokenness are beautifully described, giving her character so much more texture than I had previously thought. I think it is fair to say that Terence has used some artistic licence with characters like mine, in that the real life Vryling may not have been quite as outrageous as our take of her!
Review Fix: What was the mood on set like?
Bailey: Terence is extremely funny, so I remember a lot of laughter, but he is very precise and specific about what he wants, so the wit and banter he is so adept at belies a steely seriousness about the work. His actors trust him deeply, because he is so passionate about what he wants. He is kind, not tyrannical at all, but his passion for the work made me want to realise his vision for the film, without compromise. I wasn't in some of the more sombre scenes, so I can't speak for the mood during the filming of those. As for the other actors, I was thrilled to have so much with Cynthia Nixon and Jennifer  Ehle, who were very charming and supportive – Cynthia even gave me a crash course in how to use a fan on set when Terence decided Vryling should have one at the ball! I was rather in awe, as they are the sort of actors I admire deeply, for their talent and dignity. It isn't always easy for actors on their level of success to have that kind of class and style, but they manage it seemingly effortlessly.
Review Fix: Who do you think will enjoy this film the most?
Bailey: I initially thought that Dickinson and Davies fans would be the main audience, but having seen the film in its entirety, I was shocked at how personal it felt, at how human the story was, even though it was about someone living a very different life to mine, from another century. Terence depicts family life, death and loss in a way that is relevant to so many, it seeps in and stays. So I keep seeing reviews and tweets by all kinds of people saying it's a masterpiece and that it spoke directly to them, and it is selling out in cinemas as a result.
Review Fix: How would you like this film to be remembered?
Bailey: I think that the beauty of the writing, performances and cinematography will be timeless. If you look back on Terence's films like Distant Voices; Still Lives, or The House of Mirth, they still make an impact even now. I hope it will be remembered as a film that didn't try and pacify or please the current status quo, but that was a piece of true, uncompromising and authentic art in its own right.
Review Fix: Bottom line, why should someone watch it?
Bailey: Because it is visually stunning, like a Vermeer painting, witty and funny, like an Oscar Wilde play, and searingly tragic and human, like anyone who has lost anyone can identify with!
Review Fix: Anything else you'd like to add [Maybe other projects coming up for you etc]?
Bailey: Well I've just filmed a role in season 2 of The Crown, but I'm not allowed to talk about that, so you'll have to wait until later in the year when it comes out on Netflix! I also run a theatre company called Baz Productions, which is dedicated to putting on classic plays with a contemporary twist, in unusual spaces which have included a 16th century crypt and The Vaults in Waterloo. We are currently exploring a nightmarish piece by Kafka, as it feels relevant to current world events! You can check my twitter feed @cathbailey or www.bazproductions.co.uk for updates as they come in.