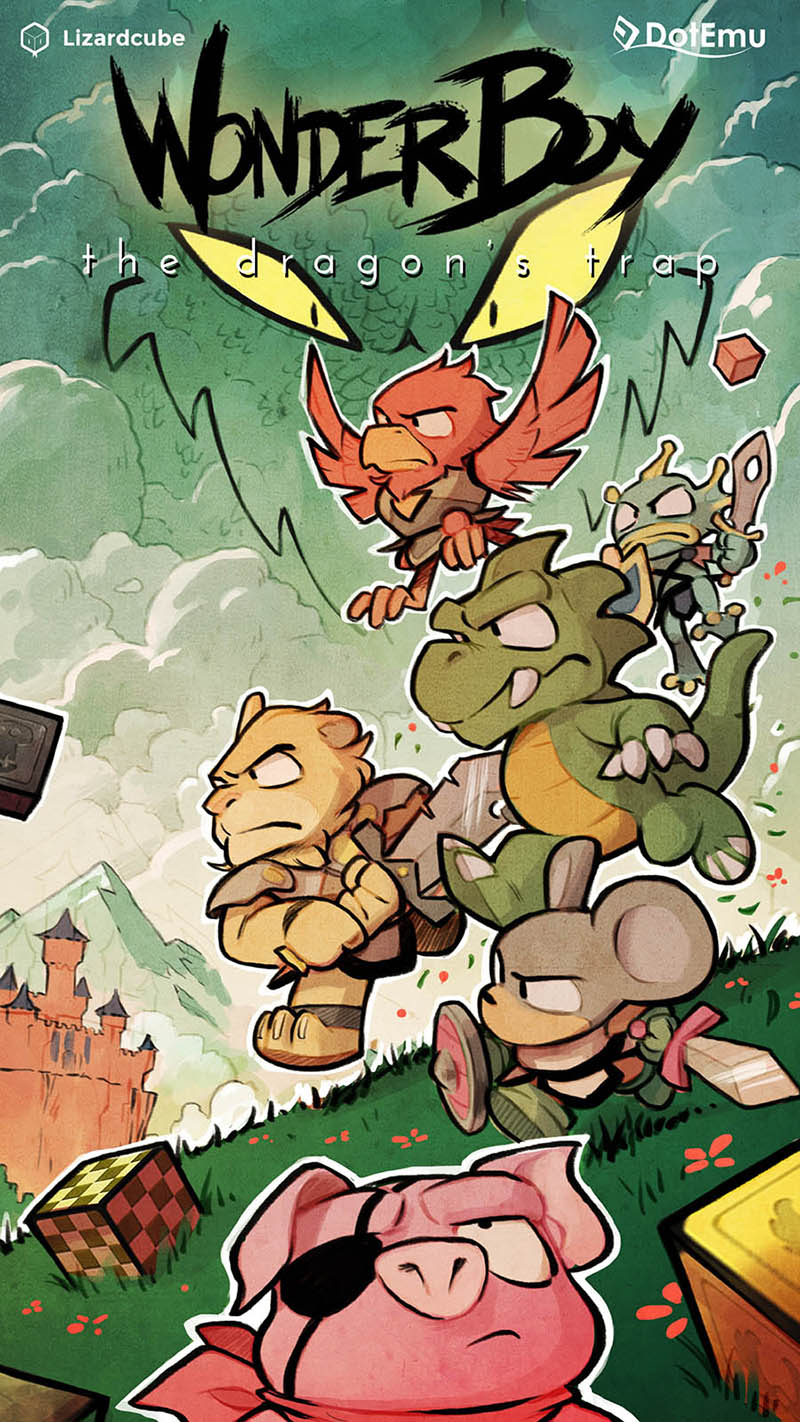 Review Fix chats with Lizard Cube's Omar Cornut, who lets us know all about the development and goals of the recently-released Wonder Boy remake, Wonder Boy: The Dragon's Trap. From their relationship with the game's original creator and the ton of visual and audio touches that allow you to play it beautifully on a current generation console and the way it was when first released, Wonder Boy: The Dragon's Trap is easily one of the best remasters in recent memory.
Review Fix: Why do you think so many developers are interested in the Wonder Boy series?
Omar Cornut: I can't speak for others, but personally I always dreamed I'd do something with Wonder Boy. In 1997 one of my earliest game project (and earliest programming failure) was an attempt to make a sequel to Wonder Boy III. In an alternate timeline of video game history, Wonder Boy could have become as big as Zelda. That it has been left as-in, untouched, pristine for decades makes the imagination potential even bigger.
Now, realistically I don't think "so many developers" are interested in it. But aside from us there's at least the team at Game Atelier, who are currently working on Monster Boy. They happen to also be in Paris! Sega 8-bit consoles fared nicely in Europe, so maybe that's where a lot of the fans ended up being? I was in computer science school with the co-founder of Game Atelier, I had brought the jamma board for Monster Land and we played it together at the time.
Review Fix: How intense was the development process of this game?
Cornut: Making a game is often a leap of faith, we had no idea where we were going when we first started. We start prototyping and research things for months and there are so many unknowns. Will we get the IP rights from Westone?  Will we get the Wonder Boy trademark from Sega? How about funding, and a publisher? Will we make a game that's good enough? How are we going to do the music? Will people care about the game at all? There's so many questions, if you start by focusing on the questions on Day 1 it just makes you want to give up. So instead we just played it optimistic and worked for a while with no answers to any of those questions. It was a risk to take, but it was worthwhile because when we went and talked to Sega about the project we already had a decent prototype to show them. And that speaks way more than showing up with a bunch of powerpoint slides. So for like a year we were working without no guarantee that the game would be called "Wonder Boy."
Review Fix: Bottom Line, Why should someone play this game?
Cornut: I think the game is a good reminder of how simple designs can be satisfying when polished. We lost some of that simplicity over the year. The game is hard but simple, whereas modern games are often easy but complex.
Review Fix: What's your favorite new feature?
Cornut: Ironically I guess everyone's favorite new feature are the old features: the fact that we can switch to the old graphics and music, that we can use old passwords. It really grounds the project, to be able to compare the difference 28 years can make, and to consider the context it was originally context. I'm happy we also added all those chat lines, item descriptions, and the extra secret bonus, they are relatively small things but they flesh the game a little more
Review Fix: How do you want this version to be remembered?
Cornut: I'd be happy if this is remembered as the definitive version of The Dragon's Trap! When you start making changes to something that's loved by many, it's very easy to disappoint people. So far the feedback from retro players have been overwhelmingly positive. So based on that only, I want to believe that the project was a success. Whether the game sells or gets good reviews from game medias is sort of secondary to making the fans happy.
Review Fix: What's next?
Cornut: We don't know yet! Short term we are working on making the Steam version and wrapping up a few things, maybe making blog posts, etc. I think we'll need to step aside from the franchise to consider what we want to do next. We are of course considering the possibility of doing another retro game remake, but we'd have to find something as cool as Wonder Boy III, that everyone in the team loves, and that we can get the license for. Or maybe just return to making original games and incorporate some of that retro design flavor we've learned.