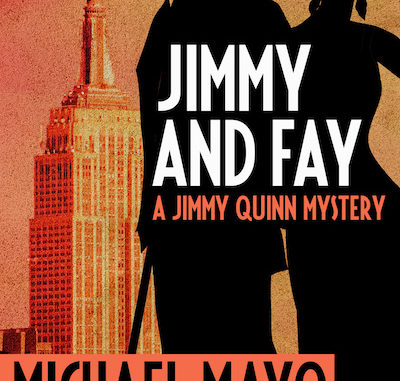 Review Fix chats with Michael Mayo, author of Jimmy and Fay, who discusses the novel and who will enjoy it most.
About the Michael Mayo:
Michael Mayo has written about film for the Washington Post and the Roanoke Times. He was the host of the nationally syndicated radio programs Movie Show on Radio and Max and Mike on the Movies. He is the author of American Murder: Criminals, Crime, and the Media. His first novel, Jimmy the Stick, was published in 2012. Mayo lives in North Carolina. Website: http://mike-mayo.com.
Review Fix: How did you decide to write about Fay Wray of King Kong fame, as opposed to another actress in this period?
Michael Mayo: When I began these novels, I chose to write about a particular time and place—Prohibition New York. I learned that the world premiere of King Kong was at the Radio City Music Hall, six months after the end of the second Jimmy Quinn novel, and knew I had to write about it.
Review Fix: How did you go about researching the "real" Fay Wray?
Mayo: I interviewed her in 1995 and I fell for her a little. She was more open and unconcerned about her image and her career than most celebrities I've talked to. Her autobiography, On the Other Hand, gave me the details I needed. She had a difficult marriage to Oscar-winning writer John Monk Saunders, and she was involved, innocently, in an early sex scandal that could have ruined her career. Later she was the subject of an extortion attempt that's the basis of the one in my novel.
Review Fix: How is Jimmy and Fay different from the previous books in the series? How do you keep things fresh for both you and the readers?
Mayo: Your question touches on the central problem that any series writer encounters. How do you make each book different, but not too much different from the previous books? Readers legitimately expect that they will re-experience the things that they like about the earlier books, but simple repetition is boring for both writer and reader. I try to find new locations and conflicts in each book, and the city is full of them. I have only scratched the surface of New York in the '20s and '30s. Those were eventful times.

Review Fix: What makes Jimmy Quinn Mysteries "special" from other series?

Mayo: Jimmy's voice. He's a first-person narrator, and if readers don't care to spend time with him, there's no reason for the books to exist. Though he has little formal education, Jimmy is not ignorant. Given his upbringing, his ideas about right and wrong have little do the law. He spent his formative years delivering bribes to judges, politicians and cops, after all. He's got a strong sense of humor. He's curious, cocky at times, and more vain than he should be about his appearance. Perhaps most important, he refuses to be defined by his short stature.
Like any writer of historical fiction, I'm trying to recreate a world and to make it real for the reader. That means making the sexual, political, moral and racial notions of those times part of the novels. I do not mean for the books to be social commentary, and Jimmy is nobody's crusader, but it would be dishonest to ignore those aspects.
Review Fix: Did you face any challenges during the writing of this book?

Mayo: It wound up taking more research than I expected when I began, but research is fun. Too much fun, actually.

Review Fix: How do you want this book to be remembered?
Mayo: Enjoyable escapism with an unpredictable but believable plot.
Review Fix: What's next?
Mayo: Jimmy's Rules, where Jimmy meets Willie Seabrook, one of the most famous and popular American authors of his day. He gave us the word "zombie," and he was the first celebrity alcoholic who admitted what he was and wrote about his treatment. He's virtually forgotten today, though Joe Ollmann has just written an excellent graphic biography, The Abominable Mr. Seabrook.
Review Fix: What other authors do you enjoy reading?
Mayo: Nick Petrie, Ovidia Yu, Steve Hamilton, Craig Johnson, Lori Rader-Day, Julie Mulhern. Of the old guys, I re-read John D. MacDonald, Ross MacDonald, Elmore Leonard, Donald Westlake, Lawrence Saunders, Ross Thomas. And Hammett. I study Hammett.
Review Fix: What kind of music do you enjoy listening to?
Mayo: When I'm home, it's jazz piano—Bill Charlap, Bill Evans, and those guys. In the car, Springsteen. I love E Street Radio.
Review Fix: What was the last movie and the last stage play you saw? Thoughts?
Mayo: The last movie I saw was Chinatown. I host a monthly film program in my neighborhood and it was fascinating to see it on the big screen again. The most recent stage play is the musical Cagney, with Robert Creighton doing a dynamite job in the lead.
Review Fix: What is your favorite movie and favorite stage production? Why?
Mayo: Favorite stage production: Chicago. Who among us doesn't love the heart-warming story of two unrepentant murderesses?
Favorite movie: Picking among them is almost impossible but I can't go wrong with William Wyler's The Best Years of Our Lives… No, wait, let's be honest here. It's National Lampoon's Animal House!