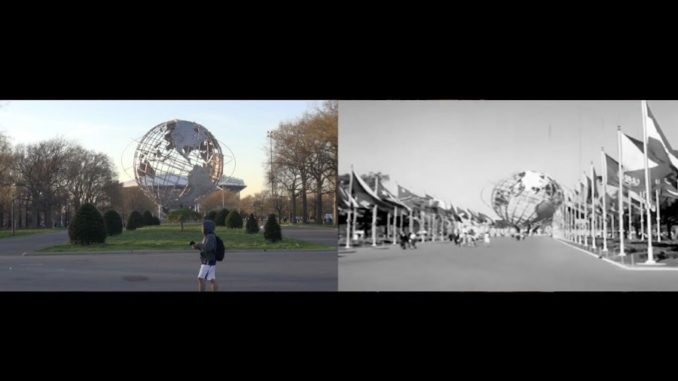 Review Fix chats with Seth Fein, who discusses the motivation, creation process and goals for his film, "Between Neighborhoods."
Review Fix: What was the inspiration for your film?
Seth Fein: Two interests inspired Between Neighborhoods: my long-standing desire as a historian to use video to bring present and past into dialogue with one another, which my film does by evocatively editing original and archival footage, projected mainly in split screen; my more recent desire to contest the notion of contemporary Queens as an "outerborough" by demonstrating its social cosmopolitanism that undermined the empires of Robert Moses plans for metropolitan New York and W.W. Rostow for the imperial Washington's "third world" in the 1960s even as imperial planning still views the world around Unisphere (the giant armillary Moses built for the 1964-1965 New York World's Fair, which is my film's principal subject) as a place to be "developed" in the name of globalization rather than a place already developed by people who have come to Queens from all over the world.
Review Fix: What did you learn about yourself while making?
Fein: That I am truly driven to create video, that while like many, I have perfectionist tendencies, the promise of an audience with which to share the work, motivates me to get it done, even as it is painful never to fulfill completely neither all of my analytical ambitions nor even my never-ending list of desired tweaks.
Review Fix: What was the most challenging part of making it?
Fein: Editing it. Â Making decisions that thought about the spectator as well as my own intellectual ambitions and realizing that I could not use all the material (or ideas) I had, even all the good stuff!
Review Fix: How do you want it to be remembered?
Fein: I hope it is viewed as a work that contributes to art and to history as well as provokes political engagement.
Review Fix: How does it feel to be a part of the festival?
Fein: Terrific, especially the Queens World Film Festival, which in the past I had enjoyed as a spectator and which offered no better possible place to show my film. Â The Queens World Film Festival, I believe, is a particularly exciting, nurturing, and encouraging event. Â It truly inspired me to work hard on Between Neighborhoods and to not just show my film but get to know other filmmakers, which has been a very enriching and enduring experience. Â Total credit for this goes to Don and Katha Cato, a dynamic duo.
Review Fix: What's next?
Fein: I am reworking Between Neighborhoods; building on its success at the QWFF I am trying to raise money to support some fine-tuning, including the purchase of additional archival footage.  I look forward to its future exhibition perhaps broadcast.  Meanwhile, I am continuing with the production of a different, though similarly titled documentary: Our Neighborhood examines Washington's secret use of Latin American television in the 1960s to disseminate propaganda, across TV genres, to wage small-screen counterinsurgency against the Cuban Revolution.  It combines archival research in the programs themselves, which have not been publicly viewed for 50 years, with interviews with those who made them.