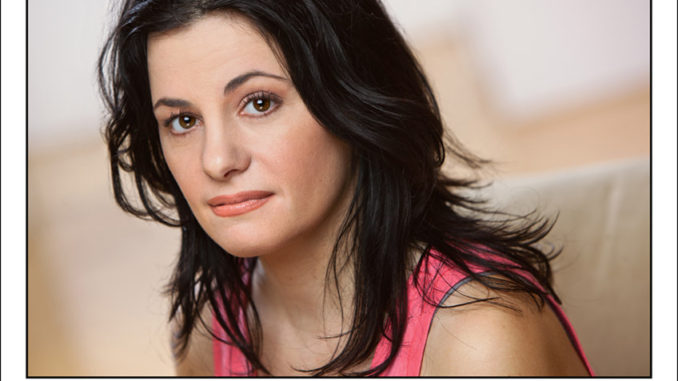 Review Fix chats with playwright Natalie Menna, who discusses her production of "Occasionally Nothing" at this year's Planet Connections theatre festivity.
About the Production:
OCCASIONALLY NOTHING, WRITTEN BY NATALIE MENNA; DIRECTED BY IVETTE DUMENG, AND STARRING SEAN HOAGLAND, DAVID TRIACCA, AND MAIKEN WIESE, PERFORMS JUNE 24 @ 12:00 PM; JUNE 26 @ 9:00 PM; JULY 1 @ 7:30 PM; JULY 3 @ 7:00 PM; JULY 6 @ 7:30 PM; JULY 8 @ 3:15 PM.
When you're in a bomb shelter at the end of the world, what do you do?
Play party games!
In the not so distant future, the Drumpf presidency has birthed a world where wars abound, words have lost their meaning, and people have lost their way. The end is near! In a bizarre bomb shelter, harry, clay, and luella, all british expats, cope with their inevitable future by taunting each other with warped games of verbal wordplays, and by blurring each other's realities… only to lose touch with their own.  It might be too late to ask "how did the world get here?"
For tickets, visit planetconnections.org or go to https://web.ovationtix.com/trs/cal/27385
Planet Connections Theatre Festivity is multiple theater, film and music festivals. Planet Connections' artists use their work to shed light on causes that matter and inspire audiences to get involved. All of PCTF's artists raise awareness for an organization or topic of their own selection.
Review Fix: What's your creative process like?
Natalie Menna: When conceptualizing a play, I always have strong characters in my mind begging to be written down. Demanding to be seen and heard. For me, it always starts from there. Then I figure out what situation would be ideal to place these characters in to tell the most compelling story these characters could tell. I usually write notes on a huge yellow pad for a month or so before I start the play.  It's a very specific pad,  a giant Post- it pad, 12 x12 inches, but only sticky on the top, so you can turn each page. DCI Jumbo pad, to be exact.  I found it randomly on Amazon a while back, but they discontinued it.  I was in a state of panic until I found it on E-bay. But there was only one left so I may be writing just one more play in this lifetime… Seriously, though, I am left with pages and pages of crazy looking notes on this yellow pad that I use to begin my play. I write the play on this huge yellow pad, which is great because it's so big I have room to work out the dialogue, etc.  I always hand write my scenes first before the computer–this way I can make slight changes when typing it up.  And I also always write my plays in order. The characters dictate the scenes and the play changes based on what these characters are telling me as I am writing. I try to get each scene where I want until I move on to the next scene.  Sometimes I will sit for four hours and come up with one line and others I will write ten pages in a few hours.  I don't do many drafts, probably because I would never write a full length play in a few days or a few weeks. When I'm really blocked, I will leave the play alone for a few days and almost always the revelation I need will come to me in a dream.  Then I wake up , write it down, and use it the next day. My best ideas are always dreamed.
Review Fix: What makes this different or special?
Menna:Â  In Occasionally Nothing, I am paying homage to absurdist theatre and giving it a modern, up -to -date twist.
Review Fix: What did you learn about yourself through this process?
Menna:Â  Words are my best friend yet also my biggest enemy.
Review Fix: How does it feel to be part of something like this?
Menna:  Planet Connections is such a fabulous, well-run, richly artistic festival with so many awesome artists! I love working with my director, the amazingly creative Ivette Dumeng and my fabulous actors Sean Hoagland, David Triacca, and Maiken Wiese.
Review Fix: What are your ultimate goals for this production and for the future?
Menna:  Occasionally Nothing was presented as a Short Form in Planet Connections Festivity 2016 and won Outstanding Playwriting for a Short Form and Outstanding Overall Production of a Short.  It is now a full length play and premiering in PCTF 2017.  I would like the play to move on to future productions and to London's West End.
Review Fix: What do you think your audience will enjoy the most?
Menna:Â  The language, the wordplays, the dark humor.
Review Fix: What's next?
Menna:  My play Committed,  an historical fiction piece which deals with the last two days of Dutch filmmaker Theo Van Gogh 's life. It won Outstanding Overall Production of a Staged Reading in PCTF 2015. I am in talks with several NYC theaters for a production this late fall/winter.  More info to come!