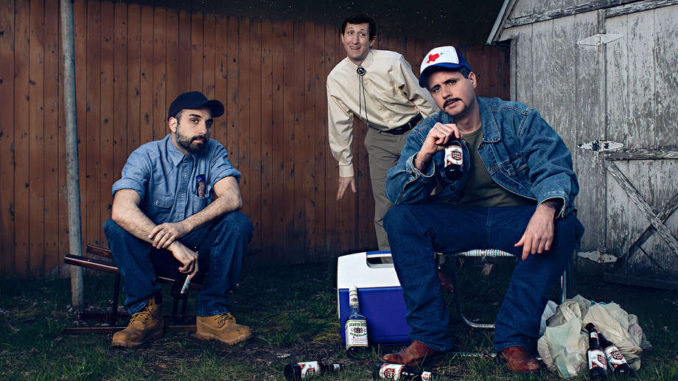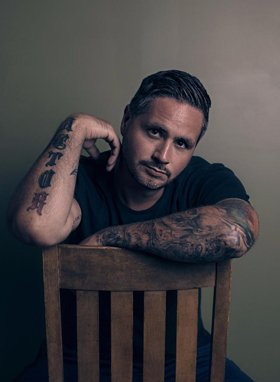 Matt de Rogatis has range. From playing a kidnapper in "The Collector" and Charlie Gordon in "Flowers For Algernon," to Hamlet himself, the actor is anything but your standard off-broadway thespian.
Charismatic and good-looking, with piercing brown eyes, he's the type of person that would catch your attention off the stage. He's got this cool and calm demeanor that makes him the perfect bartender type. He'll listen to whatever you have to say and if you really want him to, he can become you.
That's what makes him different. de Rogatis is obsessed with a role consuming him. To have it become a part of him. For "Flowers For Algernon" he worked with Easter Seals to better understand the developmentally disabled. For "The Collector," he grew a beard and purposely shaved a bald spot on his head and even lost 15 pounds, eating just chicken and kale. He wanted people to see him differently. Like a scary, shut in loser- the type of character he was playing. Makeup and special effects wouldn't do it justice. He wanted, no he needed to feel different.
In "Lone Star," which is set to continue its Off-Broadway run at The Triad in New York City on August 15, de Rogatis continues to develop his skills and search for parts of his soul he never thought existed.
"That (his starring role in "The Collector") was a physical transformation with the crazy look I had. Playing Roy in "Lone Star" won't have that same kind of physical change but it is character work and so there are lots to focus on," de Rogatis said. "He's a Texas boy so there's that. He's back from Vietnam. So there's that. While Lone Star is billed a comedy, it's really not. It's a wonderful piece about brothers and also probably one of the first plays ever written about PTSD. I'm really zeroing in on that angle as well as what life was like in Vietnam- and the fallout from it."
"Lone Star" takes place in the disheveled backyard of a small-town Texas bar in 1972 and in order to prepare for the role of Roy, the returning Vietnam vet all ready to reclaim his mantle after once being a High School hero, de Rogatis, once again got into character.
Going into a restaurant with one of his best friends, Chris Loupos, who also plays his brother, Ray, in "Lone Star," the two just stayed in character for the entire dinner.
"It got to the point where the waiter asked us where in Texas we were from," de Rogatis said. "That's when we knew we were hitting all the right spots."
To be fair, de Rogatis has had plenty of practice. This isn't his first time playing Roy. Years ago, before his most recent run in Nine Theatricals' "Hamlet" and "The Collector," a younger, less-experienced de Rogatis played the part. And Loupos, too, was his brother Ray. Like de Rogatis, Loupos, now a professional photographer, has had a slew of experiences that have brought him back to the theatre. All of that combined makes continuation of the Off-Broadway run of "Lone Star," now at The Triad even more special to them.
"This is the only role I've ever done more than once and it is my favorite character I've ever played. So to reprise it is awesome," de Rogatis said. Our shows at The Triad will be on an Off-Broadway contract and will feature some live music (from acclaimed musicians Joe Battista and Jack O'Hara) before the show goes up. This show feels like a celebration of people in both my personal and professional life. Some of the closest people in my life are part of this show and some actors I greatly respect, that I have met on my journey, are involved. We have a great director in Pete McElligott who I know is going to make this show everything it needs to be and more."
NINE Theatricals' first Off Broadway run of Lone Star, which starred de Rogatis and Loupos earlier this Spring was only the second New York City revival of the show since Powers Boothe originated the role of Roy on Broadway in 1979. Now back Off-Broadway, de Rogatis can take what he learned from the run earlier this year and make what will be one of the biggest opportunities of his young career an even more meaningful one.
"I did extensive research on what a soldier went through during that war as well as the fallout. That's what my character is dealing with," de Rogatis said. "The fallout from Vietnam and the difficulties he's having getting his life together after the fact. We are still about a week away from opening night so there's still a lot of work to do and who knows where my preparation may take me. But right now Vietnam and PTSD are big areas for me. My character is also a Texas red neck. Someone who's a shit disturber, getting into bar fights. He's rowdy. A bit like Stone Cold Steve Austin I'd say. So yeah, I'm having fun watching documentaries on Stone Cold too for some character research. I'm loving this character."
A lifetime wrestling fan, de Rogatis understands that the best way for people to empathize with a character is to feel their biggest successes and defeats. To wait for them to inhale and exhale. To celebrate them. He knows there aren't going to be many chances to do that, though. He's got to make every opportunity count.
"I want people to believe that I am a Texas boy back from Vietnam who is suffering from PTSD," de Rogatis said. "I want people to believe that I served the playwright, James Mclure. If I can do that, I've done my job. There's a lot of theatre out there. A lot of entertainment. It's very important to me to give the audience the absolute best I have to offer. That's what keeps people coming to see you role after role, production after production. If you give them a stinker, that's it. They're not coming back."
And unlike most actors and definitely more of a page take from those in the world of sports entertainment, de Rogatis isn't waiting for a push. He's ready to break it down. Always preferring to say his next role will be his most memorable, de Rogatis is leaving it all on stage for "Lone Star."
"All these shows I do, I'm mounting them. I work with wonderful people but it's all conceptualized by me on the ground floor," de Rogatis said. "I pick the show, find the director, find the money to pay the people involved, book the theatre, find the Press people, help get reviewers etc. I like to think of myself as the Vince McMahon of all these shows. I'm creating my own little WrestleMania's here. It's very rewarding. And while it can be very stressful having my hand in every aspect of these shows, it's so much fun seeing it all come together and meeting new people, working with new artists as well as familiar faces. I am having the time of my life and each production I do seems to get bigger and bigger. Too many actors sit around waiting for a break or waiting for someone else to validate them. I'm not into that."
For More on "Lone Star," Head to DrinkBeerRaiseHell.com