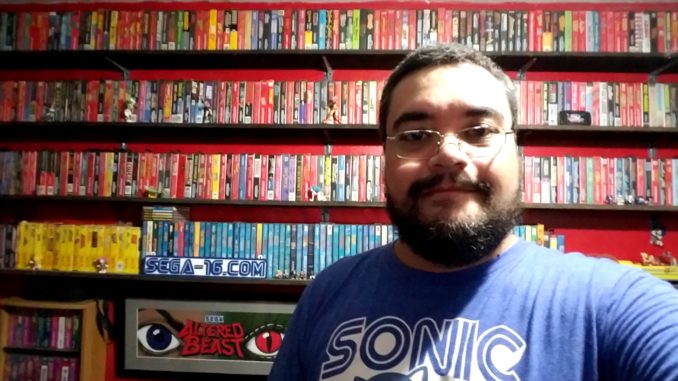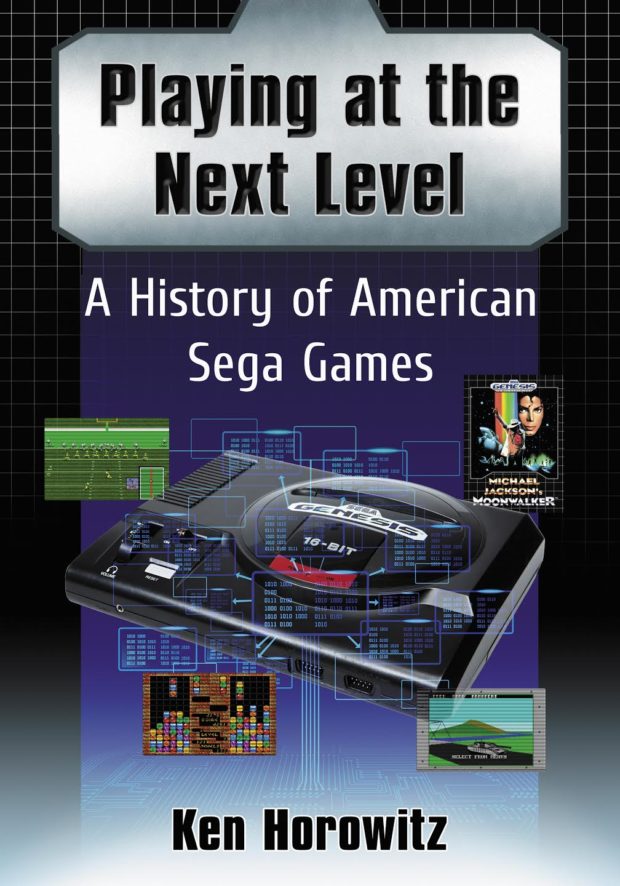 Review Fix chats with founder of Sega-16.com and author Dr. Ken Horowitz, who discusses his upcoming Sega book which details the company's rich arcade history.
About Ken Horowitz:
Dr. Horowitz is an English professor that has been writing about video games for well over a decade. He is the author of the book Playing at the Next Level: A History of American Sega Games by McFarland & Co, that chronicles Sega of America's game development history. His work has also been featured in numerous video game publications like GamesTM and Hardcore Gamer Magazine and several enthusiast websites (GotNext, The Next Level). Ken has also published academic articles about using video games as a means to teach English as a second language.
As the founder of Sega-16.com, much of Ken's free time is spent working on reviews and articles for public consumption. His love of games isn't confined only to Sega's 16-bit consoles, and he enjoys an extensive collection of NES and Saturn games. It is most likely, however, that this has more to do with his being a pack rat than a fondness for any particular console.
Review Fix: What inspired this book?
Ken Horowitz: After I finished Playing at the Next Level, I wanted to further explore Sega's history. While certain elements of its console business had been discussed before, there was virtually nothing about its arcade past. The only deep piece on the subject was the Famitsu Sega Arcade History book, which was released in 2006. That was only available in Japanese, and it was more of a coffee table book than a historical reference. It had short entries on each games, but the only real "meat" was in the form of some great interviews with Sega legends like Hisashi Suzuki, Akira Nagai, and others. Te problem was that there was nothing comprehensive about the history of the games themselves. I figured I could fill that gap in the historical literature and hopefully tell a good story as well.
Review Fix: What makes Sega such a special company to you?
Horowitz: I grew up with Sega, at both home and at the arcade. All my friends had a NES, which I played and enjoyed greatly, but I LOVED my Master System. I got it in December 1986 with The Ninja and F-16 Fighting Falcon, and it was amazing. From there, I graduated to each new Sega console upon release. Moreover, I put countless quarters into Sega arcade games like Shinobi, Space Harrier, and OutRun. My first book allowed me to revisit those great console years, but I felt that the arcade side was just as good, if not better. Sega was unparalleled in its arcade offerings; the level of consistency in the '80s, '90s, and early 2000s was simply without equal. I was so into Sega that every time I'd go into an arcade as a kid, I'd count the number of Sega cabinets to see how well the company was "represented." It sounds silly, I know, but that was one way I determined if an arcade was any good. I there were no Sega games, that was already a negative to me.
Sega is just one of those companies, like Nintendo, that transcends its hardware. Many of its franchises were great across multiple platforms, and even today, with releases like the Sega 3D Classics (which everyone should absolutely play), Sega still puts out some incredible quality. Perhaps it's not as consistent as in years past, and there are lots of reasons for that, but there's more to Sega than just its console hardware legacy.
Review Fix: What makes this book different from your last book?
Horowitz: Well, aside from the focus on the arcade side of Sega's business, the new book tells a lot more about the different aspects of Sega's business overall than Playing at the Next Level did. My first book only really looked at the American side of Sega's console history, with little info on what happened in elsewhere in the world. The U.S. side is there and definitely must be covered, but it's not the whole story. Starting with the company's origins, the book does discuss things like the Gremlin years, the founding of Sega Enterprises USA, and the multiple attempts at launching U.S. distribution. On the Japanese side, there are subjects like the development of its taikan or "body-sensation" games, the rise of Sega's AM studios, and the merger with Sammy. Of course, a good deal of Sega's early history is American in nature, since it didn't become a Japanese company until 1984, but I did want to talk about Japan's importance. I also wanted to include biographical information on as many Japanese developers as I could, and most of the great ones are there. Yu Suzuki, Rikiya Nakagama, Yutaka Sugano, Hiroshi Nagoshi – all of them are prominent in the book, among others.
I also have more images, ranging from some very early Sega photos to some awesome covers and ads. A lot of developer and industry pictures, too.
Review Fix: How have you changed as an author since then?
Horowitz: I've learned a lot about book writing, [Laughs]! The research aspect hasn't changed much, though. I teach research for a living, and I've been doing this type of work for Sega-16 for 13 years, so I pretty much have a process down. One thing that I've had to adapt to is that writing a book requires much more patience than an article. There's so much content, and you're so eager to share it! It takes some discipline to keep it all under wraps for months, and I had to learn that.
I've also had more opportunities for collaboration, something I didn't really have a chance to do with the first book beyond the interviews. There have been some talented people that helped me with the new book in terms of translating, proofreading, references, etc. People like Andrej Preradovic, John Szczepaniak, Ethan Johnson, and Alex Smith were invaluable in making the book accurate and comprehensive. No book is perfect, but these great fellows helped get mine as close as possible, I think.
Review Fix: How hard was it to pick the games for this book?
Horowitz: It wasn't hard at all! The difficulty actually came from having to leave games out. The book covers 62 games comprehensively from 1966-2003, and I had more games than I could cover. My only real criteria for selecting a game was a) was it significant in Sega's history in some way, and b) was there enough information available for discussion. Games ranged all along that spectrum, from those that had tons of information to those that barely qualified or didn't at all. There are bound to be some titles that readers will think should have been added, and trust me, if I could have I would have included them. Between the interviews I conducted, the sources I referenced in English, and the scores of interviews and documents that I had translated from Japanese, I tried to fit as many titles into this book as I could. I didn't want to just include the standard one-paragraph synopsis and one-paragraph rating that so many other books do. I wanted to tell the development story for each one. Sadly, not all games have that information available. Many were only able to be included because of sourced and translated Japanese interviews and articles.
Review Fix: What's the most underrated game in this book? Why?
Horowitz: That's a hard one to answer! Personally, I think Flicky is highly underrated. It was such a good game for its time. It also was a direct inspiration for future Sega classics like Fantasy Zone. Others that I think deserve more attention are Eliminator and Top Skater. A great deal of effort went into both of those to make them stand out among other games in the arcade, and they both did some really innovative things. Eliminator's control was a bit too complicated for many people, and the timing of its release didn't help it much, but it definitely should get a second look. Top Skater kind of suffered because its size made it too large for many locations, but it was a really good game and very influential. We probably wouldn't have seen Crazy Taxi without it. Also, I don't want to forget Aurail. I really enjoyed that one back in the day, and it kind of flew under most people's radar.
Review Fix: What game do you think has the best story?
Horowitz: There are so many great ones, but my favorites have to be Frogger, Chopliftter, and Columns. Most people don't know everything that went on to make those games happen, and they are truly some incredible stories. Having the chance to speak with those involved game me a greater appreciation for these classics. I hope people will enjoy reading them as much as I enjoyed writing about them!
Review Fix: Bottom line, why must someone buy this book?
Horowitz: If you're a fan of Sega or video game history in general, I think you'll enjoy it. I've had people ask me why I focus my writing on Sega, and my answer is usually along the lines of "why not?" You don't have to be a Sega fan to enjoy the book (my 80-year-old father read Playing at the Next Level and he only plays Solitaire on his computer!), and while it will perhaps increase your enjoyment, it's not mandatory. My purpose with these books, as with Sega-16, is to educate about video game history and the need to preserve it. Too many people view video games as a "disposable" industry, where only the next AAA title matters, and that has to change. There are so many great stories, so many wonderful and talented people… their stories need to be told. I just happen to focus on Sega because I was a Sega kid. Now I'm a Sega dad, and someday I hope to be a Sega grandpa. My hope is that people won't just appreciate Sega's history more, but that they'll be inspired to use what I've done as a sort of template for their own work. So much great video game history is waiting to be researched and discussed. This book, and all my other work, is my contribution to the literature about the industry's history.
Review Fix: What's next?
Horowitz: Well, I hope to do some promotion at conventions. I have a panel on video game history next month at Dragon Con in Atlanta, and I hope to do some more at other gaming conventions in the future. I've also returned to writing for Sega-16, and I have some historical articles and interviews in the works. On the book front, I have a few ideas to explore, and I'm discussing another Sega book with a publisher. If that happens, I'll do that one first. If not, I have some more general video game topics I want to write about.
Review Fix: Anything else you want to add?
Horowitz: I'd just like to thank everyone who's read Sega-16 over the years and enjoyed Playing at the Next Level. I don't do this for the money but for the satisfaction. My goal with the site and the books is to elevate the discourse about gaming, to take it from just overviews and star ratings to serious research. To me, that's what gaming needs right now. There are people doing this kind of work, such as the International Center for the History of Electronic Games and the National Video Game Museum, but there has to be a closer and more comprehensive examination of the industry. I think future generations of gamers will appreciate our efforts at preservation, and that only helps keep these classic games alive. I love it when my youngest daughter plays ToeJam & Earl and Golden Axe with me. It's proof that video games, like movies and music, are not bound by age; however, I'd like my kids to know a little about how that game they had so much fun with was made, and that there are hardworking people who put countless hours of effort and love into making them. Hopefully, that will make them appreciate them a bit more.