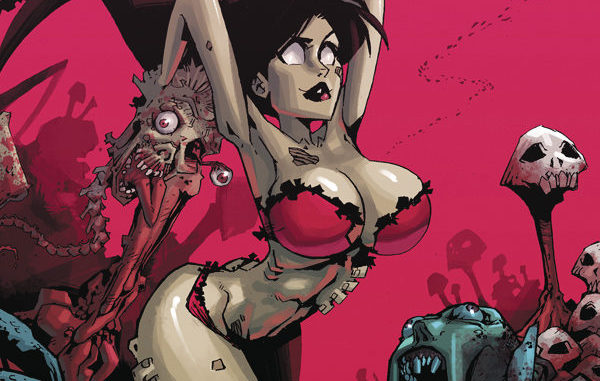 "Zombie Tramp" is one of those comic series that sounds stupid but is actually awesome in how out there funny it is, especially the premise. Of course, the original series is long out of print. Series creator Dave Mendoza has now fixed that with "Zombie Tramp Origins Special Edition" that shows off the beginning.
Janey is just a normal escort making big money just being a "date" for some of the biggest names in Hollywood. That is until her boss gets thrown and jail and Janey can only get her back by doing the warden a "favor." Not to mention there's also a criminal who can turn people into zombies and of them turns Janey into one of them, thus starting this series.
This is one of the weirdest origin stories in comic history. It's also one of the funniest which is why this series has done so well. Mendoza knows that this is not a serious story and does everything he can to have fun with it, which in turn makes the reader join in on the fun.
Of course, some people will not like the fact that the villain is just another random voodoo lady who uses zombies to do her bidding (Xula,) but again this is more played for laughs than in all seriousness. Hell, she even has the series' iconic cartoonishly large breasts. This may go over the heads of some readers and these readers may dismiss this series as just yet another comic that's using nudity to sell a crap comic, which this isn't.
The artwork really does shows its age. While it has the series iconic style, you can see that Mendoza's skill has greatly improved over time. This looks like Mendoza has an idea as to what he wants to his series to look like, but the polish of later issues is, sadly, absent here.
If you're one of the people who want to know how this series started, this special edition is what you've been waiting for. It shows exactly why this series is great even though the art isn't as polished as it is now.