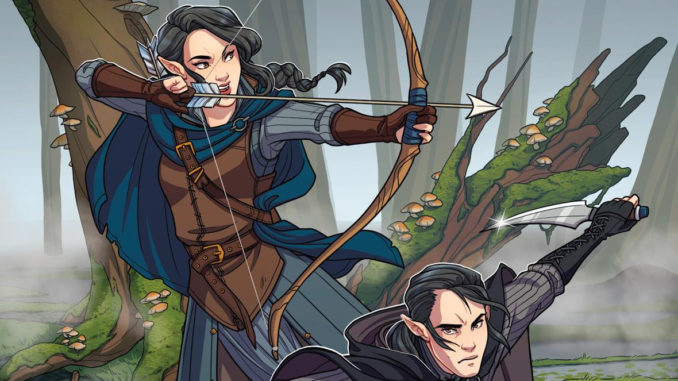 The world of Exandria is coming to comics. In a partnership between Dark Horse and Geek & Sundry, Critical Role, the beloved weekly web series, will be featured in a monthly six-issue digital series entitled Critical Role – Vox Machina: Origins. Exploring the enthralling origins of the Vox Machina team, the comics are written by Matthew Colville (Evolve, Priest, Thief) with interior art by Critter community member Olivia Samson, and coloring and lettering by Chris Northrop. Readers can expect a classic, low-magic fantasy with plenty of snappy dialog.
The first issue, with cover art by Deborah Hauber, launches today, September 20, and will be available on Dark Horse Digital, iBooks, ComiXology, Amazon (Kindle), Barnes & Noble (Nook), Google Play, and other digital platforms for $3.99. Each issue will feature cover art from a different artist within the Critical Role community.
"Dark Horse is excited to be working with the great team at Geek & Sundry once again," said Dark Horse President Mike Richardson. "We worked together on a successful series of motion comics in 2012 when the channel first launched on YouTube. We're happy to expand our relationship by publishing Critical Role – Vox Machina: Origins."
"I grew up reading comics, with Dark Horse first capturing me with their expansive world from the Alien franchise when I was 10 years old, and I've been a massive fan ever since," said Critical Role Dungeon Master Matthew Mercer. "To even consider that our comic series endeavor would culminate with a partnership under their umbrella would seem crazy and impossible! I am so very excited to be working with them to tell the early tales of Vox Machina, both knowing that a story so close to our hearts is in good hands, and to also be working with a company I've respected my entire life."
Each week, nearly half a million viewers tune into Critical Role, the roleplaying campaign where a group of friends take on roles in Vox Machina, a special band of adventurers, led by veteran voice actor and game master Matthew Mercer. Overall, Critical Role has garnered over 50 million views since the show launched in March 2015. The cast includes Matthew Mercer, Travis Willingham, Marisha Ray, Taliesin Jaffe, Ashley Johnson (Blindspot), Sam Riegel, Liam O'Brien, and Laura Bailey. Additionally, the show has attracted quite a few celebrities who have joined the cast as special guests including Chris Hardwick, Felicia Day, Wil Wheaton, and Phil Lamarr, to name a few.
"We saw the comic as a chance to show folks what happened in Matt's home game, but I suggested rewinding the clock back even further — Let's tell the story of how Vox Machina met," said Colville. "The first few issues show our heroes working alone, or as members of other adventuring groups, and not quite fitting in. As they meet each other, they slowly realize they'd all be better off working together. As is their destiny!"