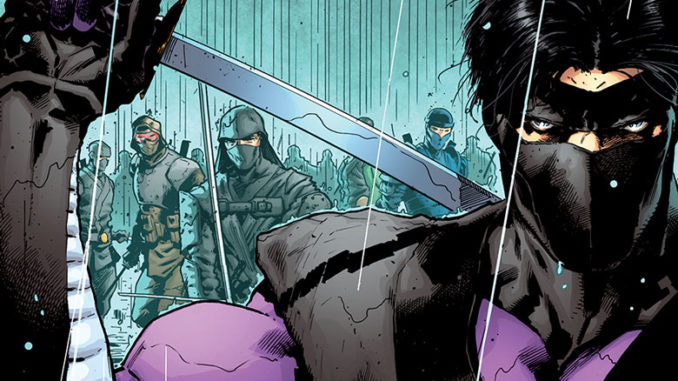 You've been reading Ninjak wrong the entire time. Hiding in plain sight, Colin King has been a part of a tradition of ninja operatives working for MI-6. King's actual title is Ninja – K, a man continuing an alphabetical mantle. Issue one of 'Ninja – K' enlightens those who've been fans of this morally ambiguous character in the Valiant universe by delving into its colorful history. It begins with WWI where a Japanese Ninja-A enables the Allies to win. Filling in the blanks of history seems to be what these operatives were created for. And each ninja adds on to its predecessors' skillset. What makes this reimagining of 'Ninjak' refreshing is that instead of erasing Colin's history, it's contributing to potential storylines. More importantly, Colin becomes something bigger than himself. The reader is no longer trapped inside of the ego that propels Colin. Readers tend to get tired of rehashed backstories and this is a creative way of bringing new people in.
History is blended with fiction as a narrator tells of how other ninja operatives were trained. From a variety of backgrounds, they had one purpose. There is some self-bravado, but one needs to have that when risking your life is part of the job description. Ninja-D instructs his audience on what it takes to be the best spy around, mainly staying alive is paramount. But there are also a few practical life lessons, such as keeping your tools sharp. Always add to your arsenal and improvise when necessary. But what is all this for? Why are the powers that be starting again at one? Just how messed up is Colin's world about to get?
One thing about Colin is that he's always learned from his mentor, whether or not they were trying to kill him. Near the end of this first issue, Colin's mission begins in the usual manner. First he disarms the enemy with dry wit, then he begins to self-narrate what D has taught him. All the while you're thinking to yourself what happened to E through J. If D and K are still chummy, then just how pear-shaped did the others go? Still, that's not the surprise you get towards the end. Colin being vulnerable will shock you. It's one thing to take down assassins, alien threats, or even common street thugs. It's something different altogether when you ask Ninjak to get all into his feelings. And this spy, sometimes mercenary doesn't do the boyfriend thing.
Big moments happen fast and hard in 'Ninja – K.' One moment you're having a civilized cup of tea, the next you're buried beneath house rubble. Apparently someone is trying to destroy the Ninjas. The fun part is finding out who and if Colin will survive.