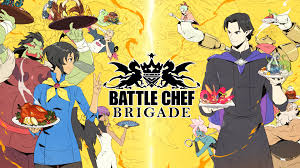 Review Fix chats with Battle Chef Brigade developer Tom Eastman, who discusses the game's release on the Nintendo Switch.
Review Fix: How does it feel to see this game on the Switch?
Tom Eastman: It feels great! Not surprisingly, we grew up with a lot of Nintendo consoles, so it's amazing to release our own game on one. On top of that, we're big fans of the freeform nature and portability of the Switch – Battle Chef Brigade's different modes and duels fit the Switch's versatility really well. And, of course, the screen is perfect for our bright, colorful game!
Review Fix: What was the porting process like?
Eastman: We'd always expected to release Battle Chef Brigade on consoles, so we were well-prepared when Nintendo demonstrated interest. The biggest challenge was modifying how our assets are loaded so that we could ensure our patch sizes were never too large.
Review Fix: Two years after it's release what do you think is still special about this game?
Eastman: I think there are a couple key elements of Battle Chef Brigade that really help it stand out: improvisational cooking and a happy world full of fun, charming characters.
Review Fix: Bottom line, why is it a must play on the Switch?
Eastman: There's nothing better than tackling a cooking puzzle with Belchior and a hunting challenge with Thorn during one's commute home, followed by docking the Switch and playing a grand cooking duel on your TV.
Review Fix: Why should someone play it on the Switch who missed its original release?
Eastman: We're not done adding to BCB, so the game will just continue to get better. We have a few surprises cooking in our dev kitchen! Battle Chef Brigade is also a great palate cleanser to play between bouts of more intense or dark games.
Review Fix: What's next?
Eastman: We've got a lot in store for 2018 – we want to keep expanding and exploring the world of Victusia!
Review Fix: Anything you'd like to add?
Eastman: The response to Battle Chef Brigade has been wonderful and we're so thankful to our Kickstarter backer and all the new players who have written us to say such nice things!
[embedyt] https://www.youtube.com/watch?v=6hjNL-cEE_o[/embedyt]