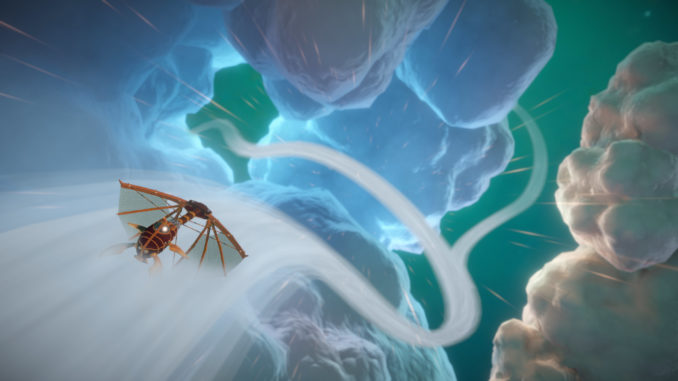 Review Fix chats with  Jon Ingold, Narrative Director for "Heaven's Vault." Gearing up for a PlayStation 4 release, as well as PC and Mac, Ingold lets us know what makes the game special and what games from the past that played a role in its development.
About Heaven's Vault:
Join archaeologist Aliya Elasra and her robot sidekick Six to investigate the Nebula, an ancient network of scattered moons. Discover lost sites, freely explore ancient ruins, and translate the inscriptions you find to unlock the secrets of the Nebula's forgotten past.
In this open world adventure, you will decipher an entire hieroglyphic language to solve a massive interlocking puzzle with a unique narrative twist: the translations you choose feedback into the story, changing Aliya's ideas about what she's uncovered. But be warned — you'll never know for sure if your guesses are correct.
This non-linear game allows you to approach the story in any order, with every choice you make and every path you follow (or don't follow) feeding into what happens next. A diverse cast of characters — some kind, some cautious, and some out to con you — will react to everything you say and change their approach depending on how you treat them.
Heaven's Vault's branching storyline is powered by inkle's robust ink narrative engine, which has been adopted by a growing number of developers for games including The Last Night, Where the Water Tastes Like Wine, Dream Daddy, and Bury Me, My Love.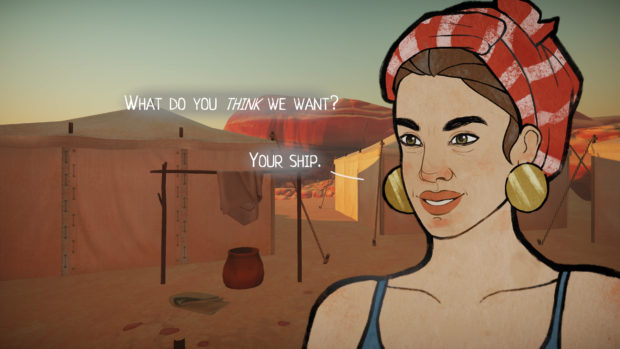 Review Fix: How was this game born?
Jon Ingold: Heaven's Vault is an archaeological narrative adventure with an entire ancient language to decipher. We knew from the start that we wanted to make a game about archaeology but quickly realized that real-world archaeology is a difficult subject: so much of it has been rich guys going to foreign countries and stealing their stuff.
So we decided to make our game science-fiction instead, and have the player discovering the history of fantastical Nebula. That's been a lot of fun because it means players never know what to expect, or what discovery might be just around the corner.
Review Fix: What has development been like so far?
Ingold: Development on Heaven's Vault has been a long process! We started with prototypes and core engine work just after the release of 80 Days, and we're now into our third year. But from those early days we've come a long way – we have a whole world, with a thousand years of history, and entire language to show for our time!
Review Fix: What makes this game special?
Ingold: Heaven's Vault features an entire ancient hieroglyphic language for the player to decipher. It has a vocabulary of 1,000 words, built up from a core set of glyphs, each of which has a conceptual meaning – which we'll never tell the player.
Instead, over the course of the game, the player will have to use intuition, inference, and deduction to figure out the words they find carved onto ancient monuments and artifacts.
It's a puzzle mechanic, but it's also the oddest puzzle we've ever seen. Translations the player produces aren't marked right or wrong but are fed into the narrative engine, which affects what the characters believe about the world.
Review Fix: What games influenced this one the most?
Ingold: There are a lot of influences in Heaven's Vault, but one of the strongest is Jordan "Prince of Persia" Mencher's 1997 train-based adventure game The Last Express, which ran entirely in real time and was entirely rotoscoped.
We've borrowed a little from its art style, and we've also tried to develop its ideas of a game world that's constantly reacting and responding to you while updating the design to be more open and more playable.
The puzzle mechanic in Heaven's Vault was inspired by the hieroglyph puzzles in Infocom's 1987 classic, Infidel.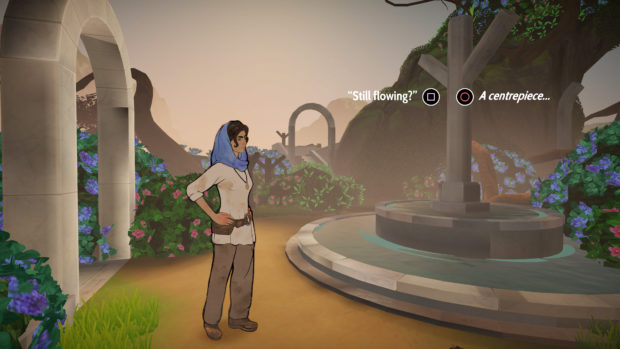 Review Fix: As an indie studio, what do you think you guys do differently than the big studios?
Ingold: There's eight of us, and six of us sit around one big table. That means we turn over ideas really quickly. If I suggest a new prop for the world, the environment team can have it roughly built and in-game in a few minutes, and I can get the characters to interact and respond to it. We don't need big planning meetings to get the world and the story to mesh tightly together. And if something isn't working, we can just change it.
Review Fix: Any fun stories or wild moments during development?
Ingold: We've had a lot of fun developing the game so far, but the best thing has been the language – we're now all good enough at reading it that we can send messages to each other in Ancient, and puzzle them out.
Even so, the language still has surprises – we put our job titles on our business cards recently, and mine, "writer", turned out to be constructed from other elements that resulting in the glyphs for "person who speaks without speaking". How cool is that?
Review Fix: Why do you think preserving older gameplay mechanics like the ones in Classic games in new games is important?
Ingold: Every game is built on previous games, but that doesn't mean games play just the way we expect. Older games sometimes had incredibly imaginative mechanics, like the open world of Lords of Midnight or the procedural mazes of the original Rogue.
One of the most fun parts of being a game designer – and in an independent studio – is looking back through old games and cherry-picking the mechanics that could use a refresh.
Review Fix: What's your favorite memory as a gamer?
Ingold: Everyone on the team has played so many games it's hard to pick out a favorite, though for me personally a few stand out: the final moments of Ico; turning lead into gold in the first Tomb Raider; riding the winged beast in Shadow of the Colossus; the end of Sands of Time.
Review Fix: How does this game disrupt the video game landscape?
Ingold: Our art style consists of beautiful, expressive 2d characters set in a lush 3D environment, meaning every screenshot looks like a panel from a Disney movie or a French graphic novel. That's not been done on this scale before. It's a style that lets us build out an entire open world, and still have characters with subtle, dynamic facial expressions.
Then there's the narrative, which adapts around everything you see, do, say, and discover. It never repeats itself, never gets stuck, and always moves forwards. Our characters talk in the background as much or as little as you like, but it's always super-contextual. That's going to surprise a few people, I think.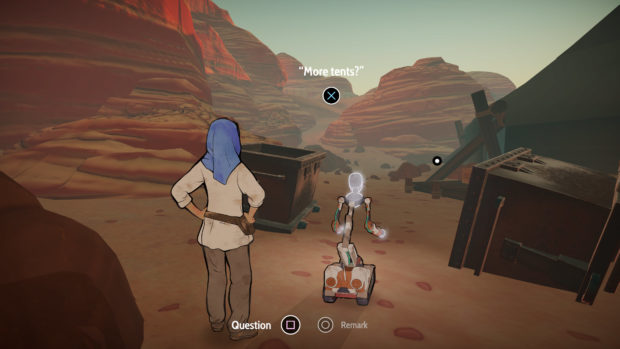 Review Fix: Who will enjoy this game the most?
Ingold: Heaven's Vault is first and foremost for game players who love stories and characters. The language puzzle is intriguing, and the space-sailing exploration is beautiful, but the heart and soul of the game is the narrative. The relationship between Aliya and Six; the mysteries of the Nebula; the moments where everything changes. If that sounds like your kind of thing, then you're going to love Heaven's Vault.
Review Fix: How do you want this game to be remembered? What are your goals for the game?
Ingold: Heaven's Vault is our most ambitious project in pretty much every way. It's bigger, more beautiful, and more complex than anything we've made before.
But perhaps the overall goal is to make an open, exploration-based adventure game that plays the way adventure games feel like they should: always telling a story, always moving forward, but always letting you do what you want.
Review Fix: What's next?
Ingold: Heaven's Vault is going to keep us busy for at least another year. After that, the future is pretty open.
Review Fix: Anything else you'd like to add?
Ingold: Please check out our website, www.inklestudios.com/heavensvault, or follow us on Twitter at @HeavensVault, for updates!
[embedyt] https://www.youtube.com/watch?v=7MZZ6glfDZ0[/embedyt]