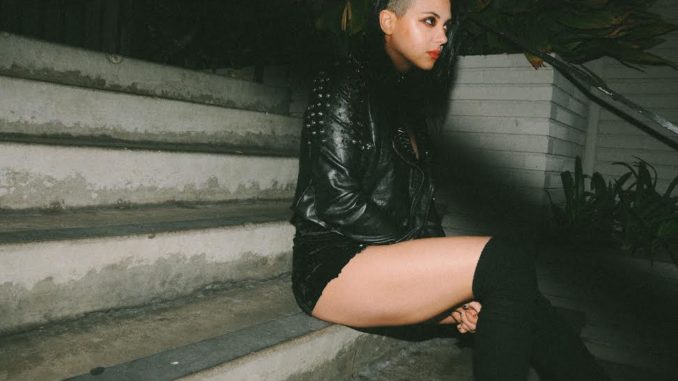 Review Fix chats with singer/songwriter and producer Alexa Melo, who discusses her upcoming EP and creative process. Super-talented, beautiful and passionate, her work has garnered millions of views on YouTube. After fully recovering from vocal chord surgery, she's ready to be the star she deserves to be.
[embedyt] https://www.youtube.com/watch?v=6RA6sQGTQxo[/embedyt]About Alexa Melo:
Alexa Melo's journey in music industry began when she was signed by Interscope at 14 years old. Following a struggle with the record label to make her into a polished pop star, Alexa realized that her sound was much grittier then the label was willing to accept. Ever since discovering her path, Alexa has been able to acquire over 2M views and over 50K followers as an independent artist. However, a 2015 emergency vocal surgery put a sudden stop Mayo's creative exploits. Now back and ready to release her sophomore EP MUTE in the fall, Alexa is sharing her first music "Crazy" video leading up to the Fall release.
[embedyt] https://www.youtube.com/watch?v=ncjhx3OKrAI[/embedyt]
Review Fix: How did you get involved in music?
Alexa Melo: I started to sing when I was 6 years old and from there my love and dedication to music steadily developed. I have no recollection of how exactly I got started. It's sort of always just been innately part of me.
Review Fix: What are your influences?
Melo: I've flipped flopped through many chapters of inspiration. When I was super young it was artists like Aretha Franklin and Ella Fitzgerald. Then it shifted to The Beatles and Bob Dylan, then Led Zeppelin and so many more! But through all of my phases the influences that I've stuck with are Radiohead, Bjork and Pink Floyd. But I'm constantly influenced and inspired by new music.
Review Fix: What is your stand-out track on the upcoming EP MUTE? How was the EP written?
Melo: Well, that's tough for me to answer. Not sure what quite stands out for me. They're all so different in feel from one another and there are only 4 tracks on this EP so I feel they all play a role in the bunch.
The EP was written over a two-year span after I had surgery on my vocal cords to remove a cyst which ended up sending me on an emotional and physical downward spiral. Ultimately my voice didn't work again for 15 months and still doesn't quite work the wI'di'd wish. The stress of not knowing if I'd ever sing again caused a domino effect of misfortunes. I relapsed on my eating disorder and became extremely ill from the anxiety for months. All the while I was in a very unhealthy relationship but felt too weak at the time to leave due to being unable to sing, eat, sleep, and basically function.
The first iteration of MUTE was 10 songs, which was reduced to only 2, then I wrote 2 more post relationship and into my recovery. So the 4 songs on MUTE are about feeling muted in all aspects of my life. Having written the last 2 songs after the sh!t storm creates this sort of arch. The latter half of the EP, is about overcoming all of it.
Review Fix: How was "DOPE SICK" written?
Melo: The first lyrics I wrote to DOPE SICK were written while I was driving up to Berkeley from LA to move away. I was making the move to try and rebuild my spirit after all the BS I went through there. I was driving straight from ex-boyfriends house, where I said my final goodbye. While on the road, I felt like an addict because I almost started to feel withdrawal symptoms from the abuse. Like I couldn't live without it. For the next two months, I wrote and recorded the song on my laptop in a storage closet in Berkeley where I lived when I first moved.
Review Fix: What is your biggest strength as a musician?
Melo: It used to be my voice, but post operation I'd say being a producer gives me a ridiculous amount of freedom and independence as a writer. Freedom and independence to constantly reinvent my sound and bring my compositions to a new heightened place on my own.
Review Fix: How do you want your music to affect people?
Melo: One of the emotions that draws me to certain music, is nostalgia. If I can relate to people in a way that evokes that feeling of connection and not being alone through hardships, and that dreamlike comfort of nostalgia that music can offer… I'd feel like I've done my job right.
Review Fix: What makes this album different from your previous work?
Melo: The songs are cohesive sonically with one another I think whereas my last album was a bit scattered. This one was 100% produced by me and the last one was a bit more of a collaborative effort. I feel like I've evolved so much as a producer and writer. I'm not sure how to describe the difference but it's there.
Review Fix: What are your goals for the rest of 2018?
Melo: I just want to see how people take to this new EP and begin to put my live show together. I haven't gotten on stage with a band since the surgery so I guess my goal would be to finally get back on stage and build up my confidence again.
[embedyt] https://www.youtube.com/watch?v=FY8JYDfoFuE[/embedyt]