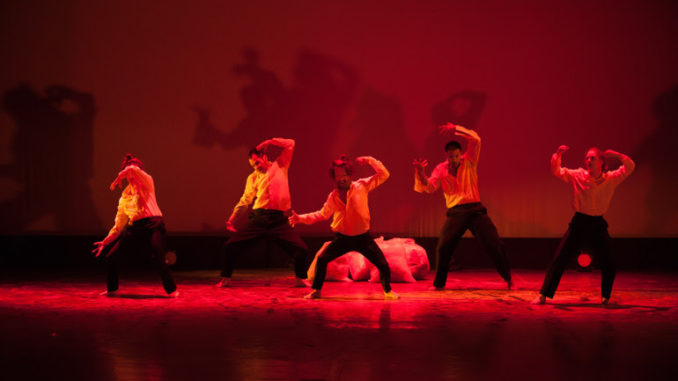 Review Fix chats with choreographer Yokko, who discusses "Shinka" and what's like to be a part of the 10th anniversary season of Planet Connections Theatre Festivity at the Theaters at the Clemente.
Review Fix: What was the inspiration for this project?
Yokko: "We are evolving right now" – said my teacher once. At the time I was trying to create a show which I had been developing over the past years. I had very abstract ideas such as changing, growing, training, fighting- like a weak boy becomes a man after tragic events. So when he said "we are evolving right now" I asked him back. "You mean  physically?" He said, "mentally we are evolving every moment, every second". That was a huge "ah ha!" moment to me. Everything started making sense to me. I believe transformation is in us. We may not be able to change the world, but we may be able to change ourselves. If the world we see now is the reflection of our mind, then if we transform- the world will transform too, eventually.
Review Fix: What's your creative process like?
Yokko: Visual images, philosophical concepts, narrative stories, sounds, improvisation based on themes.
When I choreograph, I work with individual human beings. Although I do have my images, concepts and look for specific type of performers to work with, once we are in rehearsal, I often ask performers to follow their impulses and bring their creativeness on the table. I do care about "living" in a moment mentally, physically, emotionally, spiritually, and I care deeply about ensemble chemistry. So I usually do teach some sort of workshop in the beginning of the rehearsal process, and then choreograph based on what they bring, and then direct to share the work with the audience.
Review Fix: What makes this different or special?
Yokko: This work is a Butoh Dance & Physical Theatre piece, and also uses a devising style, which means it depends on each cast member, the story will change a bit every production.
This piece is between Butoh dance, physical theatre and acting- and it has multiple layers. I found it very special as a director to see an individual being in an ensemble setting, and every time I am moved by their souls, lives, and vital energy.
Review Fix: What did you learn about yourself through this process?
Yokko: Without darkness, there is no light. I have been learning what a small capacity I have, and am trying to expand my capacity all the time. As the show grows, I grow, I transform- finding lightness from dark places.
Review Fix: What are your ultimate goals for this production and for the future?
Yokko: I would love to bring this to different places in the USA and hopefully overseas as well.
Review Fix: What's next?
Yokko: I will be workshopping the new piece:Â EN-Universal connections-Â I am looking for an artist residency, and grants to continue the work.