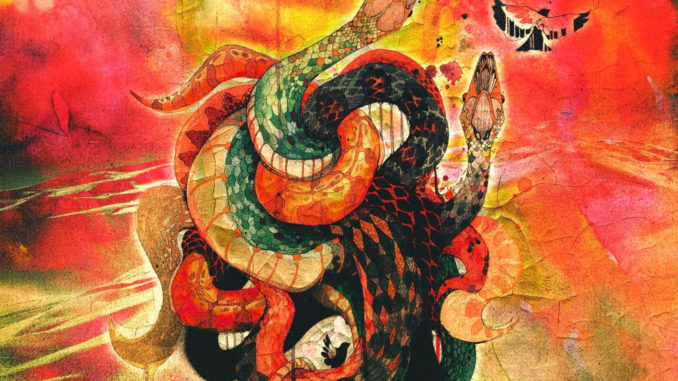 At its core, Matty T Wall's Sidewinder is a blues-oriented rock album, that swaggers forth with a decade worth of 70s riffs and licks, while also maintaining a distinctly contemporary edge.
The guitar playing is crisp and competent, with frills and solos adorning the spaces between the familiar sounding traditional rock riffs. But among this familiar territory, there are many moments on the album where Wall makes use of interesting time signatures and percussion-heavy romps to offset the listener's comfort and familiarity. Instrumental "Sophia's Strut" utilizes both in what sounds like a scratch track for a modern-Tom Waits song. While this song could have been longer and introduced a few more like-minded ideas, it does flow rather well into "Walk Out the Door," a mid-tempo toe-tapper that utilizes a brass section that gives it the atmosphere of a smoke-filled saloon.
In fact, many of the album's highlights come from the utilization of texturizing instruments on the bottom bunk of the production. A soulful sounding organ melds and harmonizes with the screeching guitar on many tracks, and brass instruments lock in seamlessly with the percussion on others. Wall's skillful guitar-work is at the foreground of each of these tracks, but there are plenty of moments where the guitars shuffle out of the spotlight, allowing for some truly standout moments, such as the wailing, swinging saxophone solos in "Walk Out the Door".
Matty T Wall's voice on most of Sidewinder has an edge that evokes the spirit of classic rock mainstays such as Foghat or Night Ranger. In an alternate timeline, an anthem such as the titular track "Sidewinder" might have found it's way on a soundtrack for the likes of Boogie Nights or Dazed and Confused. But Wall's persona-heavy singing style isn't merely the work of an impressionist, and there are many moments on the album, such as on Wall's cover of "Something Beautiful" (originally performed by Trombone Shorty), where he takes on experimental cadences and falsettos and manages to deliver spirited performances throughout. This speaks to Wall's greatest strength as a singer, a natural coolness that permeates both his lyrics and at times, half-spoken singing style, which is punctuated with confident ad-libs and accents.
While words such as "large" and "anthemic" can be used to describe much of Sidewinder, this isn't a one-note album in terms of its 70's fandom. "Leave it All Behind", for example, is a beautiful, stripped down acoustic work that is propped up on beautiful chords, soulful, but restrained singing, and a beautifully subtle string section that weaves in and out of the production. The song ends with Matty playing with the arpeggiated notes of the songs chord structure, drifting back and forth between melancholia, and hopeful sounding tones, with the somber sounding string section providing the backbone of much of the song. It is a beautiful last reminder of Wall's capability to write soulful dirges as well as big sounding 70's rock, before the album closer "Mississippi Kkkrossroads" closes the album on an interestingly contemporary note.
As stated above, Wall has a fantastic, ability to inject his songs with contemporary, off-beat grooves, and album closer "Mississippi Kkkrossroads" is maybe the albums greatest display of this talent. The song is comprised almost entirely of a heavy sounding drum-beat that is accented with some sour guitar notes, and scat-singing that is heavily reminiscent of the 90s and early 2000's alternative-metal acts such as Primus or Faith No More. This song is almost jarring in its shift of tone, but it works as an album closer for exactly this reason. Matty T. Walls sense of groove and avant-garde approaches to vocal and guitar work create a sense of foreboding, while simultaneously forcing you to nod your head to the heavy down-beat rhythm section.
While 70s rock and blues aren't quite due for a comeback anytime soon, the elements that made that era of music so special are all but bygone. A screeching guitar speaks across generations, and talented playing is always in high demand. While Sidewinder touts itself as an ode to 70's rock bands that may have fallen through the cracks, it succeeds in being that and more, with well placed big-band instrumentation, ever-catchy singing cadences, and even experimental grooves. On future releases, it may work to Wall's benefit to lean more heavily on his atypical inclinations, as his contemporary spin on classic rock is a refreshing take on a genre that hasn't seen much success in the modern era. On its own, however, Sidewinder does a fantastic job finding a space for some familiar structures and riffing in often unfamiliar territory.