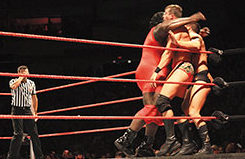 Review Fix chats with "Identity in Professional Wrestling" editor Aaron Horton, who discusses the impact pro wrestling has had on world culture and his goals for the book moving forward.
About the Book:
Part sport, part performance art, professional wrestling's appeal crosses national, racial and gender boundaries—in large part by playing to national, racial and gender stereotypes that resonate with audiences. Scholars who study competitive sports tend to dismiss wrestling, with its scripted outcomes, as "fake," yet fail to recognize a key similarity: both present athletic displays for maximized profit through live events, television viewership and merchandise sales. This collection of new essays contributes to the literature on pro wrestling with a broad exploration of identity in the sport. Topics include cultural appropriation in the ring, gender non-comformity, national stereotypes, and wrestling as transmission of cultural values.
About the Author:
Aaron D. Horton is an associate professor of history at Alabama State University in Montgomery.
Click Here For More Information. 
Review Fix: What inspired this book?
Aaron Horton: Since 2014, most of my research and writing has dealt with various issues surrounding sports, particularly soccer. As a lifelong pro wrestling fan, I became increasingly interested in finding ways to examine it from a scholarly perspective. Sports in general, and pro wrestling in particular, are areas rich in possibilities for academic investigation and discussion, perhaps because they fall outside the realms of more "traditional" topics such as politics, economics, "high culture," and so on. Of course, sport often intersects with these other issues, so the notion that it isn't relevant to broader historical concerns is incorrect.
Review Fix: Did you have some explaining to do as an academic who wanted to write about pro wrestling?
Horton: Not as much as you'd think; an increasing number of academics are taking an interest in researching and writing about pro wrestling. I think the biggest hurdle may be achieving greater respectability for pro wrestling within my own discipline (history), as most scholars who currently write about it come from disciplines such as media studies, communication, or anthropology. There is a lot of excellent work by non-academic pro wrestling historians, but there's certainly much to be said about pro wrestling from a professional historian's perspective. A scholar trained in theatre or anthropology is going to have a very different methodology and perspective than a historian, which is great, but history is highly underrepresented in pro wrestling studies at the moment.
Review Fix: Why is pro wrestling still important today?
Horton: From WWE to New Japan to various independent promotions around the world, millions of people continue to watch, despite the widespread knowledge of its predetermined nature. There's very much an ongoing appeal in wrestling's ability to tell compelling stories, both in and out of the ring, that resonate with fans from a broad range of backgrounds.
Review Fix: Why does it matter scholarly?
Horton: This is a difficult question to answer in a succinct manner, but generally speaking, the predetermined nature of pro wrestling has meant, historically, that promoters and wrestlers have often, in the interest of financial success, built angles (storylines) and personas tailored to their particular audiences in order to evoke passionate reactions. This volume deals heavily with how pro wrestling promoters and performers have represented and exploited various national, regional, gender, and racial identities, misconceptions, and stereotypes in order to keep fans coming back for more. For example, "gay" stereotypes would be used to play upon heterosexual male insecurities with the intent of drawing heel (villain) heat, encouraging fans to buy tickets in hopes of seeing a reviled figure defeated.
Review Fix: How does it affect pop culture?
Horton: Since its origins in the late 19th century, pro wrestling has been a powerful presence in popular American and other cultures. Perceptions of it have evolved over the years, of course; far more people still believed it was (mostly) legitimate in the 1920s than in the 1980s, for example. Whether or not someone actively followed wrestling, who, in the 1980s, didn't know who Hulk Hogan or Andre the Giant was? Who, in the 1950s, wasn't at least passingly familiar with Gorgeous George?
Or, more recently, Dwayne "The Rock" Johnson and "Stone Cold" Steve Austin? Numerous pro wrestlers have become pop culture icons over the past century, a testament to wrestling's impact. As another example, think about the recent trend of college football teams awarding a pro wrestling championship belt to players who make big plays, such as interceptions. Afterwards, that player will strut around on the sideline, posturing and playing to the crowd in a manner similar to a wrestling face or heel (depending on whether it's a home game, of course).
Review Fix: What was the initial goal of the book? Do you think you succeeded?
Horton: In this volume, we wanted to focus on the issue of identity in pro wrestling. Specifically, they ways that it intersects with national, regional, gender, and racial identities, both in positive and negative ways. For example, Edward Salo's chapter dealt with Jim Cornette's use of figures such as Tammy Sytch/Fytch as an "uppity" Northern woman and the Gangstas (New Jack and Mustafa) in order to draw heat from a largely Southern white population, targeting their insecurities and perceptions of the "other" in the process. I'm proud of the collection, especially its diversity; it includes contributors from eight countries on five continents, and they represent over ten different academic disciplines. As a result, the essays offer a broad range of topics and perspectives, adding to the growing body of scholarly work on pro wrestling.
Review Fix: What was the research process like?
Horton: As a volume of essays from nineteen contributors (and their co-authors, in some cases), the primary challenge was deciding how to organize the volume thematically. In my own chapter, about German and Japanese stereotypes in American pro wrestling, I drew from both primary sources, such as newspaper articles and video footage, as well as various secondary works on wrestling history. When approaching any topic, I typically begin with broader background reading, then move into more specific material, bringing the work into focus.
Review Fix: Did you watch wrestling as a kid?
Horton: Yes, from quite a young age. Some of my earliest memories of it involved Hulk Hogan's feud with Andre the Giant, around the time of WrestleMania III. I remember renting and watching old pay-per-views from the local video store over and over again, so pro wrestling has been a near-lifelong obsession for me.
Review Fix: What has the reception been like so far?
Horton: The reviews I've seen have been positive, and I take it as a tremendous compliment that one specifically noted that this collection was accessible to non-academics. Unfortunately, many scholarly works become so mired in theory and jargon that they are rendered useful only for a very narrow range of specialists, and I think that's a shame. In my own writing, and most of my contributors', I've tried to offer a more straightforward, accessible set of essays.
Review Fix: Do you still watch now?
Horton: I do, though I mostly watch non-WWE shows, especially New Japan. I prefer the latter's emphasis on in-ring action, and their more serious, sport-like presentation. Ring of Honor is also very good, as are some of the British promotions, such as PROGRESS. I usually watch WWE's big shows, of course, and their NXT specials are consistently excellent. I believe, however, that their scripted promos and seeming refusal to respond to fan reactions to wrestlers have stymied many of their performers' potential, despite the amazing array of talent they have under contract at the moment.
Review Fix: Any plans on continuing your research?
Horton: Most definitely. I think sports, including pro wrestling, are an area ripe for further exploration, so the possibilities for ongoing academic study are nearly endless.
Review Fix: Who do you think will enjoy this book the most?
Horton: This work should appeal not only to academics interested in pro wrestling, or sports more generally, but also to fans eager to learn more about the topics dealt with in the volume's essays. As editor and a contributor, I've tried to ensure the work is accessible to non-specialists, in hopes of adding not only to the growing body of academic work on pro wrestling, but also to the broader array of pro wrestling publications (and there are a lot of excellent books on wrestling by non-academics).
Review Fix: How do you want this book to be remembered?
Horton: I hope this collection will be remembered as an important and diverse contribution to the burgeoning field of pro wrestling studies. Among other things, it demonstrates a wide array of possible perspectives and approaches, and many of the topics dealt with by its contributors offer rich possibilities for future research and perspectives.
Review Fix: What's next?
Horton: I've been working on several projects, including articles on the Metal Gear video game series and a comparative analysis of the German Kommissar X Eurospy and Japanese Golgo 13 films. My long-term project is a comprehensive global history of pro wrestling, which I suspect will take many years to complete. The ultimate goal is to produce the most exhaustive history of the sport, from its origins in the late 19th century to the present.