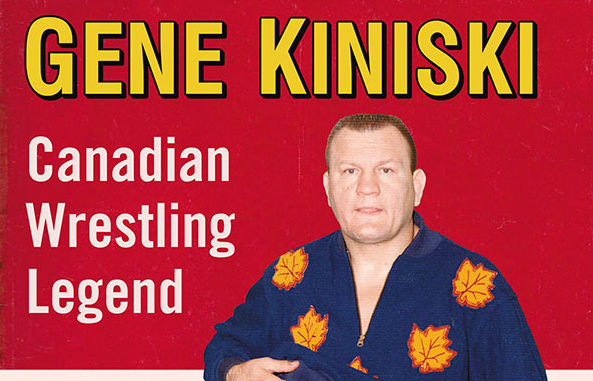 Review Fix chats with "Gene Kiniski: Canadian Wrestling Legend" author Steven Verrier, who discusses the impact of the former NWA Champion and how he'd like this biography to be remembered.
About the Book:
Gene Kiniski (1928–2010) was internationally known to a generation of wrestling fans and to Canadians everywhere as "Canada's Greatest Athlete." Older fans and wrestling historians remember him best for his accomplishments in the ring, his run-'em-over approach to the game, his growly demeanor, and his razor wit he could unleash at will. Drawing on recollections from fellow wrestlers, promoters, and friends, this first biography of Kiniski gives a full account of the life of a champion pro wrestler who won over fans throughout the U.S., Canada, and Japan in a career spanning more than three decades.
About the Author:
Steven Verrier has previously written works of short drama, fiction, and nonfiction published in the United States, Canada, and Japan. He lives in Bonney Lake, Washington.
For More on the Book, Click Here.
Review Fix:Â  What inspired this book?
Steven Verrier: As I did research for my previous wrestling book (Professional Wrestling in the Pacific Northwest: A History, 1883 to the Present), I came across an occasional key figure whose contributions to wrestling suggested a serious biography may be in order. But I prefer not to write entirely for an audience of wrestling fans, and I wanted to tell a compelling story that transcends wrestling. The life of Gene Kiniski certainly fit the bill. I grew up watching Kiniski as a wrestling character, but the more I researched, the more I became convinced that his life had to be documented.
Review Fix:Â  What is the goal of the book?
Verrier: Despite the title, Gene Kiniski: Canadian Wrestling Legend is less a wrestling book than a serious biography. I aim to tell the story of Kiniski, his complexities, his era, and his setting in a way that satisfies a broad readership.  
Review Fix:Â  What was the research process like?
Verrier: I talked to a lot of people who knew Kiniski at all stages of his life—friends from his youth, relatives, many people from wrestling, people from other sports, his friends after retirement … and he had an amazing array of friends and people who speak well of him to this day. I spent time in the Alberta village where he spent his early years; in Blaine, Washington, where he lived for many years before passing away; and in places where he'd lived in between. Of course, I interviewed his sons, Kelly and Nick Kiniski, at length. I tried to be as exhaustive as possible.
Review Fix:Â  What has the writing process been like so far?
Verrier: Actually, the writing is done, except for some small changes to come when I look at the proofs. I did several drafts over the course of two years, largely because important stuff kept turning up, sometimes causing major additions or clarifications.
Review Fix:Â  Have you learned anything unexpected?
Verrier: I had no idea what a complex character Gene Kiniski was and what an impact he had on so many people.
Review Fix:Â  Which wrestling star today do you think is most comparable to Kiniski?
Verrier: Wrestling-wise, I see a little similarity to New Japan Pro Wrestling's Tomohiro Ishii, who has a bruising style, though he's much smaller than Kiniski was. But there aren't many Kiniski-style wrestlers anywhere nowadays—sharp talkers and bruising technicians you can take seriously. As far as big-name North American wrestlers go, maybe Kevin Owens is as close as it gets—probably with a little Brock Lesnar thrown in. 
Review Fix:Â  Why does he matter in wrestling history?
Verrier: Kiniski represents an era when wrestlers protected their business and championships meant something. He was a leading wrestler for over a quarter century and was on top of the mountain as NWA champion for three years. He earned an amazing amount of respect from people in wrestling and from people who watched wrestling. He had a legitimate athletic background outside wrestling (when that meant something), and he was a very successful co-owner of the All-Star Wrestling promotion in British Columbia. On top of that, Kiniski was a nationally known figure in Canada for decades. To this day a huge number of Canadians can identify "Canada's Greatest Athlete" by name.
Review Fix:Â  Who do you think will enjoy this book the most?
Verrier: People who remember watching Kiniski are probably the surest bet. But I'll be promoting the book in places like British Columbia, Alberta, Ontario, and St. Louis, where Kiniski was a huge name and is well remembered by a large audience extending beyond wrestling.
Review Fix:Â  How do you want this book to eventually be remembered?
Verrier: As a compelling read—one doing justice to a compelling character. Kiniski was much more than a wrestler, and his biography aims to be much more than a wrestling book.
Review Fix:Â  What's next?
Verrier: My next couple of projects take me outside of wrestling and focus on a couple of key issues of our age that I think ought to be straightened out. As far as wrestling goes, I'm leaning toward working on a biography of another intriguing figure—one whose path crossed Kiniski's from time to time. I hope to be ready to go with that sometime next year.
Review Fix:Â  Anything else you'd like to add?
Verrier: I appreciate the opportunity to talk about Gene Kiniski: Canadian Wrestling Legend. I've put a lot of work into this project, going through numerous files, articles, and books and talking to many of the people who knew Kiniski best. I've had a lot of fun working on this, and I've done my best to make it equally fun to read—for people with a keen interest in wrestling or wrestling history or for people who just want to get lost in the tale of a boy from the Canadian prairie who happened to choose wrestling as his ticket to fame and a remarkable life.