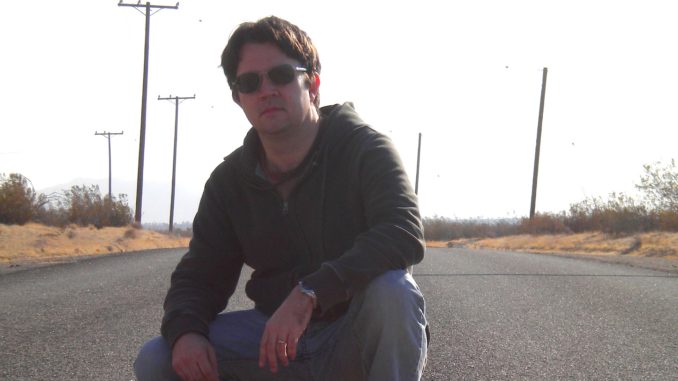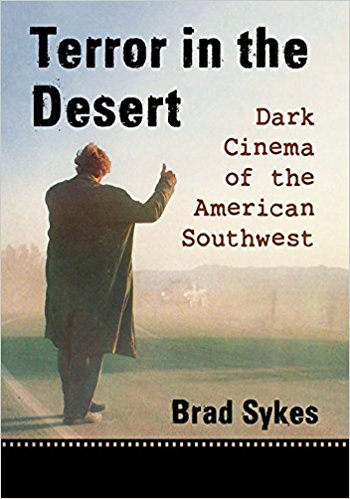 Review Fix chats with "Terror in the Desert: Dark Cinema of the American Southwest" author and filmmaker Brad Sykes, who discusses his new book and how being in the film industry helped him put together this awesome look at an under-appreciated genre of film.
About the Book:
Set in the American Southwest, "desert terror" films combine elements from horror, film noir and road movies to tell stories of isolation and violence. For more than half a century, these diverse and troubling films have eluded critical classification and analysis. Highlighting pioneering filmmakers and bizarre production stories, the author traces the genre's origins and development, from cult exploitation (The Hills Have Eyes, The Hitcher) to crowd-pleasing franchises (Tremors, From Dusk Till Dawn) to quirky auteurist fare (Natural Born Killers, Lost Highway) to more recent releases (Bone Tomahawk, Nocturnal Animals). Rare stills, promotional materials and a filmography are included.
About Brad Sykes:
Brad Sykes is the award-winning screenwriter and director of more than twenty feature films, including Plaguers, Death Factory and Camp Blood. He lives in Los Angeles, California.
Review Fix: What inspired this book?
"Terror in the Desert" was inspired by the desert-based thrillers and chillers that I began watching in my teens: weird and disturbing films like The Hitcher, The Hills Have Eyes, Near Dark, Kalifornia, U-Turn, The Sadist, White of the Eye, and many more.  These "Desert Terror" movies made a huge impression on me and became some of my favorite films.  Later on, they had a major influence on my work as a filmmaker.  Recently, I felt the time had come to write a book about them.  

Review Fix: What is the goal of the book?
Brad Sykes: My primary goal with this book was to identify Desert Terror as a legitimate and important film genre and tell the 'story' of the genre: how it began, discuss the various movies that make it unique, and demonstrate how it has changed (and affected change) over the years.  More than anything, I wanted to simply share my love of these films with the reader.

Review Fix: What was the research process like?
Sykes: You could say I've been 'researching' this book for 30 years!  One of the first things I did once I started this project in the fall of 2015 was to make a list of movies to cover – major and minor.  There were some core films that I knew I'd be writing about from the beginning, but I also discovered a lot of other movies during the research process – including some really important ones like When You Comin' Back, Red Ryder? or The Petrified Forest. Those were both 'new' to me, but now I can't imagine the book without them.  I spent a lot of time tracking down obscure films from all over the world, viewing films on every format imaginable from VHS to YouTube, researching their origins, and reading film books or associated texts.  I tried not to revisit too many film criticism books, though, as I wanted to approach each film with fresh eyes. 
Review Fix: What was the writing process like?
Sykes: I approached the book like I would a screenplay, which is to say I created an 'outline' before I began writing.  I wrote the introduction first, more as a mission statement/guideline for myself than anything, then decided on a series of themed chapters (road-based moves, western-themed, creature, etc.) and what order they would appear.  But I didn't watch the movies in any kind of order, I kept it interesting that way, and besides, I kept discovering new titles all the time.  After working on the book for over a year, I had a first draft at the end of 2016. 
I continued adding new reviews even after I had signed with McFarland in April 2017.  Eventually I had to stop as I realized that there would always be one more movie to include…and I wanted the book to get published at some point!  Ultimately, I was able to get all the important, along with many lesser but still interesting movies, in the book. 
Review Fix: Have you learned anything unexpected?
Sykes: The process of writing "Terror in the Desert" was one of constant discovery, which made it challenging but also fun and never boring.  I have been writing screenplays professionally for over 20 years, and have some experience writing film related articles for various websites, magazines and newspapers, but this was my first book.  So in addition to learning about dozens of new movies and digging up details about those films, I also had to figure out how to create the best structure for the book.  And then of course there was the publishing process which had its own quirks and demands.  
Review Fix: Why does Horror still matter?
Sykes: Horror will always be an important and necessary genre – not just commercially, but for addressing human concerns within a fantasy context.  Obviously it's doing very well at the box office these days and even getting serious awards consideration – look at last year's It and Get Out, or the huge success of Stranger Things.  If the genre wants to continue to matter, it will have to keep growing and pushing the envelope, not simply falling back on nostalgia or remaking old properties, which seems to be very common lately.  

Review Fix: How does your work in film make you a better writer of film? Or does it hurt?
Sykes: Ultimately, I think my film production background makes me not necessarily a better writer, but certainly a more informed and understanding writer than someone who has never worked on a set or directed a film, because I know how hard it is, at every budget level, to make a good movie.  A lot of Desert Terror films are independent, lower budget movies and I have particular knowledge of that world. 
On that note, I knew that If I undertook this project, I would be writing about films whose directors, writers, actors, etc. I am friendly with or have worked with on occasion.  I also planned on including a few of my own films (which are discussed but not reviewed), which could be seen as a 'conflict of interest.'
I decided that the book's overall purpose was more important than any personal or professional connections I might have to some of the movies discussed, and I tried to be as unbiased as possible when reviewing a film, regardless of my association with the artists.  

Review Fix: Who do you think will enjoy this book the most?
Sykes: I wrote this book for people like myself – dedicated fans who have seen a lot of movies, especially those in the horror genre, and are always on the lookout for the next hidden gem.  I hope it will be one of those film reference books that the reader returns to again and again over the years. 

Review Fix: How do you want this book to eventually be remembered?
Sykes: I would be happy if "Terror in the Desert" is remembered as the first book exclusively devoted to the Desert Terror genre, and one which gives these underappreciated and underseen movies the attention they deserve in a fun, easily readable way.  And I would be thrilled if it led to some of the more obscure films being released in new, higher end formats. 
Review Fix: What's more important to you, working on film, or writing? How do they connect?
Sykes: Writing and filmmaking have always been connected for me, even before I started doing either professionally, so it's hard for me to choose one over the other.  Writing is creatively liberating but can be isolated and a bit lonely; filmmaking is much more social and can be a real adventure, but also physically demanding and frustrating in terms of compromises due to lack of time and money.  I wouldn't ever want to do just one or the other, ideally I would like to alternate film and book projects in the future. 
Review Fix: What's next?
On October 28 (just in time for Halloween), I'll be hosting a screening of the Desert Terror film Ghost Town at the Autry Museum of West in Los Angeles.  It's the first event of their new 'Weird Westerns' series, so that's very exciting.
My new anthology horror movie Hi-Death is playing festivals all over the world and will be released next year on DVD, Blu, streaming etc. And I have another book in the research phase, which I don't want to say too much about, but I will probably start writing next year.   
Review Fix: Anything else you'd like to add?
Sykes: If you want to know more about Desert Terror movies, or you're just as much of a fan as I am, "Terror in the Desert" is currently available from my publisher McFarland and Co. and also on Amazon, Barnes and Noble and many other online booksellers.  To find out more about my films and other creative work, please check out www.nightfall-pictures.com  or https://www.facebook.com/Nightfall-Pictures-280551435317248/