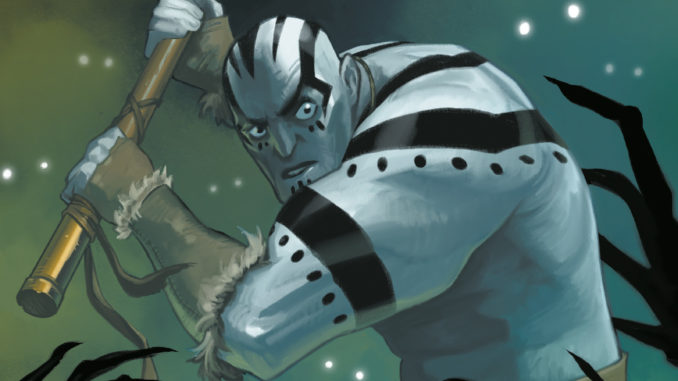 Dark Horse Comics and Critical Role are proud to announce three new projects set to release in 2019. Based on epic tales from the world of Exandria, these new comics, art books and more will explore this universe in new and original ways! The most popular digital tabletop game in the world, Critical Role is live-streamed every week and set in Exandria. In each episode, veteran voice actor and Game Master Matthew Mercer leads his nerdy ass and wildly entertaining friends (also fellow voice actors!) on a thrill ride of turmoil and adventure. The cast includes Matthew Mercer (Overwatch, Final Fantasy XV, Fallout 4), Travis Willingham (Ultimate Spider-Man, Avengers Assemble, The Legend of Korra), Marisha Ray (Star Wars: Battlefront, Batgirl: Spoiled, Metal Gear: Survive), Taliesin Jaffe (Street Fighter, World of Warcraft, Final Fantasy XIV), Ashley Johnson (Blindspot, Teenage Mutant Ninja Turtles, Teen Titans Go!), Sam Riegel (Teenage Mutant Ninja Turtles, One Punch Man, The Amazing Spiderman), Liam O'Brien (Star Wars Rebels, Transformers: Robots in Disguise, Wolverine and the X-Men), and Laura Bailey (Dragon Ball Z, Fullmetal Alchemist, Gears of War 4). 

On July 10, 2019, Dark Horse and Critical Role will release Critical Role: Vox Machina Origins series II #1, which finds the unlikely heroes of Vox Machina back in action-packed yet absurdly entertaining adventures! The six-issue series will be available through Dark Horse Digital and through retail stores and continues to follow the origin stories of engaging characters, material hinted at but not fully disclosed in the live-stream. From award-nominated writer Jody Houser (Orphan Black, Stranger Things) and first series artist Olivia Samson, with colorist MSASSYK (Isola, Gotham Academy) and letterer Ariana Maher (James Bond, Xena) comes Critical Role: Vox Machina Originsseries II, the highly anticipated sequel to Critical Role: Vox Machina Origins series I. The beautiful first issue cover is by artist Fiona Staples (Saga). The series will be collected into a trade paperback collection in summer 2020. 
In Critical Role: Vox Machina Origins series II, familiar faces from Critical Role's smash-hit first campaign return as their escapades in Stilben lead them towards their next adventure—and a dire threat to Grog Strongjaw, the goliath barbarian, when he goes missing in the night. Tracking him down will see the party lose one member, gain another, and reveal parts of Grog's secret past. But first, his friends have to actually find him.
Due to popular demand, Dark Horse and Critical Role will also release a trade paperback collection of Critical Role: Vox Machina Origins series I on October 15, 2019! Writers Matthew Mercer and Matthew Colville team with artist extraordinaire Olivia Samson and colorist and letterer Chris Northrop to tell the story of how Vox Machina first met. Originally released through Dark Horse Digital, the Critical Role: Vox Machina Origins series I paperback collection will be available for fans to purchase at Amazon, Barnes & Noble, critrole.com, and in local comic shops! Featuring a cover by Stjepan Šejić, Critical Role fans can buy this 168-page collection for $19.99.
In late 2019, Dark Horse and Critical Role will release Critical Role: The Chronicles of Exandria — The Mighty Nein. With a stunning cover by Matteo Scalera and Moreno Dinisio, this gorgeous hardcover art collection contains materials presented chronologically from the first few story arcs of the Mighty Nein campaign. Featuring a wide variety of illustrations from the Critical Role fan community paired with text by cast members Liam O'Brien and Taliesin Jaffe, and art direction from Lauryn Ipsum, this 200-page tome retails for $39.99.