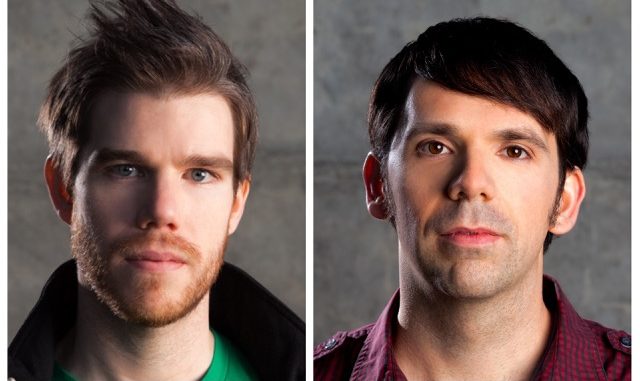 BReview Fix chats with Crackdown 3 composers Brian Lee White and Brian Trifon, who discuss the four year journey to create a special assortment of tunes for the game.
Review Fix: How did you get involved with this project?
Brian Lee White: We've worked on several Microsoft projects, the Halo franchise, etc. and had an existing relationship with the audio director Kristofor Mellroth. Kris knew we had a deep knowledge and respect for electronic music, so we had a couple of conversations really early on while we were wrapping up on some Halo stuff and just dug in after that.
Review Fix: You guys recorded a ton of music for this. How taxing was it?
Brian Trifon: Yeah, it ended up being around four hours of music if you add it all up. We spent about four years total on the project, with some breaks in-between. The most taxing aspect is the interactive implementation and iteration that happens during playtesting. There are elements you just don't know will work correctly until you get them into the system and actually play them in context. Unlike a linear film, a game is interactive, so experiencing how the interactive pieces are landing in context is vital to crafting a great game score. Since we did all of the interactive implementation ourselves in Wwise, we took on the responsibilities of what would often be handled by an audio programmer/implementer at the studio. So in addition to composing/producing the score from a creative standpoint, we were also responsible for plugging that into the system, making sure it worked correctly and polishing it in context. This is extremely rewarding because we can control exactly how the music will be experienced but it adds an additional layer of work to the whole process.
Review Fix: How do you feel your tunes changed the game?
White: Crackdown 1 and 2 had a lot of licensed music, not scored specifically for the game but licensed from existing record labels/artists. For Crackdown 3, we set out from day one to do an all original score. We wanted to have total esthetic and functional control over all of the content. This gave us ultimate flexibility in the interactive department and the thematic "through-lines" of the score, while still making it feel like something you could hear off of a record or in the club. The soundtrack is full on, beat-heavy electronic music, not your traditional epic orchestral game score. The idea here was to take some of the vibe from the previous Crackdown titles and make it super modern and relevant for today, it feels surprisingly cathartic to blow up stuff and beat the bosses to trapped-out 808s and modern electronic sound design.
Review Fix: What's your favorite track?
Trifon: "Jaxon's Jam" – it's Terry Crews' theme song in the game, how can you beat that? We also enjoyed working on "Nimbus" because it was a remix from our 2016 album "Hypecine" as well as the track "Katala Vargas."
Review Fix: What was the creative process like for this?
White: Early on, we shared quite a few Spotify playlists back and forth with the audio director Kris, just to get a dialog going about vibe and what we liked and didn't like for the different characters. From there, we would typically start by composing two to four-minute sketches for each character that could then be revised until everyone agreed on their unique sound and theme. Those sketches would serve as the base palette for that character's assets throughout the game, including cutscenes, leitmotif themes, etc. With those elements solidified, we proceeded to implement the elements directly into Wwise (the middleware system used to control the audio into the game) and play test to see how things worked in context.
Review Fix: Does any song have a cool behind-the-scenes story you can share?
Trifon: The main menu music, "Nimbus," is actually a remix of a track from our 2016 album "Hypecine." We had a bit of a break at one point during development, but we wanted to keep writing ideas in the same "cinematic trap" esthetic, to keep our production muscles well-honed. So we started working on an album of that kind of material in late 2015 and were sharing the tracks with Kris at Microsoft throughout the process. He loved a lot of the tracks and we jointly earmarked a few for further development and integration into the score, if you listen carefully you can hear that material sprinkled throughout the Crackdown 3 soundtrack.
Review Fix: What's the most underrated song on the soundtrack?
White: Hopefully none?! We tried really hard to curate the soundtrack so there are no underrated songs. We wrote over four hours of music for the game, and the soundtrack clocks in at just over an hour, so lots of material didn't make the soundtrack because our goal was to present a very coherent listening experience front to back, something you could enjoy in the car or the club, even if you were not familiar with the gameplay.
Review Fix: How do you want this soundtrack to be remembered?

Trifon: Three fire emojis.
Review Fix: Any lessons learned?
White: Making games is awesome, but making games is also hard. Delays happen, bugs happen, things change, fans get mad about stuff and yell mean stuff on twitter, etc. You have to focus on the things within your control and make sure those things are as great as they can be and tune out all the other noise and stuff that's out of your control.
Review Fix: What's next?
Trifon: More awesome games! We have an amazing year lined up for 2019 with some really cool projects already in progress, follow our socials for announcements/updates.
Review Fix: Anything else you'd like to add?
White: Check out the Crackdown 3 soundtrack wherever you stream music!
Social Handles:
Soundcloud: https://soundcloud.com/finishing-move-inc
Apple Music: https://itunes.apple.com/us/artist/finishing-move-inc/1152686264
Facebook: https://www.facebook.com/FinishingMoveInc/
Twitter: https://twitter.com/fnshing_move
Instagram: https://www.instagram.com/finishingmoveinc/