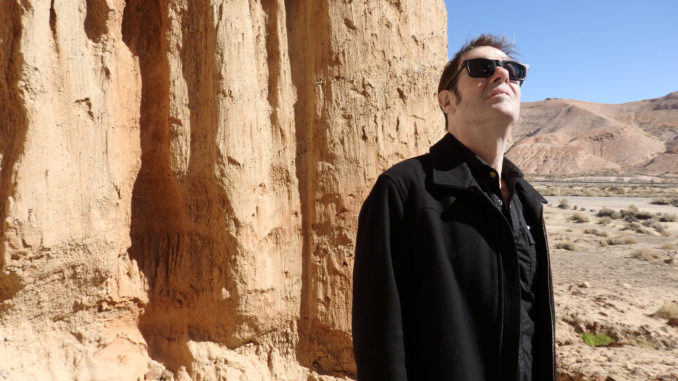 BReview Fix chats with singer/songwriter and guitarist Russ Tolman, who discusses his new album, "Goodbye El Dorado."
Review Fix: How did you get involved in music?
Russ Tolman: From about age three or four, I was drawn to the guitar. My parents brought me back a little guitar from Mexico when I was five, which was accompanied by a big ridiculous sombrero. There's a photo floating around the internet. The bridge of that guitar became unglued at some point and then I got another around age 10. I wanted an archtop with those cool f-holes that I had spied in the Sears & Roebuck catalog, so I was a little disappointed when a round hole monster was presented to me. The bridge on that guitar suffered from the same glue problem as my first one. I didn't really get serious about learning guitar until I was a teenager and figured it was probably the only way I was going to get laid. I took a short detour of a year or so to electric bass because I discovered the big strings didn't cut your fingers like guitar strings do. I actually played in a polka combo with my friend's parents who played guitar and accordion. Unfortunately, we never played out. By the time I went away for university at UC Davis, I was playing some lead guitar, but those were the days when it seemed like you had to be a virtuoso to be in a band, so it was a relief when punk and new wave came along and democratized being in a band. It didn't matter if I sucked or not. I had headed to Davis with the idea of radio broadcasting as my career as I had done weekends at the local hometown radio station. I picked Davis because their station KDVS had a good reputation. The other reason I picked Davis over UC Berkeley is that Berkeley seemed to big city to this country boy at the time. At KDVS, I met Steve Wynn and Kendra Smith. Together we started a band called Suspects in late '77, recruiting a drummer and bass player. The drummer was Gavin Blair, who later went on to be the singer in True West. Steve and Kendra moved back to Los Angeles and eventually formed Dream Syndicate. Gavin and I recruited local guitar hero Richard McGrath and the creative nucleus of True West was born. We did a couple albums, toured the US constantly for about two years including supporting REM on their Life's Rich Pageant tour, and had our moment of fame in the UK. I left the band in the summer of '85 and released my first solo album Totem Poles and Glory Holes in '86. And now I am just releasing my eighth album GOODBYE EL DORADO.
Review Fix: What's your creative process like?
Tolman: It's probably not unusual but I get a lot of my best ideas in the shower, which kinda makes it hard if you want to record into your phone a melody that comes to mind. I've read that I can submerge mine up to a few feet, but I don't think I am gong to try it, thank you. On GOODBYE EL DORADO, I wrote the songs and then recorded simple voice and acoustic guitar demos which I gave to the band along with lead sheets that show them the chords. We then worked out the arrangements when we met in the studio and then recorded the album as close to live as I have ever done a record. Besides the vocals, there were almost no overdubs. This would be a great time to plug my band. Kirk Swan is an amazing guitar player. We met years ago when he was in Dumptruck. He had played with me on and off since the '90s. I joke that Robert Lloyd plays every instrument known to man. That's an exaggeration, of course, but on this record alone he plays organ, piano, mandolin and accordion. Dave Provost is rock solid bass man in the tradition of Motown bassist James Jamerson. As a kid he took guitar lessons from Carol Kaye, who we all know as the bass player on Phil Spector, Beach Boys, and other hits. As a teen, Dave played guitar in a band with soul singer Al Green and then went on to play bass with Dream Syndicate and many other bands. Drummer Kevin Jarvis, who double dips as the album's engineer, has played with Lucinda Williams, Brian Wilson, Grant-Lee Phillips and a ton of other folks you'd know. These guys are really the A-Team and have the chops to be able to play a song perfectly all the way through with amazing feel. They are what makes GOOBYE EL DORADO great.
Review Fix: What inspires you?
Tolman: Life inspires me. At a certain point when you stop taking life for granted and start realizing what an amazing gift it is, then just about everything, even the daily chores is inspiring. At this point, I am not ashamed to say I am grateful for every breath I take. Usually, it takes a major illness for most people to make the realization. I am just happy that I figured it out without having to go through that pain. I really love waking up everyday and having a big to-do list and just cranking along. I love writing songs and playing shows, but my big, big love is the recording process. I adore being the studio. And my favorite part is mixing. It's when you take all the colors in your palette and arrange them on the canvas.
Review Fix: If someone could get an idea of who you are by one track, which one would it be?
Tolman: That is a tough one. I'm eight albums in, plus the tunes I wrote for True West, so that's a lot of songs — so many different experiences, moods, thoughts, angles of personality. OK, I am going to narrow it down to the new album GOODBYE EL DORADO and pick one song that I feel close to, and that would be "Take It Easy Take It Slow."
How would you describe your sound to someone who has never heard you?
Oh boy! What's that quote, "describing how something sounds is like dancing about the flavor of food"? Or something like that. Anyway, this is a question I've never been any good at answering. I like great songs. I endeavor to write great songs. I like the sounds of guitars. I like the sound of pianos, organs, pedal steel guitars, accordions, mandolins and such and they make their way onto my albums. I enjoy singing now more than I ever have in the past, and I think I sing better than ever before. Singers I really love: Waylon Jennings, Nat Cole, Frank Sinatra, Bob Dylan, David Bowie, Merle Haggard, Iggy Pop, Chet Baker, Leonard Cohen. If I sound like any combination of those guys, I am one happy clam.
Review Fix: What makes this new album special?
Tolman: It's been awhile since I've released a complete album, so I had time to think about what I wanted this record to be. I wanted it to be a warm, fuzzy companion as albums have been for me since I was a kid. Something to be listened to repeatedly, which is something that does not happen much in these days of streaming. Also, the concept of an album as a whole work is a bit of a retro idea these days, and GOODBYE EL DORADO is a further slap in the face of modernity by being a real, honest to goodness, concept album. I didn't consciously start out to make one, but that's what I ended up writing.
How are your live shows different from your studio work?
I am taking the band that played on the album and doing a series of shows where we play GOODBYE EL DORADO from top to bottom. And I DO hope we sound as close to the record as possible. But usually for me, live and records are two different animals. Because I do my best to write real, live songs, not just riffs and sounds, then they can be translated to many different settings and instrumentations. So when I go to Europe and the UK to tour in May and June, and probably again in October, it's just me and my acoustic guitar on the stage. When you have a good melody and lyric and an honest, emotional performance, that's all you need.
Review Fix: What are your goals for 2019?
Tolman: Get as many people as possible to hear GOODBYE EL DORADO. Play as many shows in the US and Europe as I can. Turn my song "405" into a LA area regional hit. Everyone hates that freeway!
Review Fix: What's next?
Tolman: I am very focused on GOODBYE EL DORADO and touring, but eventually I need to get my head into the songwriter space. I would like to have a new album out next year. Maybe some collaborations with new people. And there's some talk about a new True West album, which would be awesome.
Review Fix: Anything else you'd like to add?
Tolman: I feel very blessed to be able to do what I love everyday. And I am also glad that I have learned to be able to love the things that I have to do, as well as the things I want to do. Don't hesitate to work toward your dreams.
New album: GOODBYE EL DORADO coming April 19.
Upcoming Shows:
20 Apr Russ Tolman Presents GOODBYE EL DORADO Album Release Event, The Love Song, Los Angeles, CA, FREE SHOW!
08 May Madrid, Spain – Café Berlín
09 May Bilbao, Spain – Colegio de la Abogacía
10 May Pamplona, Spain – Nebula Bar
14 May Oslo, Norway – Grünerløkka Brygghus
15 May Tromsø, Norway – Bastard Bar
16 May Halden, Norway – Tom's House
17 May Malm̦, Sweden РFolk ̴ Rock
18 May Haderslev, Denmark – Boldts Bar
19 May Stockholm, Sweden – Twang
23 May Norderstedt, Germany – Music Star
24 May Nürnberg, Germany – Kantine
01 June Suffolk, UK – Red Rooster Festival (headliner: Nick Lowe), Euston Hall
02 June London, UK – Putney Country in the Afternoon Festival, Half Moon
04 June Sheffield, UK – The Greystones w/ Jesse Dayton
05 June Manchester, UK – Night People w/ Jesse Dayton
06 June Witney, UK – Fat Lil's w/ Jesse Dayton
07 June London, UK – Sebright Arms w/ Jesse Dayton
07 July North Hollywood, CA – Mimosa Series @The Federal (FREE)
20 July San Francisco, CA – Make Out Room w/ Barbara Manning
10 Aug Burbank, CA – Joe's Great American