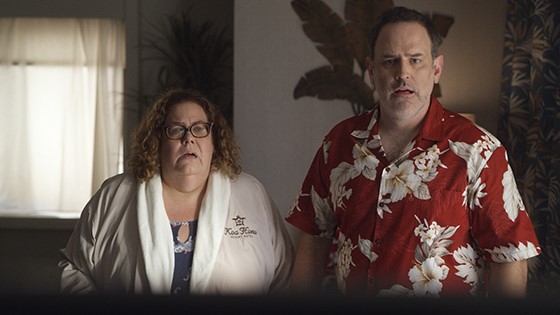 Imagine you're on a romantic getaway vacation on a paradise island with a significant other. For a week you've been casually relaxing and enjoying the warm weather, crisp crystal clear blue water, margaritas, and mojitos while on the beach. Then you wake one morning to the bright sun radiating through your balcony glass door and an amber alert declaring that paradise a ballistic missile hot zone.

On January 13, 2018, this actually happened to vacationers and residents of Hawaii, which also turned out to be a false alarm. Directors Michael Feld and Josh Covit parody this event with their short disaster comedy "40 Minutes Over Maui." Though this was a statewide scare, Feld and Covit do a great job in making light of the error which caused panic and terror for exactly 40 minutes before another alert clarified the mistake.

The story centers around a husband and wife on vacation in Hawaii. The two are Larry, played by Johnny Ray Meeks and Penny, played by Julie Brister. The pair are witty and have awesome chemistry as a married couple. They come off as a fun couple and trade exchanges much like Doug and Carrie on "King of Queens." Larry is a writer that is supposed to be writing, but it is apparent that he is the easy-going slacker type. His attitude is complemented by Penny's who has a more rational personality.

The couple planned to make the most of their vacation with plans to eat poolside and day drink until the amber alert sends the two into a panic frenzy. The panic quickly changes to adventure when the two realize that their lives might soon be over, so they decided to enjoy whatever time they have left by any means necessary. The by any means included eating whatever, drinking whatever and of course, sex.
Once the carefree momentary high is over, the two realized that though their lives might be over, they wouldn't have it any other way than spending their final moments together. The film takes a serious situation and makes it fun. The story conveys the hidden message that in times of chaos, people experience all types of different emotions. Even with all the chaos, it can bring people closer together to the ones they love most and recognize what is most important in life.