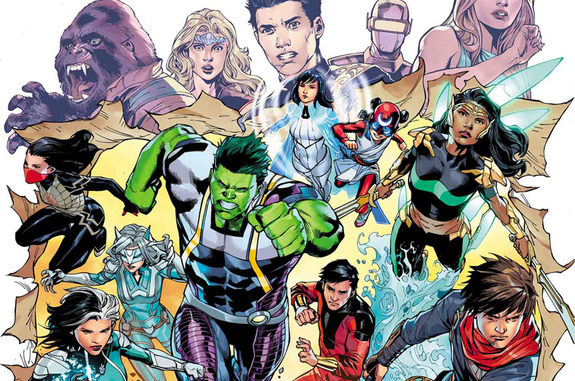 There are times when failure is your best teacher and then sometimes a pear is just a pear. Amadeus Cho and Kamala Khan are relatively new to the Marvel comic-book universe, still as members of the team The Champions and their association with characters such as Hulk and Captain Marvel, both Amadeus and Kamala are recognizable. Still, there are other heroes of Asiatic descent throughout the Marvel universe that have been around seemingly waiting for their chance to shine. 

In issues one through three of 'New Agents of Atlas' writer Greg Pak has taken new and longstanding characters of Marvel Comics and creates a plausible storyline in the midst of 'The War of the Realms.' Don't be concerned with the big Realms crossover. The focus of this new series are the Agents of Atlas who are attempting to protect their respective countries from some fire-like threat. Jimmy Woo runs a Pan-Asian school for the gifted, which are those with particular abilities. But this isn't an X-Men situation. Woo doesn't play around, he's not attempting to mold young, traumatized people into believing in his dream. Instead Woo needs help in handling threats that seem to affect where most Pan-Asians live. Everything doesn't take place in New York. Issue one reinforces Amadeus' think later, react first attitude that Kamala points out earlier. But with his initial bad decision things get better by the second issue. They may not be a well-oiled machine, rather we see a set of individuals who know what they're doing and are able to cooperate with each other. Even the goddess Pele who doesn't have to listen to anyone backs up the plan that begins to come to fruition in issue three.

The artwork is superior in that the physical features of the characters are not cookie-cutter or stereotypical. Instead characters from Korea, China, and the Philippines all have facial characteristics of where they are from without having to be overemphasized. It's refreshing and about time. Consider the cover of the first issue. Amadeus, Silk and Wave don't look exactly like Shang Chi and Jimmy Woo. You can tell in their action poses that they aren't stamped out. Every person of Asian descent doesn't look exactly alike and there isn't a need to reinforce the negative aspects of what certain people impose on cultures they know little about. Speaking of Shang Chi, the character whose been knocking around the marvel universe since 1973 he finally gets a chance to be known on a large scale. In part Shang Chi may have been created as an answer to Bruce Lee in comic-book form. Now, it may also be preparation for the next stage of Marvel films.

Similarly, in bringing these characters to the forefront the 'New Agents of Atlas' has brought back the character bio. During the 1970's and 80's Marvel would put out character handbooks. You found out that Jim Starlin had co-created Shang Chi or that Jack Kirby co-created most of the Marvel Cinematic Universe. In issues two and three we get the backstories of Luna Snow and Crescent and Io whose first appearances were in 2018. Luna Snow is a South-Korean pop-star. Her origin story involves the organization AIM and the ability to control ice. Crescent and Io's story deals with Morgan Le Fay, a magic bear and a missing father. These are new characters who won't be subjected to continuous reboots and retcons since their narratives are fairly new.

'New Agents of Atlas' is a necessary comic-book, not because it ticks the diversity box. Pak writes this team as if it's always been around, defending their parts of the globe. Its narrative exists without the presence of a Caucasian aspect of society. In their respective areas, they are not the minority. They are heroes with flaws who are out there doing their thing, without having to be exemplar of an entire culture. That's why this should be an ongoing series, that's what makes it good.