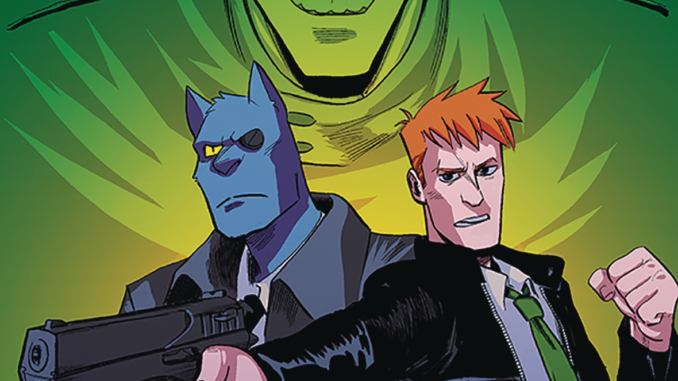 Review Fix chats with Spencer and Locke writer David Prepose, who discusses what inspired the second volume of the Action Lab Comics series.
Review Fix: What did you learn from the previous run and how did it affect this one?
David Pepose: I think a lot of the incredible response from SPENCER & LOCKE's first volume just served to reinforce our sequel — we really wanted to double down on our story's themes of trauma and mental illness, while continuing to build up our characters with a sense of empathy and compassion. And to do that, we needed to make Spencer and Locke's world bigger — in this case, scaling upwards from just a hard-boiled parody of Bill Watterson's classic Calvin and Hobbes to expanding to an entire shared universe inspired by the funny pages, spearheaded by our Mort Walker-inspired villain Roach Riley.
But most importantly, we wanted to make sure that SPENCER & LOCKE was still a story that had weight and consequences — we had plenty of fans ask us how someone as damaged and violent as Locke could possibly serve as a police officer, and we address that in a big way in our second volume. Can a man with his scars possibly function in our society, as a cop, as a father, as a friend? These are all questions we're answering here.
Review Fix: What makes this arc a special one for you?
Pepose: I'm a big fan of our new villain, Roach Riley, who is inspired by Mort Walker's classic comic strip Beetle Bailey. While Beetle was a lovable slacker Army private, Roach has seen some pretty harrowing stuff overseas — and he's not only come back with a mission of bloodshed and violence, but he's also adopted a particularly frightening philosophy of pain and suffering. After coming up with two characters as beloved as Spencer and Locke, we wanted to create a villain that was worthy of our heroes' attention, and I think we've struck paydirt with Roach Riley.
Review Fix: How easy will it be for new readers to jump in?
Pepose: While I consider the first volume of SPENCER & LOCKE to be the cornerstone of our overarching narrative, we've had plenty of readers discover the series in Volume 2 and respond with equal enthusiasm. In addition to including a recap page of our first arc, the first issue of our sequel gets readers up to speed quickly on Locke's traumatic upbringing, and how that might necessitate him bringing his imaginary friend Spencer with him all the way to adulthood.
Review Fix: What will bring dedicated readers back?
Pepose: If you fell in love with our characters in the first arc, you're going to love where Spencer and Locke are headed next. Don't get me wrong, they're still going to be struggling with their pasts, but we'll also get to see them explore a larger playing field, including with Locke's daughter Hero and his new love interest, reporter Melinda Mercury. But our heroes are still front and center of the whole series, and I think readers will really enjoy getting to reconnect with them.
Review Fix: How do you want this arc to be remembered?
Pepose: This is going to be our Dark Knight, our Empire Strikes Back — the moment where everything escalates, and nothing will be the same again. (And unlike a lot of other comics out there, we actually mean it.) We're crossing the Rubicon with SPENCER & LOCKE 2, and after our heroes go head-to-head with Roach Riley, I think fans are going to see this as a watershed moment in these characters' journey.
Review Fix: What's next?
Pepose: That ultimately depends on our readers, and whether they decide they want to see more — if there's enough demand for this second arc, Jorge and I definitely have ideas for more stories. This is just the tip of the iceberg, both in terms of material to draw inspiration from, as well as development for Locke, Spencer, Hero, and the rest of our supporting cast. Beyond that, readers who enjoy SPENCER & LOCKE will likely enjoy my next Action Lab series, GOING TO THE CHAPEL, which will be available for preorder starting in July! It's Die Hard at a wedding, and fans of SPENCER & LOCKE's emphasis on action and humor will fall in love with this unconventional romantic comedy.
Review Fix: Anything else you'd like to add?
Pepose: We appreciate everything readers, retailers, and the press have done to make SPENCER & LOCKE 2 such a success — and if you haven't picked up our series yet, it's not too late to get in on the ground floor! Every order, every story, and every purchase isn't just about one book — it's the market showing that people want more stories with our characters. SPENCER & LOCKE 2 may be our biggest and wildest story yet as it carves a bloody swath across the funny pages, but if our readers make their voices heard, the best is still yet to come.