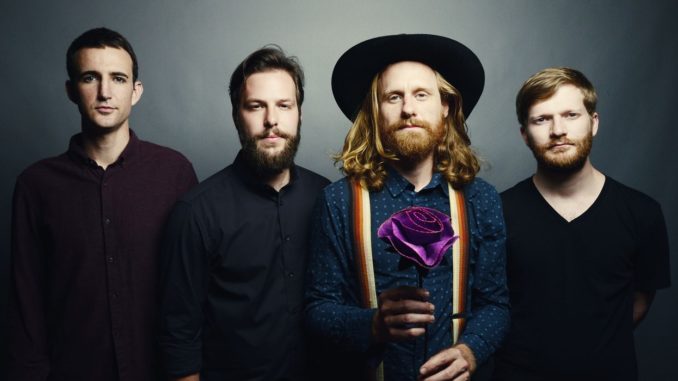 Review Fix chats with Curtis Peel, Frontman for Futurist, who sheds some light on the creative process, inspirations and goals of their upcoming Sophomore LP release 'Omens,' as well as what's next for 2019. 
Review Fix: How did you get involved in music?
Curtis Peel: I was involved in music from the start. I've been playing piano since I was eight & sang in both school and church choirs from as early as I can remember, which included recitals, musicals, and such. In middle school and high school I moved to percussion & drums. I grew up in Texas and played quads (tenors) in the drumline/marching band. I started playing in bands with my friends in high school. The first band I ever played in was called 'Mane.' We thought we were pretty clever because we all had long hair…ha! I went to the University of Colorado Boulder, originally for percussion performance, but I switched to composition halfway through, which is what my degree is. Even though I mostly play guitar now, I actually know that instrument the least
Review Fix: What's your creative process like?
Peel: I read in Neil Young's biography that songs are like rabbits and they only like to come out of their holes when you're not watching. If you just stand there waiting, they will just burrow elsewhere where you can't find them. I thought that was a pretty good analogy for the process. You can't force it. I normally make loops in Ableton Live and flush those out until I run out of ideas. I have tons of these sessions with little bits of ideas that I return to later, sometimes days, sometimes months or years. I like to think of the songwriting like collage. I can take bits of ideas and then one day realize it goes perfectly with another idea and then, boom! It's a complete song. What's cool about this new record is how some of these songs were spliced together from my bandmates, which is a significant evolution from our first record.
Review Fix: What inspires you?
Peel: In music, I am inspired by earnest song writing. There is just so much music being made today. We are completely saturated with new music every day and it can all be a bit grim to make your mark. I appreciate those artists out there who are genuinely speaking from the heart and you can definitely recognize it when you come across it. It takes incredible vulnerability to be able to be honest in a song. I can sometimes find myself writing something cliché and I'll be less bothered by the unoriginality of it and more so by just how easy it is to lie to yourself when you are trying to speak your mind. I think a lot of the pain we can cause each other originates from a self-lie that we then build upon without realizing that we planted a poison seed to begin with. That's why the musicians who we really resonate with stand out, because they give us the catharsis to acknowledge those buried fictions through by example of another. And if done masterfully, it becomes legendary.
In a more general sense, I am inspired by those who can create something out of nothing and give it life. In the image of god. Jim Henson, David Lynch, Stanley Kubrick, Kurt Vonnegut, Wes Anderson, and Terry Gilliam and the likes are a few non-music centric artists who come to mind precisely for their world building. Their characters, aesthetic, and tones are so obsessively tended to that you could easily recognize the work to the artist in a police line-up. Think of Kermit the Frog. When you do so, you don't think of the puppeteer (excuse me, muppeteer) and all of the technical tricks that allow him to come to life. You think of Kermit the freakin' Frog. He's as real as you or me and that's hugely inspiring to me. I also mean this in a less grandiose, artistic way. My brother just had a daughter. There were two of them and now they have a little family of three (four including the pup). That's the magic of life. Judge the tree by its fruits.
Review Fix: How would you describe your sound to someone who has never heard you?
Peel: Imagine if you put all of my favorite 70s guitar-rock bands (Pink Floyd, The Eagles, Tom petty, etc.) in a blender and then added a dash of modern alternative rock (My Morning Jacket, Spoon, Arctic Monkeys, etc) with the whimsical delivery of something a la Harry Nilsson or even Cake (we all started playing music in the 90s anyways).
Review Fix: How are your live shows different from your studio work?
Peel: It's not really that much different, for now. We've been working hard this year to play a bunch of new shows in cities we've never been to before. We've been mostly NYC centric for the past half decade, so we really want to get our hands dirty playing in front of new crowds. In the future, I have so many more ideas for the actual visual elements of the show. I am an animator as well (www.avalancheartists.com) and I would love to incorporate projectors, screens, animations, and lighting concepts as we build the machine up and can take on more technical tasks. As for now, we just want to play this music the best we can in front of enthusiastic ears!
Review Fix: What are your goals for the rest of 2019?
We released our first single, Olive Mountain this month which you can listen to here – https://soundcloud.com/futurist_music/olive-mountain. We're releasing a live, studio video of that tune on July 19. Our second single and first music video for this record are out on August 16. The record, 'Omens' is out on September 27 and our third single / next music video is out October 4th. We have a few other live, studio version videos of some of the other tracks as well as a Jackson Browne cover that we'll be sharing over the summer as well. After that, stay tuned (www.futuristnow.net) for our fall and winter tour dates.
Review Fix: What's next?
Peel: Like I said, we wanna find our people. We're incredibly proud of this record and want to tour and support it hard. We've got a concept album underway and loosely scheduled for early 2021, but first things first.
Review Fix: Anything else you'd like to add?
Peel: Baby bands take tremendous effort to get moving and off of the ground. If you like an up and coming artist, share their music, follow their social media, buy their stuff, and GO TO THEIR SHOWS! It's a free market. We understand no one owes us anything, but don't forget where and how all of your favorite songs originate. The streaming sites, the music venues, studios, and manufacturers, and all of the current gate keepers place the burden of performance (ha literally) squarely on the musicians to put in all of their time, resources, and faith in making something that can connect with the world at large. If you like a new band, let it be known!