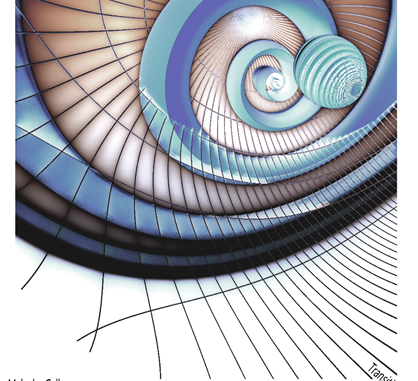 Review Fix chats with musician Malcolm Galloway, who discusses the creative process and goals for his new album, "Transitions."
About Malcolm Galloway:
Transitions is the fifth contemporary classical/minimalist album by Malcolm Galloway, singer/multi-instrumentalist and composer of award-winning progressive rock band Hats Off Gentlemen It's Adequate. His classical music has been played on many radio stations around the world including BBC Radio 3 and his combined video-art/music pieces played at the National Gallery. He lives in London, UK. He has previously been a classical music consultant and reviewer, including writing for Tempo and Gramophone's website and advising The Galliard Ensemble and Deux-Elles Classical Recordings on contemporary chamber repertoire.
Review Fix: How did you get involved in music?

Malcolm Galloway: My first instrument after school recorder was the large brass instrument, the tuba. Later on I taught myself keyboard and guitar. I've been writing music since my teenage years, but the big change for me came when technology advanced so that I could record complex music on an affordable laptop.
Review Fix: What's your creative process like?
Galloway: Usually initial bursts of energy where it would be uncomfortable not to compose. The later parts of finalising mixes and tidying up details are more of an effort. Sometimes I start with a lyric idea, drum pattern, or chord sequence (for my rock music) or for my classical music with interlocking patterns that appeal to me, or an selection of instruments.
Review Fix: What inspires you?
Galloway: Science, science fiction, history, nature.
Review Fix: How would you describe your sound to someone who has never heard you?
Galloway: My classical / minimalist music is said to remind people of Steve Reich and Mike Oldfield. My rock music varies but is particularly influenced by Pink Floyd and Marillion.
Review Fix: How is this different from your previous work?

Galloway: Previously I'd kept the classical/minimalist and rock sides of my music separate, releasing the rock music with my band Hats Off Gentlemen It's Adequate (HOGIA) and the classical pieces under my own name. Recently I've realised there is more connection between those two sides of my music than I had appreciated. There are more of the minimalist elements in our next HOGIA album, but in small doses, than in our previous releases. In my new solo album (Transitions) I've included drums in two of the tracks, which I hadn't previously in my minimalist music.
Review Fix: How are your live shows different from your studio work?
Galloway: When I play live it is mostly with bass player Mark Gatland as Hats Off Gentlemen It's Adequate. Those gigs usually focus on the rockier side of our output. We have also performed some of my minimalist music in shows in art galleries, including the National Gallery, and would like to explore doing more of these.
Review Fix: What are your goals for the rest of 2019?
Galloway: We are finishing off the next HOGIA album (some vocals to record and mixing to tweak then it should be ready). We've also got some exciting festivals coming up where we'll be playing the new songs, including a sequence of songs inspired by the novels by science fiction writer Alastair Reynolds.
Review Fix: What's next?
Galloway: I'm always working on new ideas, so there are already quite a few songs being written for the album after next.

Review Fix: Anything else you'd like to add?
Galloway: I'm extremely grateful to all those supporting and encouraging my music, to my wife Kathryn for all her support and tolerance, and to Mark Gatland for making Hats Off Gentlemen It's Adequate a reality.